Estimated read time: 4-5 minutes
SALT LAKE CITY — No. 20 TCU had an answer for everything Utah could do.
A 15-foot jumper was countered by a transition layup on the other end. A corner 3-pointer drained by Gabe Madsen was countered by a quick 4-0 run by TCU. Utah couldn't do much better than a tie ball game for much of the second half after it trailed by 6 at the halftime break.
In all, Utah tied the game up with a visiting TCU team six times in the second half, but it was the closest the Runnin' Utes could get as the Horned Frogs pulled away for a 75-71 win in the Holiday Classic at Vivint Arena on Wednesday night.
Much of Utah's problem down the stretch was its inability to make free throws at a consistent rate and several untimely turnovers that resulted in points on the other end for TCU (10-1), who finished with 23 points off 19 Utah (9-4, 2-0 Pac-12) turnovers for the game. Utah shot 62% from the free-throw line for the night.
"It sucks, because we know that we're better than that," Utah's Marco Anthony said. "There's a lot of times where we fell out of the connectivity that we play with. I feel like at the end of the day, that's just the biggest thing first, we've got to trust all five on the court and we've got to keep that connectivity all game, and then we'll be fine."
"I mean, obviously, they're aggressive, but that can't be an excuse," Madsen said of TCU and Utah's propensity at turnovers, especially in the first half. "I, personally, made some really bad decisions — I was out of control."
The meeting between the two schools who were ranked one spot from each other in KenPom ratings before the game was a defensive battle for much of the night, but TCU owned the paint and outscored Utah 46-28 under the rim. Utah opened up driving lanes and gave TCU ample opportunities to hit high-percentage shots all night.
Utah head coach Craig Smith said his defenders got lost on "screen-roll coverages" times and the help defender didn't shift over, which allowed TCU easier access to the rim.
"This is big boy basketball and you're not going to be perfect, but you've got to be able to play tough all the time and in with some discipline; and we've clearly got to do a better job of valuing possessions," Smith said.
"They have a great defense over there but we were just making it way harder on ourselves than it actually was," Anthony said.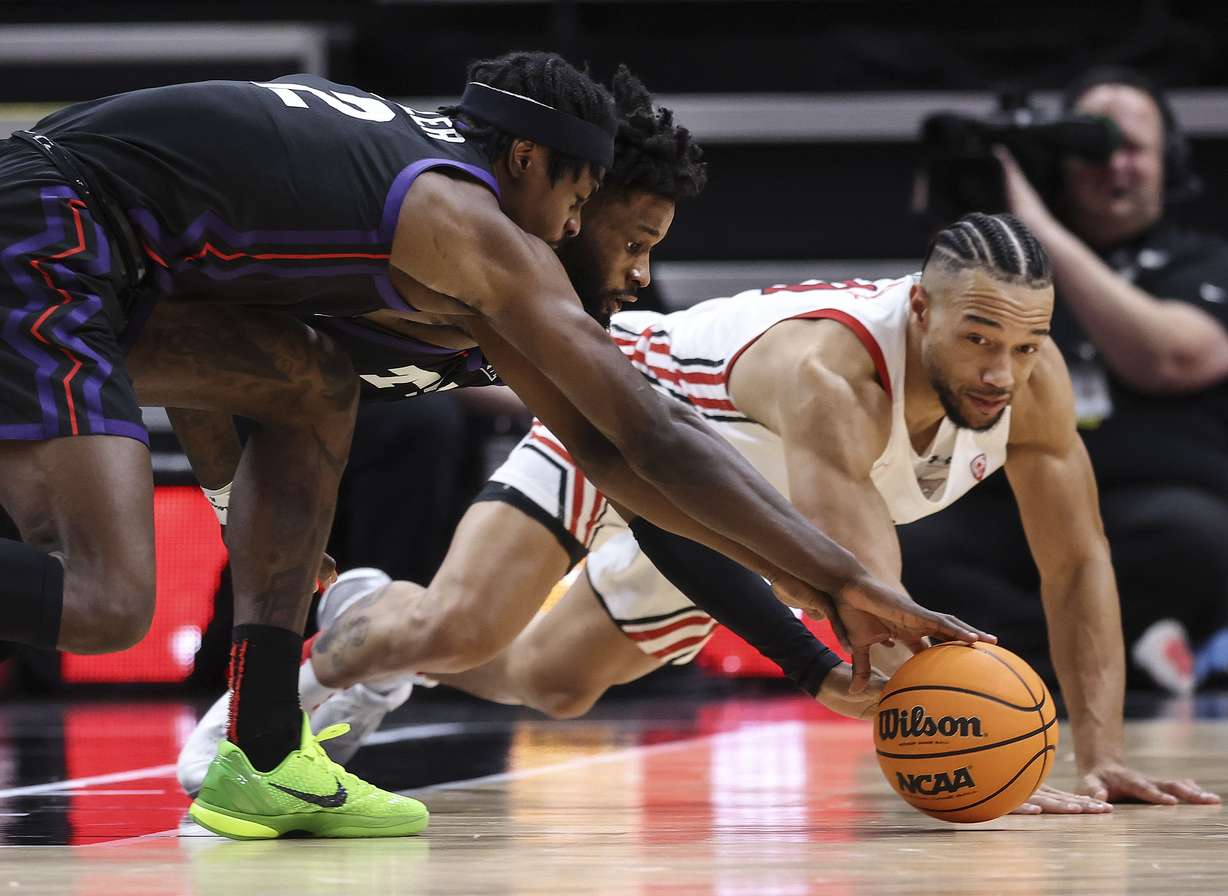 Madsen had a game-high 26 points, which included seven 3-pointers on 15 attempts, to give Utah life late in the game. His consistent 3-point makes late in the game pulled Utah within 4 points after TCU built up a 9-point lead. But TCU stayed in front and never looked back.
Branden Carlson added 14 points and eight rebounds, and Anthony finished with 15 points and 10 rebounds.
TCU used a stifling defense in the first half and those open lanes Utah gave up to build up a 10-point lead twice on Utah before the Utes battled back to keep it in single digits. But turnovers ruled the half.
Utah had 11 first-half turnovers, mostly due to lazy passes that TCU defenders quickly closed in on and turned into points on the other end to keep pace on the Utes.
"To win at this level, and to beat a team like that, you have to eliminate losing to win," Smith said. "And we show our inexperience at times and we just got to be able to make better decisions when we're playing, specifically in transition.
"I thought we got off to a good start and then we just lacked some grit in the last 12 minutes in that first half; and in grit to us is 50/50 balls, rebounding, and then having the mental fortitude and strength to step up to the plate and make your free throws, and make your layups, and we didn't do that."
Emanuel Miller led the Horned Frogs in the win with 21 points on 9-of-14 shooting and seven rebounds, and Mike Miller added 18 points, four assists and three rebounds. Chuck O'Bannon rounded out the players in double figures with 10 points, five rebounds and three assists.
"We had a great opportunity for a Quad 1 win, just couldn't quite figure it out," Smith said. "But we'll keep growing and we'll keep getting better."
×
Photos
Most recent Utah Utes stories