Estimated read time: 5-6 minutes
The snow is falling, and Utah's mountain slopes are calling to skiers and snowboarders anxious to enjoy all the fresh powder. As the excitement of a new season builds, it is important to take the time you need to prepare for the physical demands these winter sports place on your body.
"We need to think about safety factors in the field of play, about protective equipment, rules and how they affect our safety, pre-season training and readiness, and also we should think about our individual judgment," according to Stuart Willick, MD.
Willick is a sports medicine physician with the University Orthopaedic Center at U of U Health. His advice to skiers and snowboarders is based on years of working with and treating injuries to both recreational and professional winter athletes.
"Unlike sports such as basketball, football, and hockey, skiing and snowboarding are individual sports and what happens to an individual on the hills is based very much on their decision-making processes," Willick said. Many decisions can be made before the snow covers the mountains and resorts open to winter sports enthusiasts.
Sports medicine experts like Willick suggest it is best for winter athletes to keep in good condition throughout the year and train in the run-up to the season for the type of slopes they hope to tackle. Willick said, "I would recommend that people ski and snowboard within their ability level, and not go on terrain or try to do tricks or jumps without adequate training or experience."
Another important safety tip on the minds of those promoting injury prevention is the care skiers and snowboarders take as they gear up for the season.
"If a skier keeps their ski boots too loose, they are more likely to sustain an injury within the boot. But if ski boots are properly fitted and buckled, that individual is much less likely to sustain an injury inside the boot because of its protective nature," Willick said. "If a binding is adjusted too tight or too loose or the binding mechanism is too old and not functioning correctly, it can certainly increase the risk of injury. Finally, if skis are not properly maintained and tuned, the ski won't perform in an ideal manner and could potentially put a skier at risk."
Over the past decade, an increasing percentage of skiers and snowboarders here in the U.S. have chosen to wear helmets, according to the National Ski Areas Association (NSAA). A national campaign to promote helmet use by kids under age 18 has been incredibly successful with 100% of skiers in that age group donning helmets. This is welcome news to doctors like Willick who have seen and studied the research about the protective effect of helmets in skiing and snowboarding.
"We are pretty confident that while helmets may not decrease the incidence or frequency of concussion, they do decrease the severity of concussions, specifically with regard to more severe injuries like skull fractures and bleeding," Willick said.
"The majority of head injuries in sports are minor and fall into the category of what we call a concussion or mild traumatic brain injury," he said. "But there are sometimes more severe head injuries and we think that those can be avoided to some degree by wearing a helmet."
Research also shows the mildest concussions can resolve themselves completely without long-term concerns.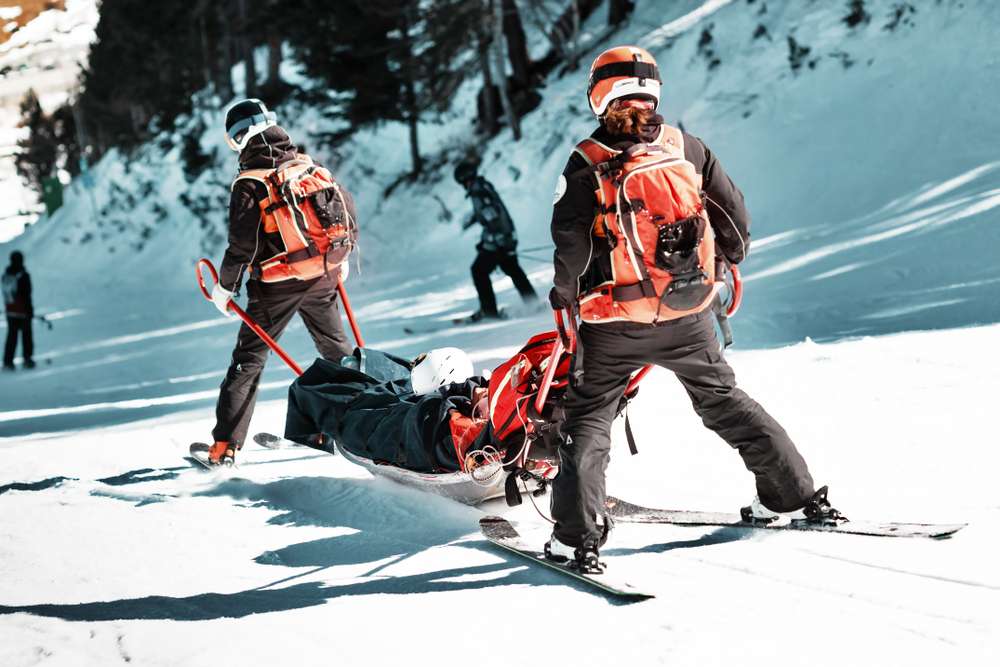 Once a skier has the equipment and training needed to head for the slopes, there are a few more steps winter athletes can take to ensure their safety and that of others. Each season, NSAA officials stress adherence to the rules and responsibility codes governing the use of ski resort slopes across the country.
Although skiing and snowboarding are individual sports, unless you are competing with a team, your actions can affect the safety and well-being of others. Willick suggests that it is essential to check conditions on the slopes and determine if you feel capable of handling them.
"When the visibility is very good, for example when it is sunny out, people tend to ski faster and that can result in higher impact or higher energy injuries. When visibility is very poor, like when it is foggy or storming, most people tend to slow down and while they can still get injured, they are not necessarily the higher impact and higher energy injuries," Willick said.
He added that when the snow is thick and sticky, often after a heavy spring snowfall, joints can get pulled around and doctors often see more joint sprains and ligament injuries.
Even with proper training, gear, and a good attitude toward safety, winter athletes will get injured. In skiers, Willick shared, "The most common body part to sustain an injury is the knee. In the knee, we see all different types of injuries from contusions or bruises to ligament injuries or sprains. There are also cartilage injuries or fractures and broken bones. In snowboarders, we see more upper limb injuries like wrist injuries and shoulder injuries. And those can range from contusions or bruises to fractures or broken bones to sprains."
The risk of being injured tends to go up towards the end of a day on the slopes when the skier or snowboarder is getting tired and possibly dehydrated. Willick described most of these injuries as simple "pilot error."
Willick explained, "if their muscles get tired and their mind gets fatigued, that could certainly put them at higher risk for injury."
For winter sports enthusiasts, it is hard to beat a day in the mountains navigating down a slope on skis or a snowboard, but if an injury happens, the specialists at the University Orthopaedic Center are ready to help. Willick estimated that he and other doctors at the center "probably see as many ski and snowboard injuries as any center in the country and we have experts in all areas of sports and orthopedic medicine."
In fact, he emphasized, "One of the center's primary goals is to keep people safe and if they have sustained an injury, get them back to their highest level of functioning possible, including full sports participation."
×