Estimated read time: 5-6 minutes
SALT LAKE CITY — Minutes after its game concluded Thursday night, Utah jumped up 11 spots in KenPom ratings.
The Runnin' Utes went from No. 50 to No. 39 in an instant after a 99-58 rout over a visiting Jackonsville State team. It wasn't a competitive game — Utah led wire-to-wire — but it was the latest winning result for a Utah program that has won their last four games, which includes a 2-0 mark against then-No. 4 Arizona and Washington State in the early conference slate.
Earlier in the week, Utah checked in at No. 19 in the initial NCAA Evaluation Tool, or NET, and was receiving votes in the latest Associated Press Top 25 poll. Joe Lunardi even had the Runnin' Utes inside his bracketology update on Monday as one of the last four teams to earn a bye into the NCAA Tournament.
For a team picked to finish 10th in the Pac-12 and to marginally improve upon last season's 11-20 record, the early results are jarring — in a good way.
Is Utah a team worth paying attention to as an early lock for the NCAA Tournament — snapping a six-season postseason drought — and is Smith's team under appreciated at this point in the season?
The early results say yes, but Utah has only played one-third of its season and has had a majority of its games against Quad 3 and Quad 4 games — Utah is 6-0 in those games — and a more challenging schedule to come. But in the all-important Quad 1 games, Utah has a 2-2 record and has been competitive early against projected NCAA Tournament teams.
Utah's most difficult test remaining in the nonconference schedule is a neutral site game at Vivint Arena against a Quad 1 TCU team that currently ranks No. 35 in KenPom with a 7-1 record. But ahead of that nonconference finale game is a Quad 4 game against UTSA at home, followed by a road game against in-state rival BYU, who is currently a Quad 3 opponent.
It's a good balance of teams to test Utah's legitimacy as a potential NCAA Tournament team.
"It is different," Utah guard Lazar Stefanovic said about the feel of this year's team. "I feel like we know each other way better. I feel like we know what we can do, what each each guy on the team can do. And I think we're amazing defensively — a lot, lot better than last year. I think that is a huge thing for us the whole year, so far."
The results have been good so far, and a win over Arizona last week served as Smith's coming out moment at Utah as he's looked for a key win to propel his program toward more wins in a competitive Pac-12.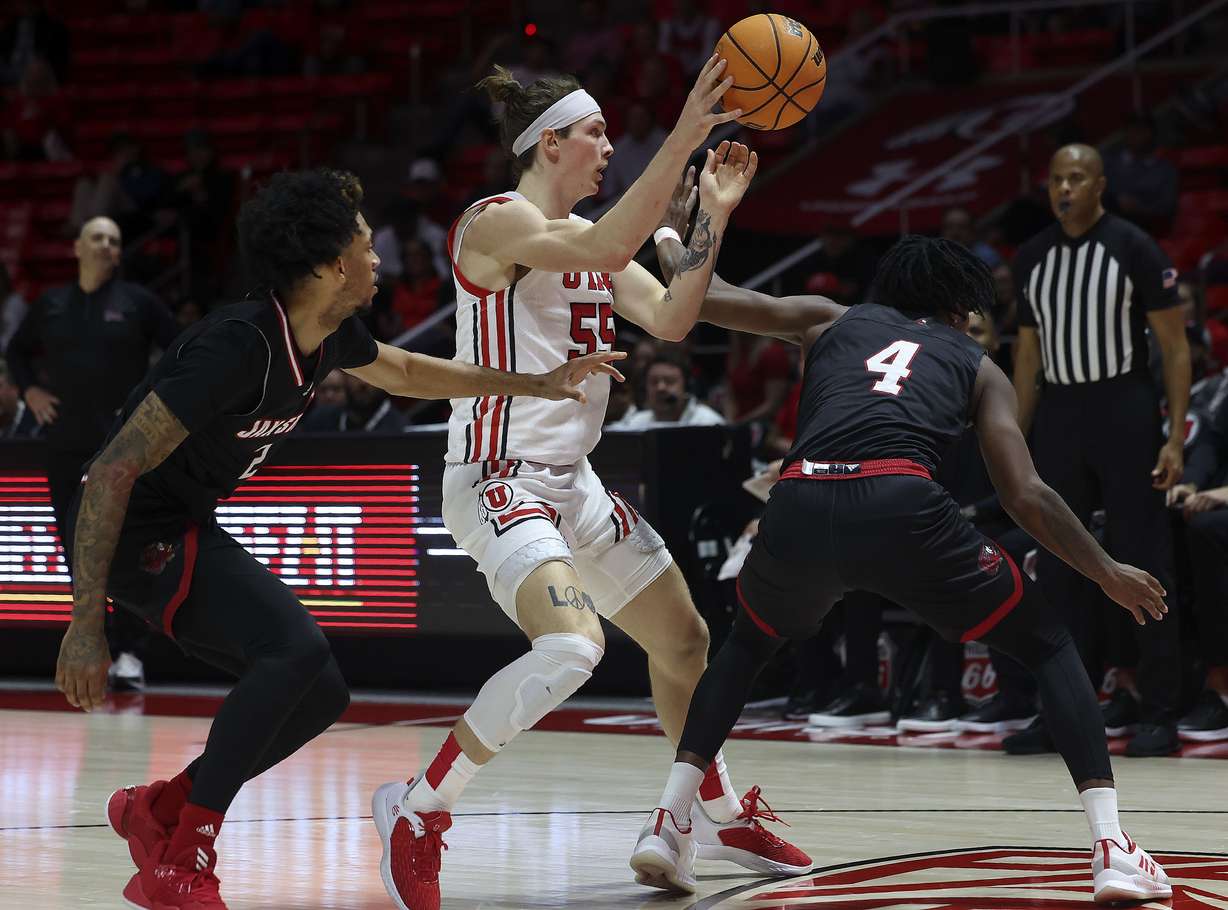 Smith is the first to not get too excited by the progression his team has made this season, but the result on the court isn't all that surprising to him, either, now that his team has been able to have some consistency.
"Since I've been here, we've had very little continuity, like very little continuity because of the injuries; and that's not an excuse, that's just the facts," Smith said Thursday night. "For the first time since I've been here, the last two and a half to three weeks, we've actually had continuity. So you kind of know what to expect and guys kind of know what to expect from one another. And they've been able to develop some synergy and confidence with one another."
And while that continuity has been great for the team — Utah assisted on 25 of its 38 made field goals on Thursday and looked like a team comfortable together — it's just the beginning, Smith said.
"We've always said you've got to earn respect," he said. "Respect isn't just gonna be given to you, you've gotta go prove it every day. And whatever happens out there with this, that or the other, all we can worry about is being our very best; it's all that matters. Whether it's tomorrow in practice or the next day in practice, or the next game out on Tuesday night against UTSA, all we can worry about as being our very best. And then whatever happens, happens."
Last season, coming off a three-year stretch where Smith took Utah State to the NCAA Tournament each year, the message was about getting Utah back to the NCAA Tournament — a worthy and common goal for every college basketball team in the country.
But ahead of the 2022-23 season, Smith shifted his focus to be more on consistency and getting his team better. The NCAA Tournament remains a constant fire that burns, but it's not the main focus to where he wants to take the team. But if getting his team to be more competitive means a trip to the Big Dance, Smith will be the first to say he knew his team could do it.
"I said it from Day 1, I'm super excited about this group," Smith said. "W e have a group with great character off the floor, and we have a group with great basketball character. We have a lot of group guys in that room that are highly competitive. They're great teammates and they love the game but they love to compete. So you never know how things are going to all come together."
Maybe it will all come together for an important run in March, but time will tell.
×
Most recent Utah Utes stories