Estimated read time: 9-10 minutes
This story is sponsored by KSL Cars.Your next car is waiting. Search Utah's largest selection of new and used cars.
KSL Cars does not endorse any vehicles. The views or opinions expressed in this article are those of the writer and do not reflect the views or opinions of KSL.com or its employees.
After 17 years, Nissan has come back swinging with a (mostly) new Frontier and an excellent Pro-4X off-road package. The 2022 Frontier looks great. Refreshed, modern and compact, the Frontier is a very likable truck with legitimate off- and on-road driving capabilities. It's just as eager to take you to the mountains or on a road trip. If you haven't looked at the Frontier in a while, it's time to give it a shot. We think you'll be pleasantly surprised.
Price and value
The new Frontier is available in a wide range of trims, from the basic S work truck to the Pro-4X off-road we tested. The MSRP range of the 4x4 crew cab is $32,640-$37,770.
The 2022 Nissan Frontier is available in three trim levels, with a suite of standard features including a direct-injection V6 engine, AppleCarplay integration and remote keyless entry. Some of the major differences in trim levels are noted below.
S: $32,640
Automatic emergency braking with pedestrian detection
NissanConnect 8-inch color touchscreen
Push-button start
SV: $35,440
17-inch 6-spoke aluminum-alloy wheels
6-way power driver's seat with 2-way manual lumbar support
Sliding rear window
Pro-4X: $37,770
Bilstein off-road performance shocks
17-inch dark-finished aluminum-alloy wheels
NissanConnect 9-inch color touch-screen display
Nissan has priced the Frontier competitively for what you get. The warranty is about standard for the industry, with 3-year/36,000 miles limited coverage and 5-year/60,000 miles for the powertrain.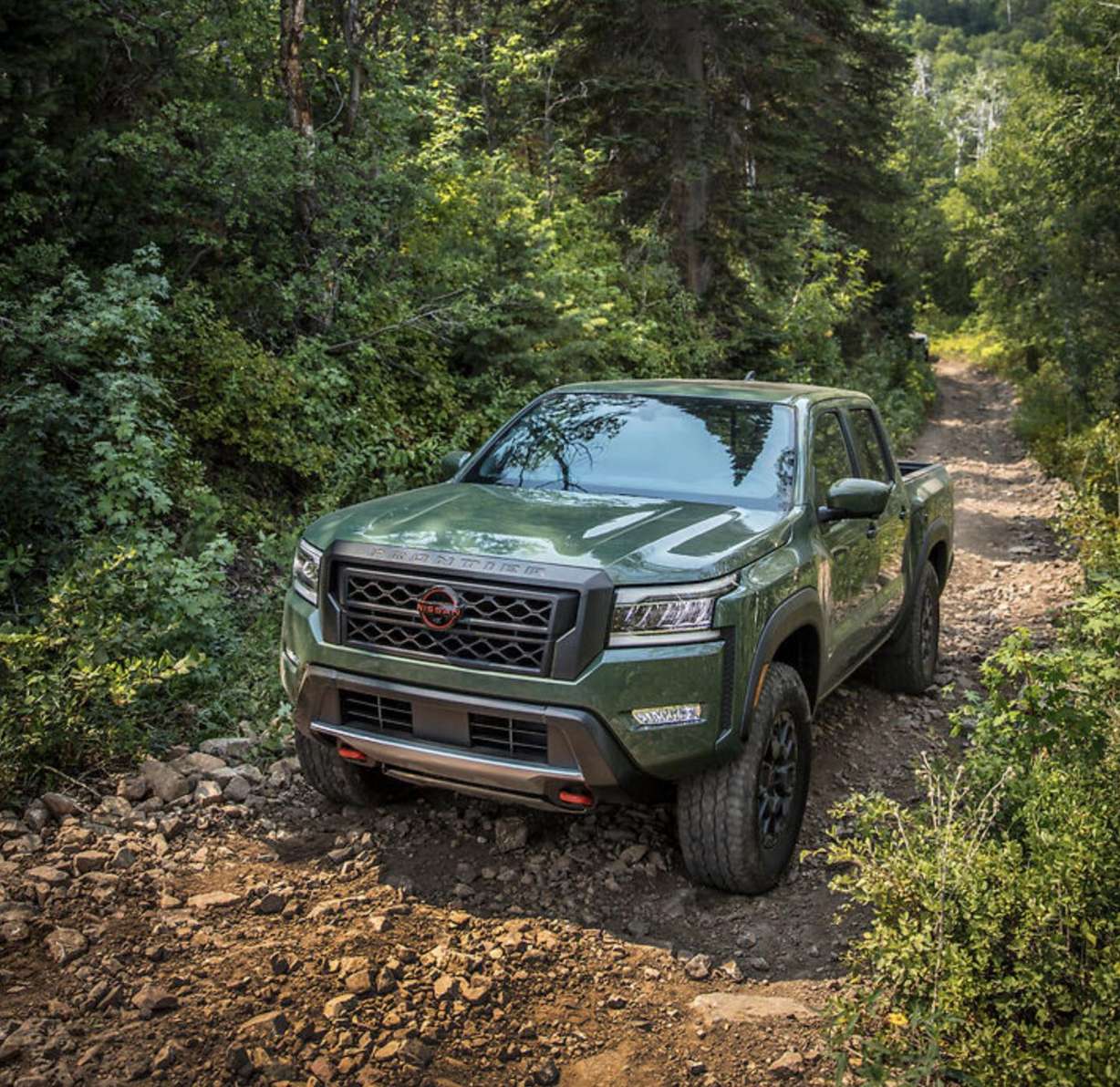 Performance
The Pro-4X Frontier that we drove is a genuine performer on- and off-road. It handles well, accelerates with ease and can hang with the big boys on the trails. Nissan has put work into tuning their new engine and transmission to best fit the Frontier's versatility, and it feels great to drive.
Engine
Nissan introduced their new 3.8-liter V6 in the 2020 Frontier, and it performs well here also. The V6 produces 310 horsepower and 281 pound-feet of torque. Towing is decent. Overall, I found the engine's demeanor to be well-suited for daily driving and off-road use.
Fuel efficiency
The four-wheel drive Frontier is rated at 17 mpg in the city and 22 mpg on the highway, for a combined rating of 19 mpg. In our real-world testing, we yielded closer to 22 mpg combined. On some longer highway drives, we averaged over 24 mpg — not too shabby considering the truck's heft and large V6 under the hood.
Drivetrain
The tested Pro-4X trim is only available in four-wheel drive with a 9-speed automatic transmission. It includes an electronic locking rear differential, a 2-speed transfer case, and a shift-on-the-fly four-wheel mode selector.
Acceleration and handling
The Nissan Frontier isn't an especially quick truck. Car and Driver clocked it from 0-60 mph in 7.3 seconds. Where the Frontier does shine is in its handling, thanks to weighty steering. Powered by an old-school hydraulic pump, the truck never felt like it was wandering and gave us a sense of connection to the road. At times it felt a little too heavy at slow speeds, but overall, we really liked the Frontier's sharp handling.
Braking
Braking felt powerful in the Frontier and we had no complaints. Our tester was equipped with the technology package, which included assist programs like rear automatic braking and automatic emergency braking.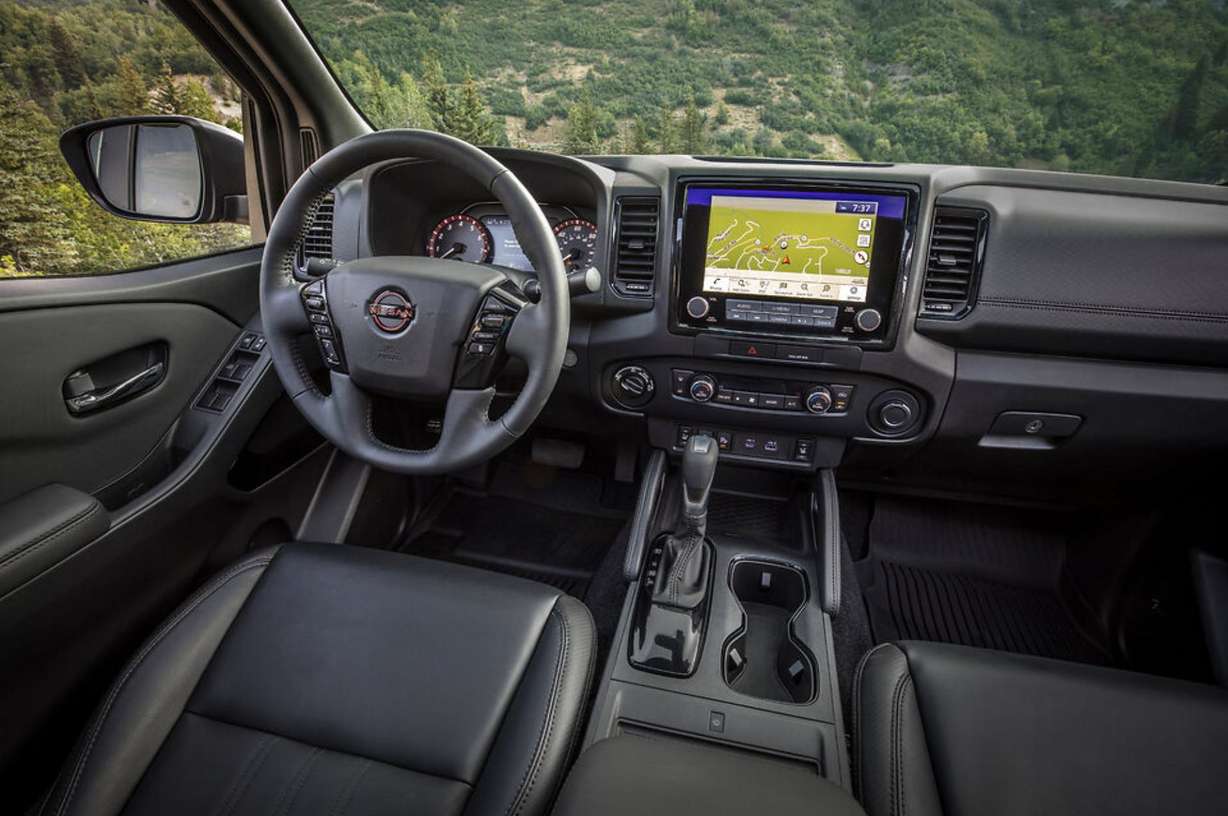 Interior comfort and convenience
The interior comfort of the new Frontier is a bit of a mixed bag. Up front, the driver and passenger are very comfortable. Slide into the back seat and comfort is less than ideal. The second row is great for stowing gear or a dog but leaves much to be desired in terms of comfort, even for small children. The Frontier's interior looks modern and well-designed — a welcome change from the previous model's aged interior appointments.
Seats
Nissan's much-loved zero-gravity seats have made it into the front captain's chairs and we are huge fans. According to Nissan, the ergonomic seats help to maximize blood flow and help keep you energized. We felt it for ourselves. They're wonderful, especially with the cozy heating elements. However, the same cannot be said for the rear seat, which is cramped and positioned at an uncomfortable upright angle.
Climate control
The Pro-4X comes with dual-zone climate control. We found the controls easy to operate and comfortably within reach for the driver and passenger. The heat worked well and defrosted the windshield quickly on cold days.
Cargo space and cabin storage
For a compact truck, the Frontier has decent storage compartments. The door pockets and center console aren't huge but are just large enough to tote around the essentials. There is also a small bin on top of the dashboard for holding small items, as well as storage under the back seat.
Infotainment system
The Pro-4X includes the optional 9-inch touchscreen. The screen looks nice and responds fairly quickly to inputs. It produces great sound through the optional 10-speaker Fender premium audio system. The system includes Apple CarPlay, Android Auto and a USB-C port.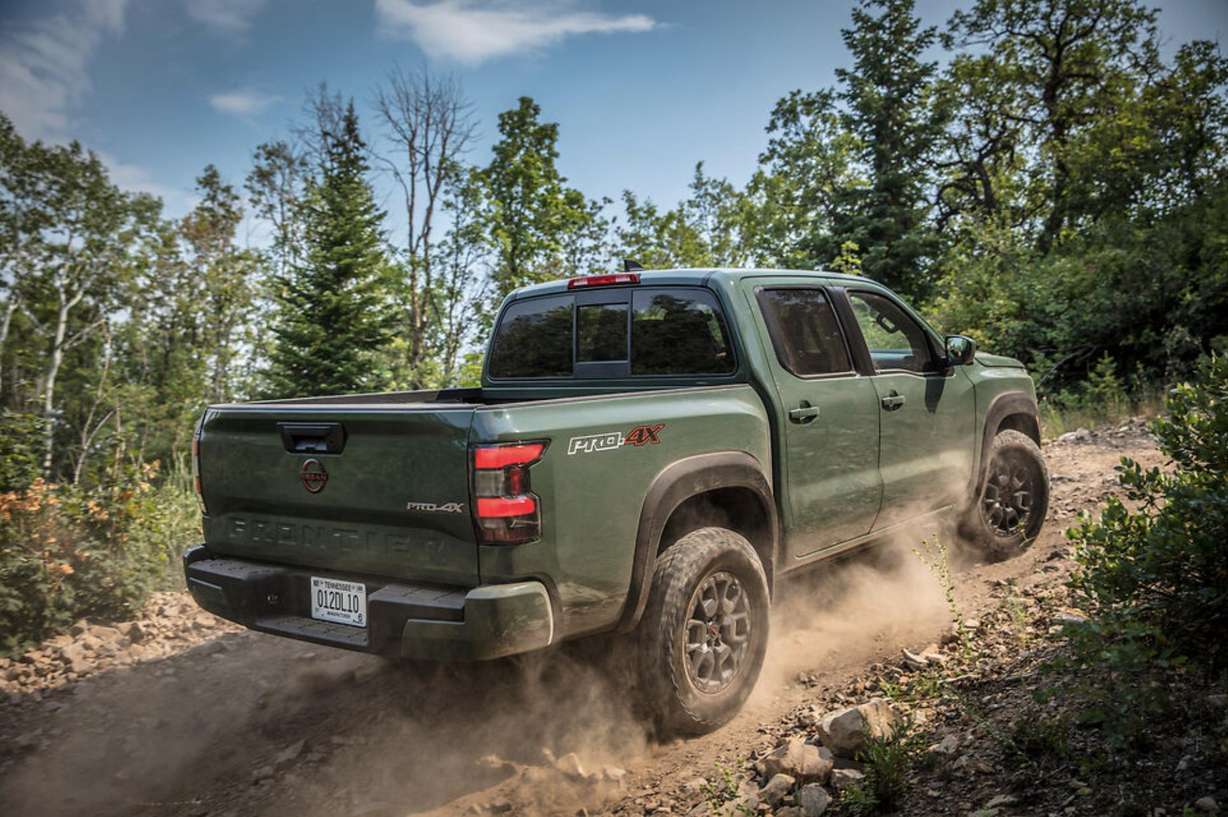 Exterior appearance and functionality
The biggest news about the 2022 Nissan Pro-4X is the all-new exterior styling. Nissan's done a great job with this, giving it a modern and rugged appearance that is a welcome change after so many years of the previous Frontier. We especially liked our tester's Tactical Green paint. Other paint colors include Cardinal Red Tricoat, Baja Storm Pearl and Deep Blue Pearl. If styling is a priority to you, you'll be thrilled with the Pro-4X Frontier's appearance.
Bed
Our tester had a 4.75-foot bed, but a 7-foot bed is available on other trims. The tailgate opens easily and softly. An optional fold-down step, on the rear corner, makes it easy to get into. There were several tie-downs in the bed, perfect for strapping down gear. Other conveniences include the spray-in bed liner, bed lighting and a 120-volt power outlet.
Towing capacity and payload
Nissan has thoroughly updated the Frontier, but curiously the towing capacity remains the same as the previous generation — 6,720 pounds. Payload capacity has increased to 1,610 pounds.
Wheels
Our tester was optioned with the pro premium package. That included black 17-inch beadlock style alloy wheels that looked great and really accented the Frontier's adventurous appearance. The wheels were shod with 265/70 R17 all-terrain tires that looked good and rode well. However, we think tires an inch or two larger would fill out the wheel wells nicely. It was fairly loud in the cabin while on the freeway, but the volume never became uncomfortable.
Lights and turn signals
Nissan's new headlight style has extended to the Frontier and we think it looks really sharp. The LED front headlamps, daytime running lights with LED fog lights all look great and give off the perfect amount of light. Our tester included automatic high beams as well.
Cameras and side mirrors
The rear camera in the Frontier looked good but isn't the highest-resolution camera on the market. Unfortunately, our tester did not have the pro convenience package, which adds a 360-degree camera. The heated side mirrors are large and offer a nice view of the sides and rear of the truck.
Front and rear windshield
Visibility is excellent in the Frontier, with large windows comprising the greenhouse area. Defrost features seemed to work well on chillier mornings and warmed up quickly.
Safety
The Frontier feels solid to drive. However, the assisted steering rack is hydraulic instead of electric, and we felt like valued technology was missing.
Features
Our tester was equipped with several standard safety features, as well as optional ones included in the technology package. Some of these include:
Lane departure warning
Blind spot warning
Intelligent cruise control
Traffic sign recognition
Rear cross-traffic alert
You can find a full list of safety features on Nissan's website.
Awards and ratings
The 2022 Nissan Frontier has not been evaluated by the National Highway Traffic Safety Administration or the Insurance Institute for Highway Safety. The truck was named Best Off-road Truck by TFLtruck.com, which put the truck through a wide range of tests over several weeks. TFL said the Frontier tackles difficult trails well and lives up to its reputation as a very good off-road vehicle.
Final impression
The Pro-4X Frontier is a great, compact truck. Nissan has thoughtfully improved the Frontier in all the ways it needed, and left some of what already worked. It's nice to drive on-road and is more capable than you're expecting off-road. The front seats are wonderful, and the steering is heavy and accurate. The Pro-4X makes a great daily driver, especially with its above-average tested fuel economy.
The truck is good-looking and competitive in just about every way. Give it a shot, you won't be disappointed. As far as trims go, we would recommend going with the tested Pro-4X. It is the most expensive trim of the lineup, but the features — especially the Bilstein shocks — are worth spending a little extra for.
FAQs
How much does the Pro-4X Frontier cost?
The base price for our tester was $37,240. With the pro convenience, pro premium and technology packages, along with premium paint, a sport bar, step rails, and bed access package, our tester had an MSRP of $46,965. We recommend everything this tester had except the latter three add-ons. The truck isn't especially high, and the extra side and rear steps felt unnecessary.
Is the Frontier family-friendly?
While the front seats have ample space and support, the same cannot be said for the rear. The legroom is tight, and the back cushion is angled upright. We had our two kids in the back and while they weren't uncomfortable, it was tight for them.
Is the Pro-4X Frontier fun to drive?
While it's no trophy truck, the Pro-4X Frontier is enjoyable to drive. It makes for a great commuter and is a lot of fun on the trails. If you're looking for a truck that can get you anywhere, the Pro-4X makes a compelling case.
Ready for the truck that goes anywhere? Click here to find your Nissan Frontier on KSL Cars.
×