Estimated read time: 3-4 minutes
If you've ever had patellar tendonitis, you know how painful it can be. According to Johns Hopkins Medicine, you might experience pain and tenderness around your knee, especially when you jump, run or walk. You also might feel that discomfort and pain when you bend and straighten your leg.
Patellar tendonitis is a very difficult condition to treat. It sidelines numerous youth, collegiate and professional athletes as well as seasoned competitors.
Patellar tendonitis (PT) is a condition where the tendon of the knee near the kneecap is painful, swollen, tender to the touch and causes pain when running, jumping, going up stairs or whatever loads the knee. PT is also called jumper's knee or runner's knee. According to an article published in American Journal of Sports Medicine, athletes who see this problem often play volleyball and basketball.
Under the microscope, patellar tendon fibers become wavey and incongruent—appearing almost dead. PT can turn chronic after approximately three months and cause significant impairment, especially with dynamic movements.
Traditional approaches of stretching, massage, myofascial scraping, electric stimulation, needling, ultrasound, rehab, eccentric squatting, etc. are limited in their effectiveness and may only make minuscule improvements.
Muscle activation for healing
There is another modality that has proven to help with PT pain, and it doesn't involve surgery or drugs. In fact, it has had amazing, pain-reducing, strength-increasing effects for many tendon-related conditions.
The technique is muscle activation, a hands-on approach which is very effective if done correctly. Muscle activation treats muscle inhibition which is what Dr. James D. Parker believes is the root cause of tendinopathy in the body.
"The go-to treatments for tendinopathies are eccentric exercises and tendon scraping, but exercising an inhibited muscle will not strengthen the muscle or tendon if the muscle is inhibited. This is why traditional approaches fail," Dr. James Parker, D.C. said.
Parker Muscle Clinic has highly trained and experienced health care professionals who can assess and treat PT effectively.
Their team will manually assess the tendon and the appropriate muscles of the quadricep, glutes, hamstrings, and posterior knee muscles. Additionally, they also assess the low back and ankle muscles to be thorough. Going through a muscle assessment defines the angles, muscles and tissues that are the prime cause of the tendon being overloaded.
Parker says that based on clinical measurements taken following approximately two to three hours of care, pain in the knee reduced by 60-70% when measured by a visual analogue scale (VAS). Functional assessments using the VISA-P questionnaire (a questionnaire specific to PT) showed incredible improvement of over 60%, and patients actually gained a few inches in vertical jump directly after treatment.
These effects were not limited to just a few days—12 weeks later the pain scores and VISA-P scores remained consistent without even treating patients a second time! These were clinical measurements on patients with diagnosed chronic patellar tendonitis.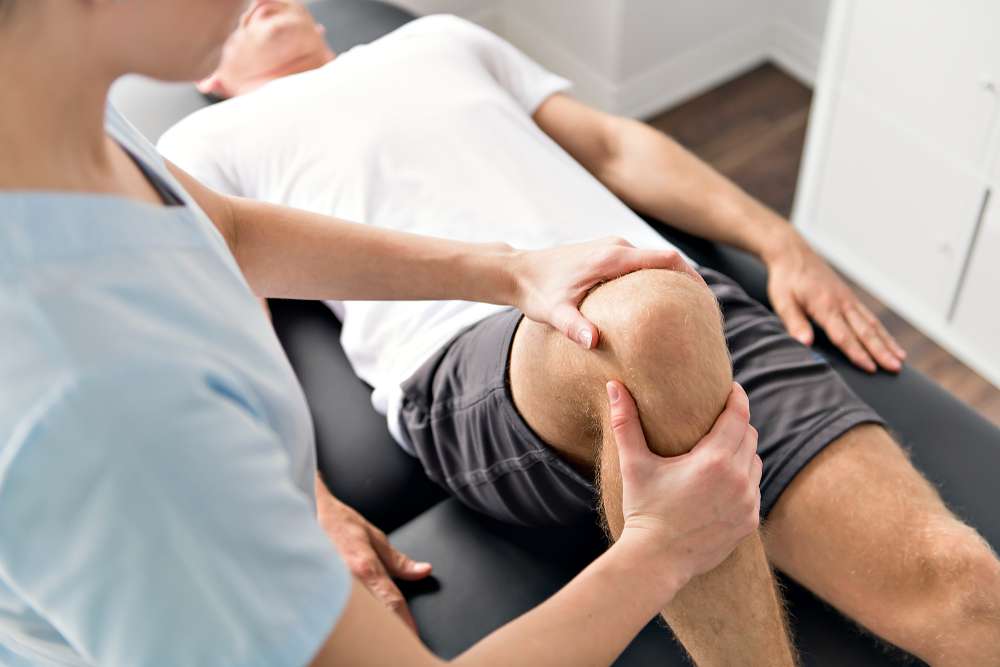 Treatment for all kinds of injuries
The doctors at Parker Muscle & Sports are professionals who have treated individuals involved in Olympic games, pro rodeo, pro rugby, and collegiate division one sports programs, as well as youth athletes and weekend warriors from 8-88 years old. You can be sure the quality of experience and care you get at PMC is the best.
The services at Parker Muscle Clinic are not just limited to muscle activation. They also provide directed, specific rehabilitative exercises to strengthen tendons, joints and muscles after the activation has taken place. You can also expect to see most other types of therapy you would see at a physical therapy office.
Our staff physician is skilled in diagnostic musculoskeletal ultrasound. He provides ultrasound-guided regenerative medicine injection therapies such as platelet rich plasma and Prolozone, as well as other treatments based on a patient's individual needs.
New patients can get 50% off their initial exam and treatment by mentioning this article. Don't let PT or any other injury keep you down for long—make your appointment with Parker Muscle Clinic and keep your dreams alive!
×