Estimated read time: 9-10 minutes
BLANDING — In a handful of years, 19-year-old Taylor "Cheíí" Begay went from not having a single social media account to running a successful Q&A web series on Instagram and Facebook.
Begay's "The Cheíí Show" showcases Indigenous leaders ranging from politicians like Navajo Nation President Jonathan Nez to authors like Angeline Boulley and musical artists like Doc Native. He says he's accumulated an audience of over a million people worldwide and has done over 135 live broadcasts.
"It's the stories of these people that really fires me up that I continue to do what I love to do and just conversate, learn, cry, laugh — all that," he said. "To open a door for younger people to see themselves and to go further than what I'm doing or what these people I've talked to are doing."
Begay, a Utah State University student from the Navajo Nation, is among a growing number of Indigenous creators using social media to reclaim their own narratives, uplift their communities and raise awareness about Indigenous cultures and issues.
"Now is the time for Native people and Indigenous peoples to start being who they are and represent themselves in this light on a media platform," he said. "Talking about Indigenous topics, it's so heavy. There's so much trauma and it's so recent. That's why a lot of media outlets, a lot of people, don't like to talk about Indigenous topics. But it's our reality; it's my reality."
That doesn't mean "The Cheíí Show" doesn't also include its share of humor and lightheartedness. In fact, Begay always makes sure to ask each guest the question, "Is a hot dog a sandwich?"
"It's not so much the answer that I'm looking for, it's the reaction," Begay said. "Native people, we're a joking people. We love to laugh. Something I tell people is the 'stoic Native' — I tell them that's not real; we make fun of that because we love to smile."
The building blocks
On screen, Begay comes across as a skilled host and natural extrovert, but it's taken a lot of work to get there. Begay said he was a naturally shy kid. It took some encouragement from his grandpa and public speaking opportunities for Begay to step out of his comfort zone.
He remembers attending a powwow where an emcee was failing in what Begay sees as an essential part of the role: serving as the "vibe technician."
"At these gatherings and our celebrations, it is all about the vibe, the feeling. It's a celebration; we're supposed to be embracing one another, laughing, crying, singing and dancing with one another," Begay said. "But this older man, he drug it out. It felt like the longest weekend; It wasn't fun. ... I told my dad, 'I bet you I can do that. I can do that, but I can do it better.'"
He set out to educate himself, asking questions, talking with individuals he normally wouldn't have approached, and learning about the different protocols of Native celebrations, songs and dances. But breaking into emceeing on the powwow circuit proved difficult as a young, up-and-coming emcee.
"I wasn't given many opportunities to emcee or to talk at our celebrations, which was a little disheartening because you're a person who's got something to say but you're not given the time to say it," Begay said.
Feeling a bit overlooked, Begay decided to focus more on school. But he soon got a public speaking opportunity in San Diego with his high school. That opportunity would open doors for other public speaking gigs, including at a number of pageants, conferences and gatherings. Begay went forward with the mindset that "a gig is a gig" and learned as much as he could.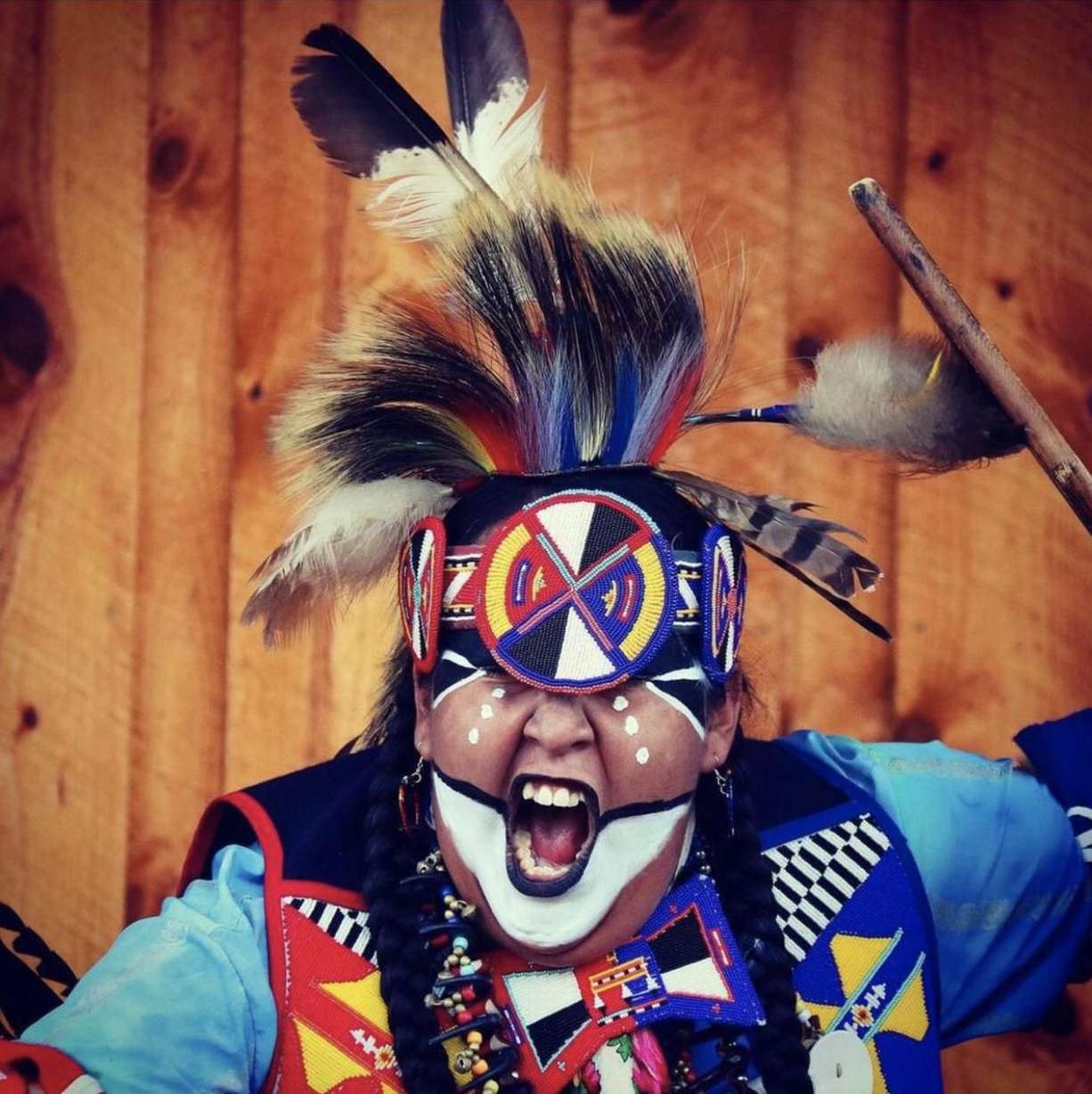 Just as Begay finally started booking powwows, however, COVID-19 hit. "I was still trying to figure out how to talk to people, encourage people, shed light and just be on the mic — and that's when I remembered I have social media," he said.
Begay hadn't done a lot with social media before that point; in fact, he wasn't allowed to have a cellphone or social media until his late teens. He says launching "The Cheíí Show" without some of the social media and tech-savvy of his peers was difficult. Emojis and some of the terminology and slang used on social media were foreign.
"It was rough. Season one was absolutely like a pilot season," he said. "I had to learn on the fly, so YouTube University. And I'm still having to Google search certain things."
Starting the show wasn't just about picking up new skills, though. He also leaned into his past.
In the Diné Bizaad language, "cheíí" translates to "grandpa." Begay picked up the nickname from his childhood peers, who often teased him for things like going to bed and waking up early, not having social media or a cellphone, and refraining from using popular slang at the behest of his own grandfather.
"My classmates would tell me that the way I carry myself, the way that I am, is an old man. So they called me 'Cheíí Begay,'" he said. "At first I was like, 'All right, that's a little messed up.' I took offense to it. But after it grew, I was like, 'You know what? I'm gonna own up to it. That's me, I'm Cheíí Begay.'"
The name stuck, and when it was time came to pick a name for his web series "The Cheíí Show" was the perfect fit.
Uplifting others
Begay's work to elevate Indigenous voices is sorely needed. Indigenous narratives are incredibly underrepresented across different forms of media, from news to pop culture and film. Yet research has found that accurate media representation of one's ethnic or racial group translates to increased self-esteem and positive feelings for children about their community.
Providing that representation, where youth can literally see people with similar backgrounds and experiences achieving their goals, was one of Begay's main motivators for starting the show — as well as the reason he picked a video format as opposed to a podcast.
"It's one thing to be told something; it's another to see it. It's a validation and gives you more confidence," Begay said. "For the longest time as Native people, for myself, I couldn't see anybody who looked or sounded like me on the screen or on social media. And if I did see something that was related to Native, it was played off for laughs or it was the same old story of 'pity the Indian' or it wasn't even correct at all."
Begay himself wouldn't be where he is today without being able to draw from other Indigenous role models, first and foremost being his own family. Begay comes from a long line of singers, dancers, educators, politicians, medicine carriers and knowledge keepers. He and his three younger brothers have all followed in those footsteps by participating in both traditional song and dance as well as modern ballroom dancing.
The show is actually a family-run business, with Begay's brothers and parents taking on roles like social media specialist, manager, stagehand and chief financial operator.
"That's us; that's how tight-knit we are. We all have our own jobs and tasks we have to do," he said. "Not a lot of people know that everything that we do — all of our merchandise, all of that — is out of our own pocket. There's nobody else funding what we're doing. It's all from us."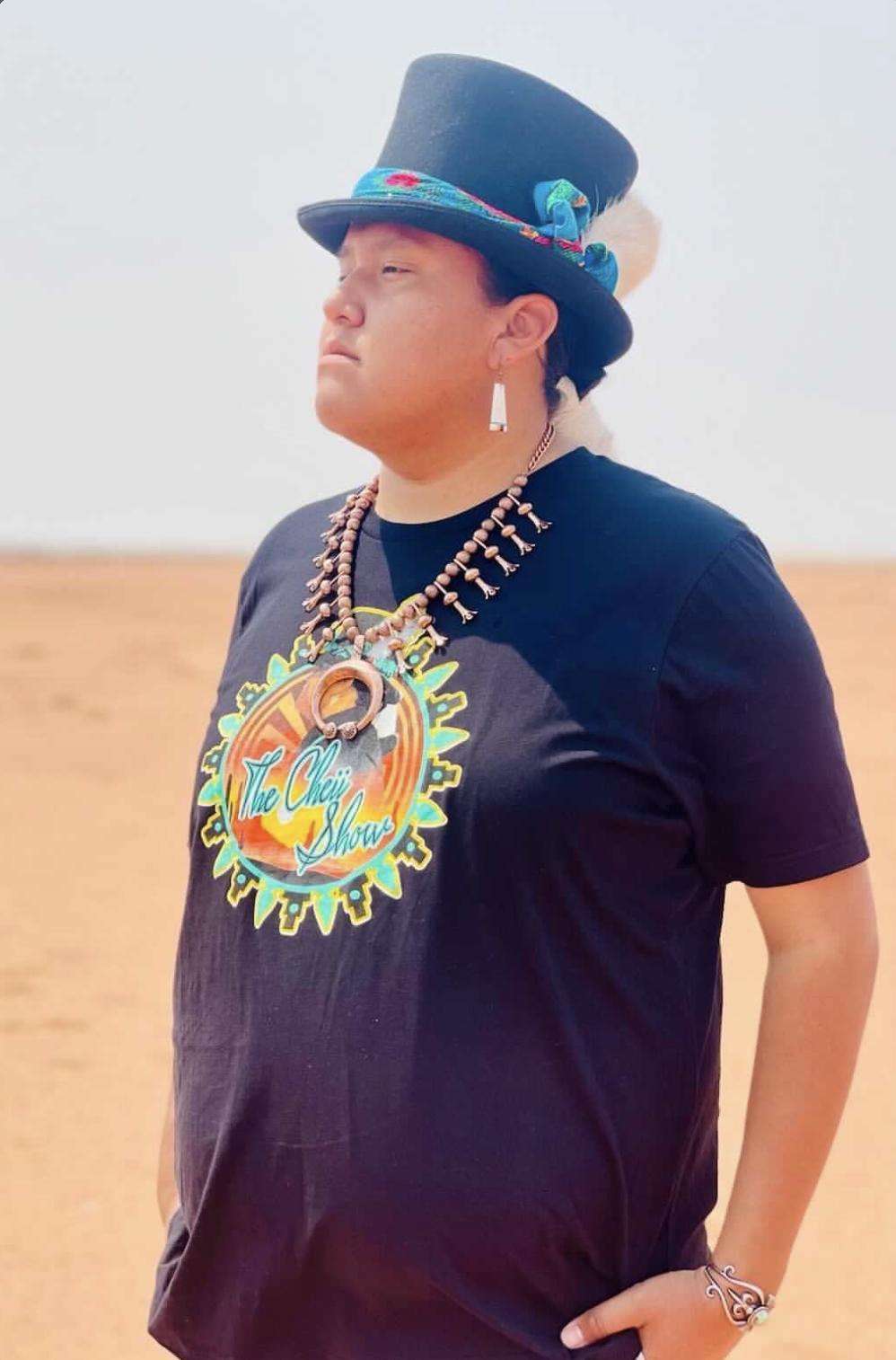 Outside his family, Begay has pulled inspiration from a number of Indigenous leaders to help develop his own brand and public speaking style. Begay's trademark top hat, for example, is a homage to Ruben Little Head, an emcee from the Northern Cheyenne Tribe whose style also includes a top hat. Begay also spent hours listening to video clips and recordings of Hal Eagletail — a member of the Northern Dene TsuuT'ina Nation and a Traditional Knowledge Keeper — after being struck by Eagletail's way of energizing listeners.
Begay said Lawrence Baker, a member of the Mandan, Hidatsa and Arikara Nation, and emcee Donald Speidel of the Hunkpapa Lakota have also had a heavy influence on him.
Perfecting the craft
Begay is on track to finish his associate degree next fall and plans to start a bachelor's afterward. But at this point, earning a communications degree from USU is more of a formality for Begay, who's already doing the work he wants to be doing after graduation.
From production to producing, "The Cheíí Show" is a lot of work. Even selecting who to bring on the show is a "long excruciating process," says Begay.
"We don't just pick anybody," he said. "We look at how you carry yourself, how you represent yourself, what you're trying to build — and that's just on social media. Then we talk to people behind the scenes, people you've interacted with."
Once Begay and his team have picked a guest, he said it's all about creating a conversation. Initially, Begay navigated each episode with a long list of interview questions, feeling like he had to hit each one. Now, in his third season, Begay picks a handful of questions he thinks will bring out the most interesting responses and lets the conversation flow naturally.
"I've been interviewed and, man, it's stressful," he said. "But if you hear the word conversation, and it's formatted in that sense, you're more willing to share and be vulnerable and it's less stress ... and people can pick and choose what they want to take away from the conversation, whether it's good or bad, whether it's inspirational."
Those conversations have often turned into meaningful connections with his guests, Begay said. And it's those connections and conversations that are Begay's favorite part of the show. Eventually, he hopes to get to the point where he can bring on other young hosts and start other segments.
In the meantime, he's soaking it all in, from the responses he gets thanking him for the show to those criticizing it.
"I just try to take the best out of every situation I can, whether it's negative or it's great," he said. "Someone always has to say something, but I'm not out here to please anybody or everybody. I'm just here to promote, showcase and educate."
"The Cheíí Show" premieres each Wednesday at 8 p.m. MST. Episodes are available on Begay's Facebook and Instagram pages.
×
Photos
Most recent Multicultural Utah stories