Estimated read time: 3-4 minutes
MIDVALE — What began as simply wanting to raise awareness for cancer could turn into the opportunity of a lifetime.
Dondea Sherer of Midvale found herself in a unique situation when she "accidentally" qualified for the UCI Granfondo World Championships, one of the biggest amateur bike races in the world.
In order to qualify, a cyclist must place in the top 20% in their age group in one of the 24 qualifying races held across the world. Sherer did that when she participated in the Cache Granfondo on July 9, but she was not even aware of the fact that it was a qualifier for a World Championship.
Sherer is not a diehard cyclist; she's a runner who picked up bike racing when she began to do triathlons. After a training accident that left her with a broken back in 2009, Sherer stopped competitive bike racing altogether. That was until her brother in-law Dan was diagnosed with sarcoma last year.
After the diagnosis, Sherer decided to help by raising cancer awareness through bike racing. She made it a goal to participate in one race a month, dedicating each race to Dan. Sherer raised awareness mainly by wearing a custom jersey — yellow to represent sarcoma awareness and pink to represent breast cancer awareness. She also utilized social media to let everyone know what her purpose for racing was.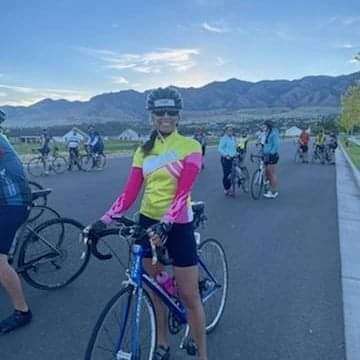 In Sherer's search for races to compete in, she stumbled upon the Cache Granfondo on the Huntsman Heroes website. She wanted to sign up for it because she knew it was a competitive environment; she did not realize that it was a qualifying race for a bigger event.
"I just signed up for it and went out to do my best," Sherer said. "I just went to go do my best. I had no idea that it was even a thing. I literally just went because it was on Huntsman Heroes."
Sherer ended up taking fourth in her age group. A couple of days after the race ended, she received an email telling her that her performance had qualified her for nationals. A couple days after that, she received another message saying she had qualified for worlds in Italy.
Unfortunately for Sherer, by the time she found out she had qualified for nationals, it was too late for her to make it to South Carolina since the race was that same weekend. Still, she was overcome with joy after receiving the news.
"I was overwhelmed," Sherer said. "I was just ecstatic. I was so thrilled and so proud."
To help cover the cost of traveling to Italy and to participate in the race, Sherer started a GoFundMe*.
For Sherer, the opportunity to race in Italy represents a once-in-a-lifetime experience. Even though she knows she will be competing against racers from all across the globe, she said she is always "in it to win it."
Sherer plans to continue promoting awareness next year because she will not be allowed to wear her custom jersey to worlds. The rules state that racers must wear jerseys that represent their country.
After worlds, Sherer said she will take the rest of the year off before picking things back up again in 2023, where she plans to start competing in triathlons.
*KSL.com does not assure that the money deposited to the account will be applied for the benefit of the persons named as beneficiaries. If you are considering a deposit to the account, you should consult your own advisers and otherwise proceed at your own risk.
×
Photos
Most recent Sports stories