Estimated read time: 3-4 minutes
COTTONWOOD HEIGHTS — It's easy to read very little into the first game of the Utah high school football season, especially on Thursday night, when one team will be 1-0, one will be 0-1, and everyone else will wait to kickoff under the Friday night lights.
Desert Hills quarterback Noah Fuailetolo hopes you learn one thing about his team after Week 1: The Thunder are here to play.
Fuailetolo threw for two touchdowns and ran for another, and the 4A Thunder hauled in three first-half interceptions to hold off 5A Brighton 28-21 after a lengthy weather delay Thursday night to open the 2022 season.
"I think this says a lot," Fuailetolo said. "I love these guys, and we've been putting work in since January. All the work seems like it's been paying off. It's a great win."
The Thunder (1-0) had to battle with more than just a four-hour bus ride to the Salt Lake suburb before Thursday's win. With rolling thunderstorms across the Wasatch Front, kickoff was delayed by 85 minutes. Brighton players retreated to the program's new state-of-the-art fieldhouse to wait out the storm, while Desert Hills players were left to the visiting team locker room.
A few paced the hallways of the recently renovated school building, eager to get their season underway. And they showed why early on.
"It was a long bus ride, starting at 10 a.m., and a long weather delay," Desert Hills coach Rick Berry said. "But it's interesting; when I saw them in the hall there, they were anxious to play.
"I had a good feeling when they came out; they were ready to go, they were excited, and I wasn't too worried about it."
Both teams put up nearly identical offensive numbers — just over 300 total yards apiece — in the first half. But Desert Hills stormed to a two-touchdown lead thanks to a trio of interceptions by Tayven Mortensen, Ryker Tuckness and Keala Loo.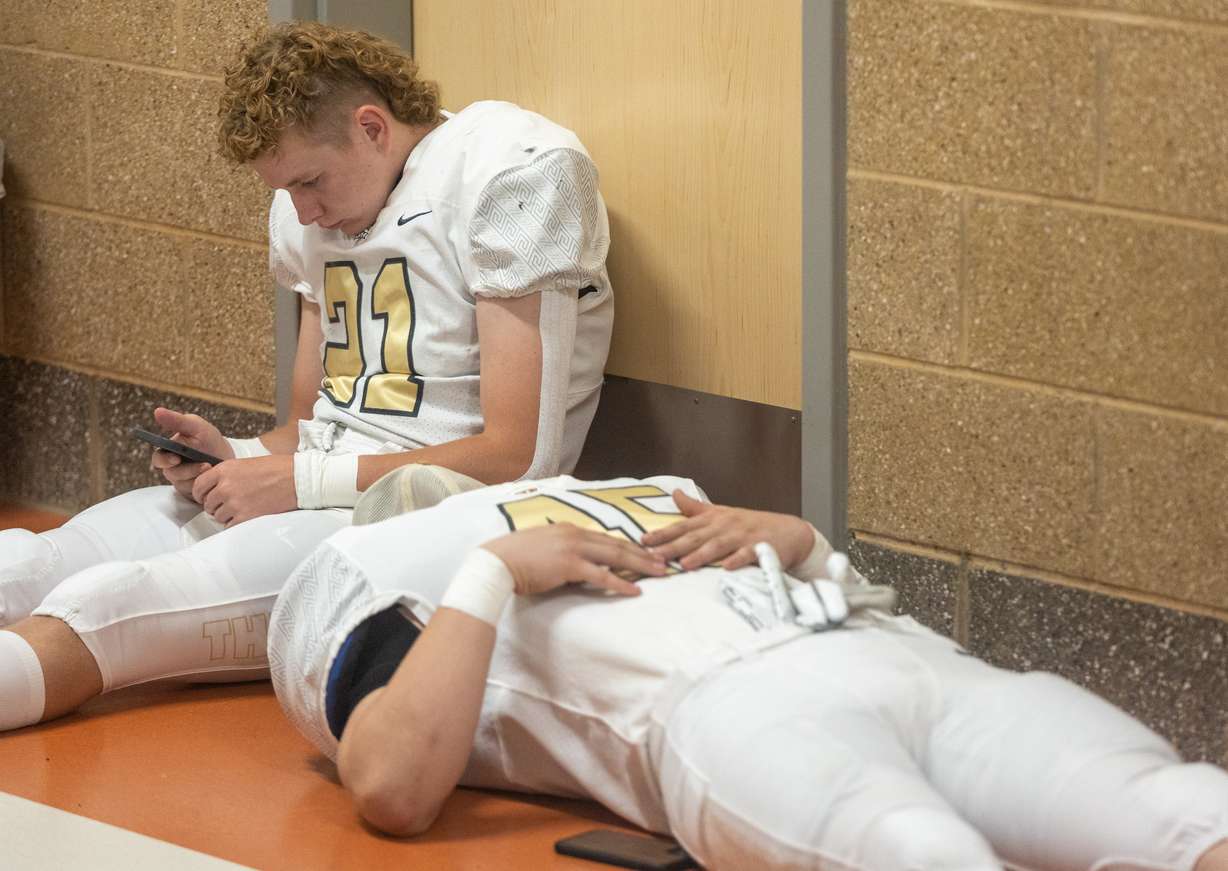 That gave Thunder quarterback Noah Fuailetolo just enough space to pull the offense ahead, throwing for two touchdowns and running for another. His 75-yard strike to Lincoln Holmes on Desert Hills senior's first pass attempt of the game opened the scoring, a 22-yard touchdown to Javiyen Cummings gave the visitors a 28-7 lead with 2:30 remaining in the half, and Kona Crowell added a 4-yard scoring plunge in between.
Jack Johnson pulled the Bengals within 14 points with a 9-yard touchdown to Easton Smith in the final minute of the half. And Brighton added another when Johnson found Jae Matheson in the back corner of the end zone in the third quarter.
But that was as close as the Bengals would get as Desert Hills' defense stiffened up and got a key sack from Daken Hamilton to keep the hosts scoreless in the final quarter.
"The second half was a lot more consistent in our execution. We were in the places we were supposed to be, got to the gaps when we brought a blitz so we got pressure on him," Berry said. "He's a great quarterback; he scrambles well, keeps his eyes downfield, and you really have to keep him in the pocket. We did a better job of that in the second half."
And that four-hour bus ride back to St. George? It felt a lot better after the extra 85 minutes spent pacing the Brighton hallways.
"We had a great team win," Fuailetolo said. "It was a long trip, the lightning delay was rough, and the odds were against us. But we came out, balled out under these lights, and nothing feels better."
×
Photos
Most recent High School stories