Estimated read time: 6-7 minutes
PROVO — With just 37 days left until the 2022 college football season, it's never too early to look ahead to the season opener.
But why stop there?
BYU football's final season as an FBS independent before joining the Big 12 commences Sept. 3 with a trip to Tampa to face South Florida. Regular rival Utah isn't on the schedule, but it does include five Power Five opponents, as well as defending Mountain West champion Utah State at home and a trip to Boise State.
The Cougars return the bulk of production from last year, having lost star running back Tyler Allgeier to the NFL and little else from an offense that ranked 29th nationally with 33.1 points per game and No. 17 overall with 452.2 yards per contest.
We'll get to more of that in time. But for now, let's take a look at the first half of the Cougars' schedule, and how they should fare against everyone from USF to the Golden Domers.
Sophomore quarterback Timmy McClain leads 10 starters on offense back from last year's Bulls squad that played one of the more entertaining games against BYU, 35-27, but he might not be the starter when both teams line up in South Florida.
Baylor transfer Gerry Bohanon (remember him, BYU fans?) is expected to compete for that job when USF opens fall camp in Jeff Scott's third year.
The Cougars haven't had much luck in the state of Florida, with Zach Wilson's BYU finale against UCF in the Boca Raton Bowl being the exception other than the rule. But Jaren Hall will be motivated to finish this one after his first start in South Florida ended in injury, and the Cougars will be motivated to start their season off right.
In a close game, advantage goes to the visitors — not the team coming off a 2-10 season.
Prediction: BYU by 7.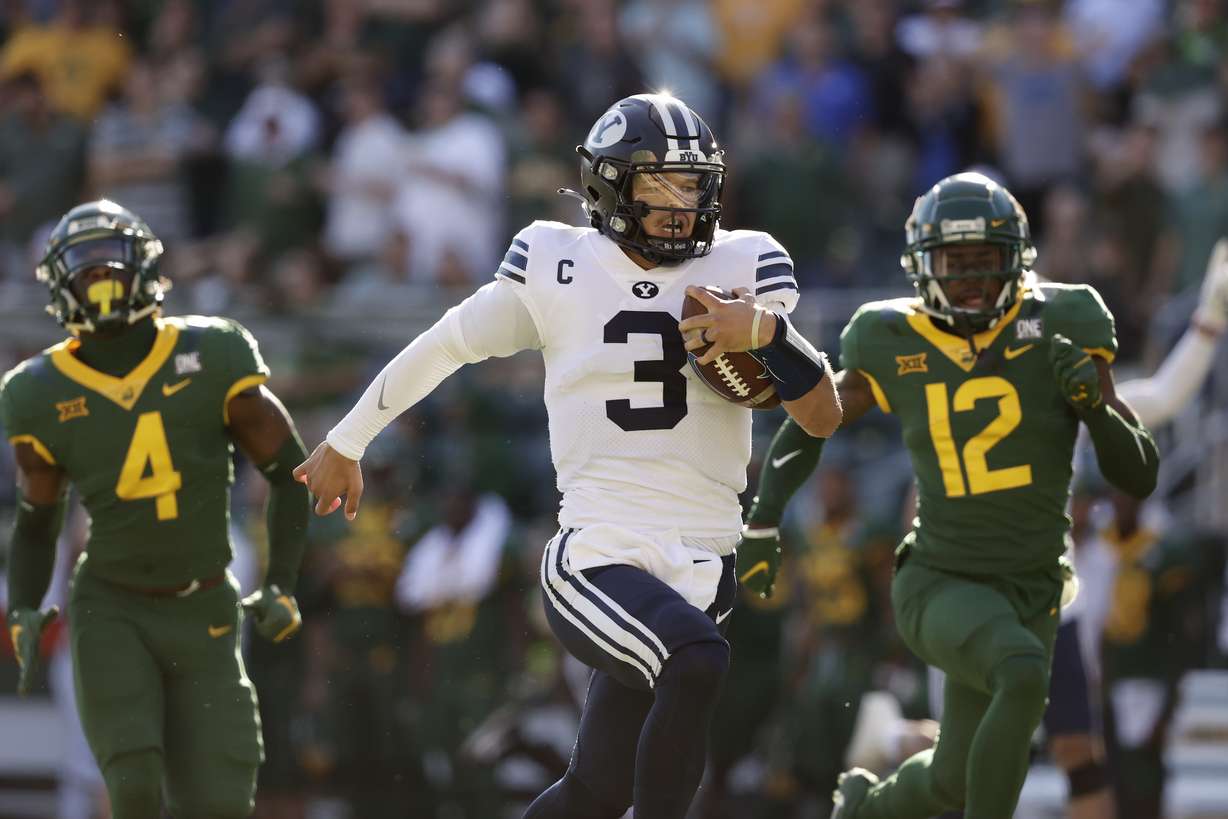 The Bears capped arguably the biggest turnaround in the country in Dave Aranda's second season with a program-record 12-2 season, a Big 12 title, and a win over Ole Miss in the Sugar Bowl.
And they might be just as good in Jeff Grimes' second go-around as Baylor offensive coordinator. The venerated play caller returns to Provo with six returning starters on offense, six more on defense, and adding two-time American Athletic Conference honoree Jaxon Player to a strong defensive line that includes former East High star Siaki "Apu" Ika.
BYU will be motivated in its home opener. But these Bears are good — think, picked to win the Big 12 again and end Oklahoma's six-year streak as preseason favorite kind of good.
Cougars will keep it close … for a bit.
Prediction: Baylor by 21.
You're forgiven if you forgot that Oregon finished last season 10-4 after the way the Ducks' 2021 season ended. After all, that included a pair of late-season losses to Utah — remember that 38-10 waxing in the Pac-12 championship, Ute fans? — and a 47-32 loss to Oklahoma in the Alamo Bowl.
On top of that, Mario Cristobal left for what most consider a lateral move — at best — with Miami, replaced by former Georgia defensive coordinator Dan Lanning. There are a lot of question marks surrounding the Ducks, and we haven't even mentioned Auburn transfer Bo Nix, who will likely be starting at quarterback. One thing we know: former Orem High star linebacker Noah Sewell is a good piece to build around after leading the team in tackles last year.
Oregon is still Oregon. Autzen Stadium is still Autzen Stadium. And the Ducks are still riding a 28-game nonconference winning streak at home that ranks second in the FBS.
Don't count out BYU entirely, though.
Prediction: Oregon by 3.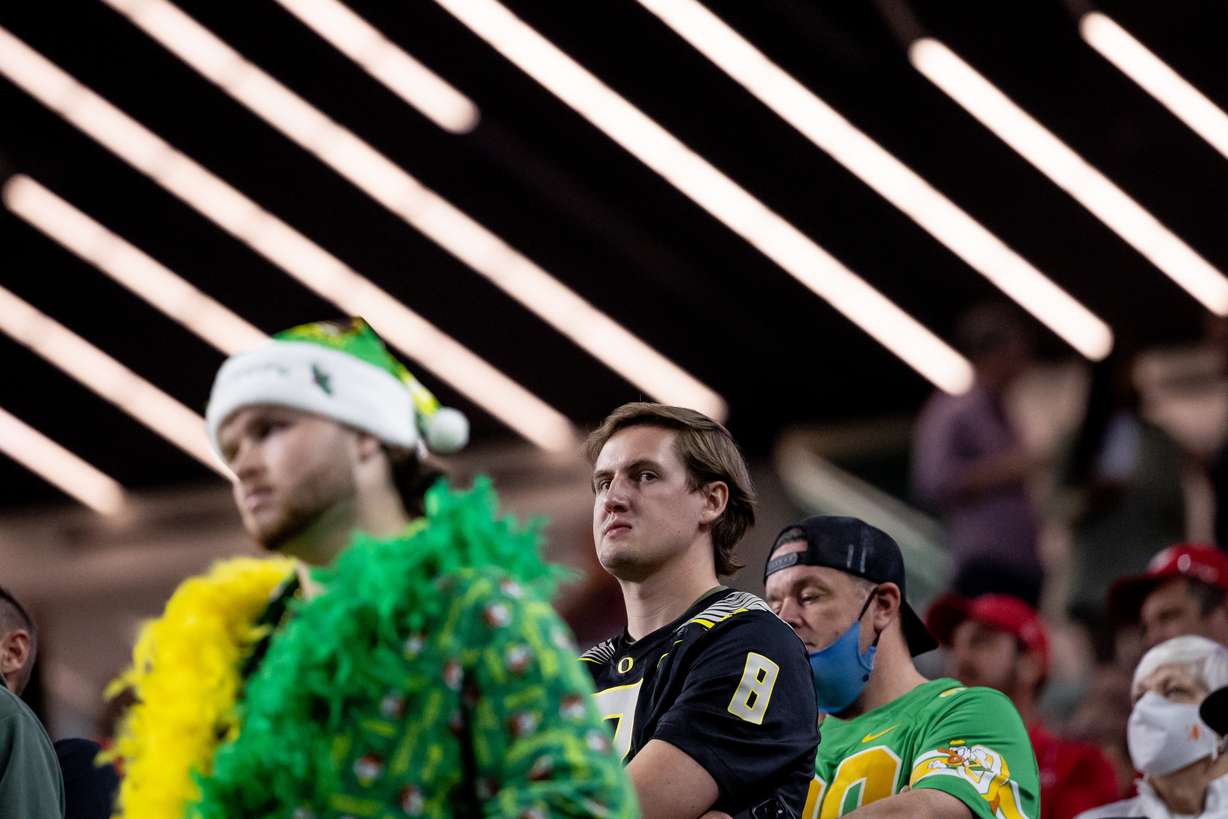 The Cowboys conducted what might be the first like-for-like trade in college football history, bringing in Utah State backup quarterback Andrew Peasley from the portal after Levi Williams went to Logan following a 7-6 campaign.
With just eight total starters back from a year ago, Craig Bohl's ninth year in Laramie faces an uphill climb — and coming to Provo for the first time since 2010 won't make it any easier.
Prediction: BYU by 20.
The defending Mountain West champions aren't reloading, just rebuilding, after an 11-3 campaign with the returns of signal caller Logan Bonner, LA Bowl hero Cooper Legas, and running back Calvin Tyler, who ran for a team-high 919 yards and seven touchdowns a year ago.
The Aggies deserve sincere and merited accolades for what they accomplished in Blake Anderson's first season in Logan, which is not something they got from the Mountain West in picking them to finish third in the division.
Bold prediction: Utah State will finish better than expected in that regard. But a year after a 34-20 loss to BYU's backup quarterback in Logan, the final scheduled meeting of the Wagon Wheel rivalry (for now) will be anything but easy.
The visitors have won and covered the spread in three-straight meetings of the 91-game series. Beware, the favorite.
Prediction: BYU by 10.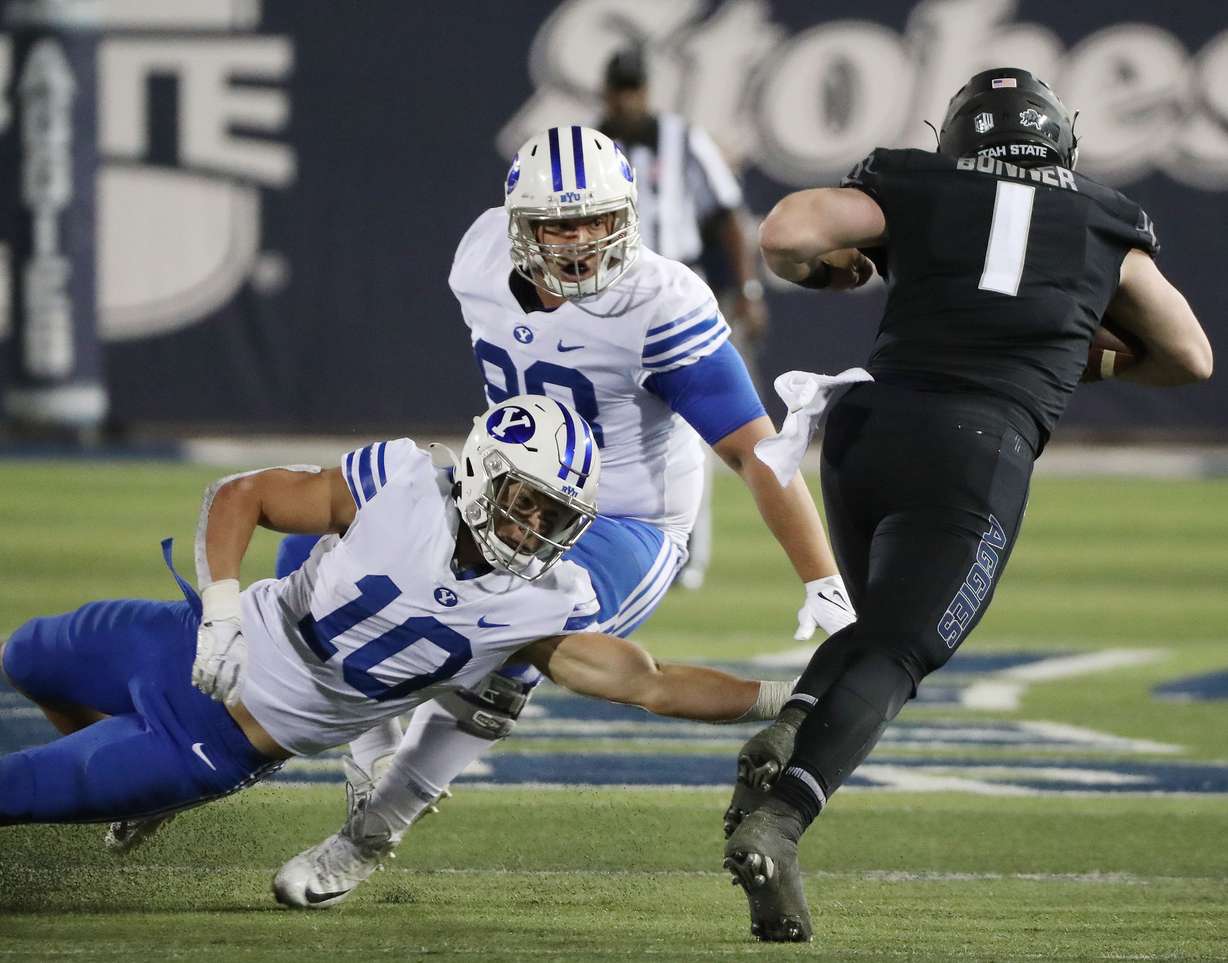 The game fans have been waiting to see for the better part of a decade finally arrives. Well, sort of.
The Fighting Irish are officially the "home team" for the Shamrock Series game less than 400 miles from BYU's campus, and are coming off an 11-2 season and eighth-ranked finish in the final College Football Playoff poll of 2021. Led by quarterback Jack Coan, Notre Dame went perfect against its schedule sans CFP breakthrough Cincinnati before a Fiesta Bowl loss to Oklahoma State, and return seven starters on offense and eight on defense.
But one of those replacements is quarterback, where former four-star recruit Tyler Buchner is set to take over under center. In addition, Marcus Freeman became a first-time FBS head coach after Brian Kelly bolted for LSU — but the second Black head coach in the Irish's 135-year history has reinvigorated the program's offseason workouts and recruiting.
Can he do the same in the first Shamrock Series in Sin City, where the Cougar faithful routinely travel well? In a perfect world, absolutely.
Prediction: Notre Dame by 17.
First-half season predictor: BYU 3-3.
×
Most recent BYU Football stories