Estimated read time: 5-6 minutes
SALT LAKE CITY — As Lynne Roberts left the court of the Frank Erwin Center in Austin, Texas, on March 20, there was little doubt her team was bested by a superior opponent in the second round of the NCAA Tournament — one with more length and the ability to quickly force turnovers and capitalize on them.
The loss would later sting as the minutes turned into hours, days and weeks. But one thing was certain: Roberts' team accomplished something great, even if the end result felt less than fulfilling. The Utah women's basketball team had made it to the second round of the NCAA Tournament, which hadn't been done since 2009.
Some call it a moral victory, others call it progress. But the sting of defeat still stings, even if it was a sign of good things for a program that has been out of the Big Dance for more than a decade. For Roberts, the season, as a whole, was "validating."
"We've had some success, obviously, and made postseason and everything, but we were never validated on this kind of point, and so it just felt validating and that we got some national recognition," Roberts told KSL.com. "We got to places that Utah had never been, did some things on the court we've never done as a program, have some phenomenal players and we're really, really stinking young.
"That's pretty exciting, and we've just got to keep it together, keep the culture intact."
The culture that Roberts developed is one where the players on her roster aren't satisfied with the results of a successful season, even if it was validating or that they'd reached the Pac-12 championship game and won the program's first NCAA Tournament game in a decade. To her young roster, it was just the beginning and the spark that would drive the engine forward.
"They're so bought in and they're so hungry to do more," Roberts said of her team. "I was so proud of them. You know, we lost to Texas, and talking to them after the game, they were pissed — like they were upset. And I'm trying to be like, 'Wow, you guys, look what you did, great season,' and there wasn't a lot of smiles. That has maintained and those guys, they've already set new standards and new new goals. So it's been fun."
It's May, but the next season can't come fast enough.
Utah went from a five-win season to one where the program won 21 games, gained the respect of conference opponents, and appeared in the program's first Pac-12 title game. It's what Roberts called "confidence boosting" and "legitimizing" the program's belief that it can compete at a high level, even in a tough conference.
"We are right here," Roberts said. "Like, we're not talking about it anymore. We're not wishing and hoping, dreaming; we're in it. You know, as players, I think that was really a big thing for them."
Armed with a new contract extension that was signed on April 19, which keeps Roberts as the program's head coach through June 2027 and gives her a significant raise from $410,000 per year to $679,500, there's a belief from the university's administration that Roberts is the right person for the job, and that she's building a program that can consistently compete at a high level.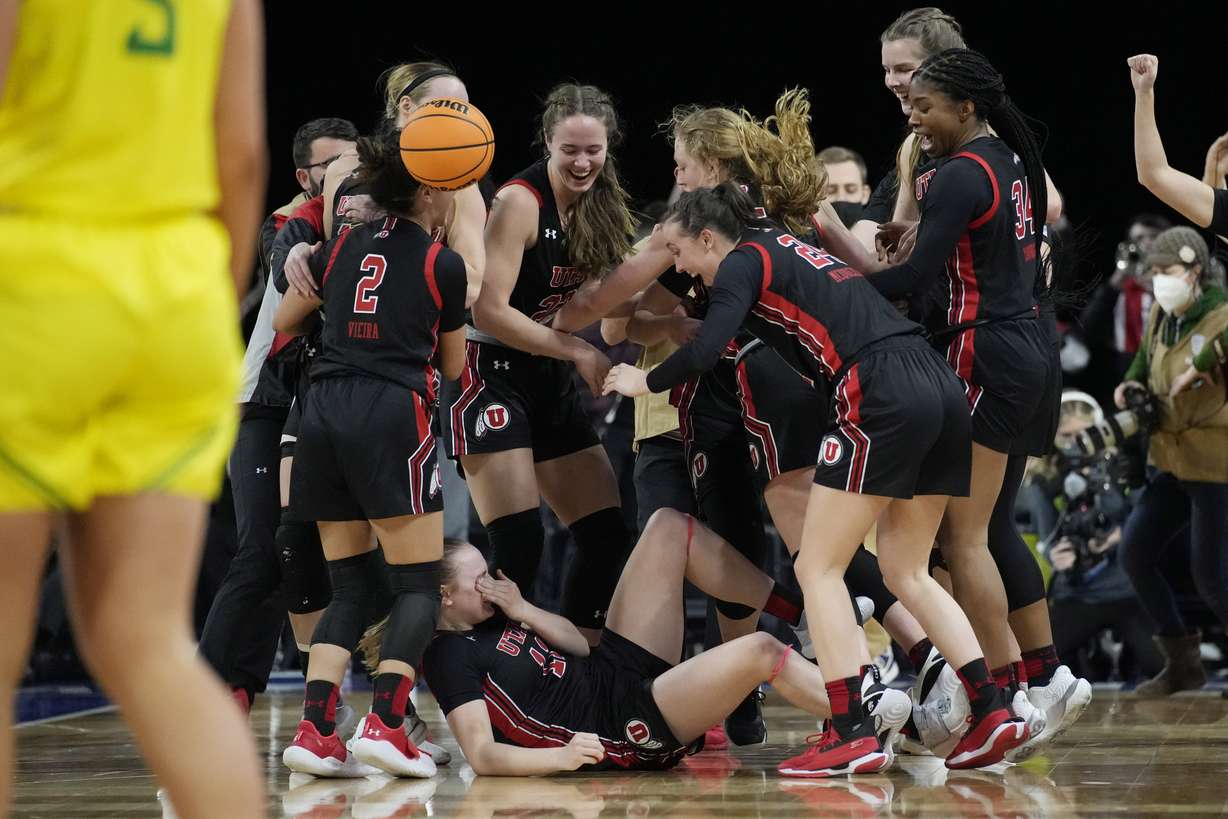 But one successful season does not necessarily lead to more; each season is a new hurdle to climb, or as Roberts called it a new hill to push the boulder up. "Once you kind of get over it, then everything gets — everything changes a little bit. It doesn't get easier, you just kind of change your focus as to what you're — you change the hill maybe, I guess."
And in a sport where there's only one winner at the end of the season, that hill, or new challenge, only gets more difficult the closer it comes into view. Utah tasted a successful season and has a blueprint for what it can look like, but it's about getting better; it's about adding more length to the roster and defending better in the post and perimeter, Roberts said.
"I think we just have to keep the momentum going and keep stoking the fire," she said. "It's what I'm working on now, is identifying what are the things we need to get better at.
"I'm a firm believer in you're either getting better or you're getting worse, so complacency is not my game. And so we're not going to just sit back and think, 'Wow, we got the majority of everyone back and we've got good people coming in, so it's just going to work out. Like that's not how you get lucky — so grinding. Maybe the mountain has changed, but I'm going to keep pushing the boulder up the hill because we haven't gotten everywhere I want to go."
Part of that grind is making her program more attractive to those who may not be paying attention. It's getting more fans into the Huntsman Center and creating a product on the court that is buzz-worthy, fun and entertaining. Like football or gymnastics, women's basketball at Utah can be an experience with more interest in her eyes, especially as the sport is gaining traction around the country.
"I think we have a little bit of buzz, a little bit of momentum," Roberts said.
And with a majority of the roster returning for the next season, led by the team's leading scorer Gianna Kneepkens, who was named the Pac-12 Freshman of the Year, it's just getting started.
×
Most recent Utah Utes stories