Estimated read time: 4-5 minutes
If the COVID-19 pandemic taught a critical lesson, it is the importance of classroom learning in focusing children's attention on academics. Parents, teachers, educational leaders, and pediatricians are all worried that the biggest threat to long-term recovery from COVID might be the learning lost during the pandemic.
"Kids' day-to-day routines were totally upended, the way they were expected to learn was completely changed and their connection with peers and other supportive school adults was abruptly disrupted; especially in the early months of the pandemic," said Allison Ellzey, MD, MSEd, a developmental behavioral pediatrician at University of Utah Health.
Ellzey believes children lost much more than a focus on academics and socialization. She suggests other issues have gone undetected. "We know that children overall have experienced increased rates of depression and have had learning challenges that may have been missed due to remote learning and lack of academic monitoring."
The demands and expectations placed on parents and teachers during the pandemic were unprecedented, according to Ellzey. "Teachers were asked to teach in a whole different way without a lot of preparation or training or extra time to prepare different types of lessons." Meanwhile, on the home front, the daily challenges for parents and caregivers did not leave much room for individual help with schoolwork. It was hard to gauge focus on and understanding of virtual lessons. "Parents were trying to work at home, supervise their child's learning, and do all the other parenting tasks to support their kids' mental health," Ellzey says. It was a tough assignment.
The virtual classroom lacks the tools most teachers find essential to keeping their students focused and on-task to learn. Ellzey describes these skills as critical to classroom learning. "Teachers are trained to not only provide academic instruction, but also classroom management. A lot of that is recognizing the individual needs of each child and then tailoring how they communicate with them. It helps the teacher gauge the learning environment in the whole classroom, what types of activities they do, and how they time activities to help kids focus on the academic materials being presented." She adds that time and attention management is difficult to control when the students are in different boxes on a screen.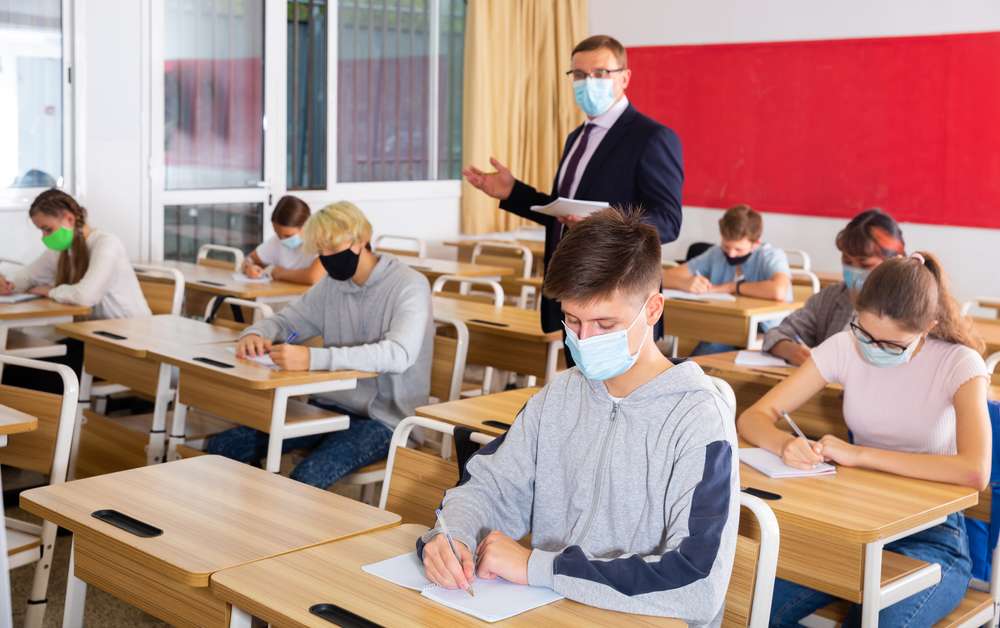 As students return to their classrooms and teachers and parents work to restore the learning and focus lost during the pandemic, some major adjustments will be needed. The experts suggest that educators will need to tailor their instruction to support a greater variety of learning needs at every grade level. Ellzey has confidence in our teachers' ability to meet this challenge. "Teachers are experts in using different behavioral, instructional, and scheduling strategies to optimize instruction for all their pupils during the school day," Ellzey says.
In Ellzey's pediatric practice, she sees a lot of children who have autism, attention deficit hyperactivity disorder (ADHD), and other developmental disabilities. She is used to answering questions from parents concerned about their child's perceived inability to focus. As in-person learning resumes, Ellzey expects to field a lot more inquiries. "A question a lot of parents have now that their children are back in school, is how long should it take for my child to be back to quote, unquote, 'normal' behavior as far as attention goes.," says Ellzey. She admits it's a hard question to answer, but she does think that parents and educators should error on the side of caution. If a child's struggles with focus are interfering with their day-to-day life, at school or at home, then they should be evaluated.
Ellzey emphasized that in a pre- and post-pandemic world, "the ability to focus varies between children, even typically developing children who do not have ADHD or any other sort of neuro-developmental difference." She says, "It is our challenge as parents and educators to recognize that not all children will be able to pay attention for the same amount of time." Ellzey encourages parents and caregivers to embrace the new normal with the understanding that kids still need to be kids. There must be a balance between home and school, one of those critical lines that were blurred during COVID.
"School is an extremely important part of childhood, but it's not all of it," said Ellzey. She advises that as we try to optimize our children's performance back in the classroom setting, we keep the importance of time for socialization, play, family, and creativity in mind. "It's important for kids to have enough downtime for fun so they can learn what is interesting to them, so they can explore their passions." It might be a good way to make up for some of the learning that was lost inside and outside of our classrooms during the pandemic.
×