Estimated read time: 4-5 minutes
Ah, springtime. The sun is shining, the flowers are blooming and it's time to bring that home of yours out of hibernation from a long winter's nap. Spring cleaning is a great way to freshen things up and keep your family happy and healthy — but it can also feel overwhelming when your to-do list is a mile long.
To help you out, here's a simplified spring cleaning checklist to get the ball rolling. So, roll up your sleeves, crank your favorite high-energy playlist and get ready to make your home shine!
(And here's one more tip: This checklist works best if you divvy up responsibilities and get the whole family – even the little ones – in on the action.)
Gather your cleaning supplies
Without the proper cleaning supplies, your spring cleaning will be nothing more than spring tidying, which means the layers of dust and grime will only grow thicker. (Yuck.) You want the right products to help you tackle those stubborn stains and messes, but the good news is that you don't have to fill your cleaning closet with dozens of bottles.
Martha Stewart says all you really need is a good all-purpose cleaner, baking soda, vinegar and some Castile soap to clean most areas of your home. You'll want to invest in some microfiber cloths, too!
Get rid of the clutter
Before you do any actual cleaning, it helps to clear each room of unnecessary items and clutter that could get in the way of that zen feeling you ultimately hope to achieve. Grab a box or a bag — one for trash and one for donations — and remove everything from each room that you no longer need. (If you haven't worn that sweater in the last year or two, it's probably time to part ways.)
Start with the kitchen
The kitchen is likely going to be the most time-consuming room on this list, so getting it out of the way early will make everything else feel like a breeze. First, if you didn't include the kitchen in your decluttering process, now's the time to remove everything from your cupboards and drawers and take stock of things you no longer want or need. Wipe down the inside and outside before returning items to their proper place. Repeat this process for your fridge and pantry, tossing out expired food items.
Take everything off your countertops and wash them down with mild soapy water (or an appropriate cleaner for whatever type of surface you have). Next up, scrub down the sink, the stove, the oven, the microwave and any other small appliances. Don't forget to vacuum and dust off the coils behind your refrigerator! (Got some stubborn stains and odors? Check out Apartment Therapy's list of brilliant kitchen cleaning hacks.)
Move on to bathrooms
You guessed it — the first step is to clear out the drawers and cupboards, chucking anything that's expired or unnecessary. Then wipe down and clean the counter, sink, mirrors, light switches and baseboards. Since you're hopefully cleaning your toilet bowl, tub and shower on a regular basis, now would be a good time to focus on the places that get less of your attention. This includes the shower curtains, floor mats and tile grout. Throw the first two in the wash and give those grout lines a good scrub. (Bob Vila also suggests resealing grout about every year or more, depending on how much moisture it gets.)
Spruce up the living areas
Now that you've done most of the deep cleaning and disinfecting in the germiest parts of the house, cleaning the living areas should be a piece of cake! Dust the lampshades, ceiling fans, pictures, trinkets, baseboards and bookshelves, then vacuum your floors and furniture. (You can spot clean it if needed.) Wash any throw pillow covers, blankets, rugs or curtains. Clean windows and mirrors and mop hard floors. Go the extra mile by sanitizing those remote controls!
Finish with the bedrooms
The bedrooms will mostly follow the same cleaning pattern as your other living areas, but you also might want to rotate your mattress and wash your pillows. Good Housekeeping suggests washing your pillows about two to four times per year to keep them in good shape.
Bonus: Tackle the outdoors
If you've got a little energy to spare, it might be a good idea to do some spring cleaning outside as well before the summer heat catches up with you. Pressure wash your patio/deck, outdoor furniture and garbage cans and then clean the exterior of your windows. Make sure your rain gutters are clear of debris, too.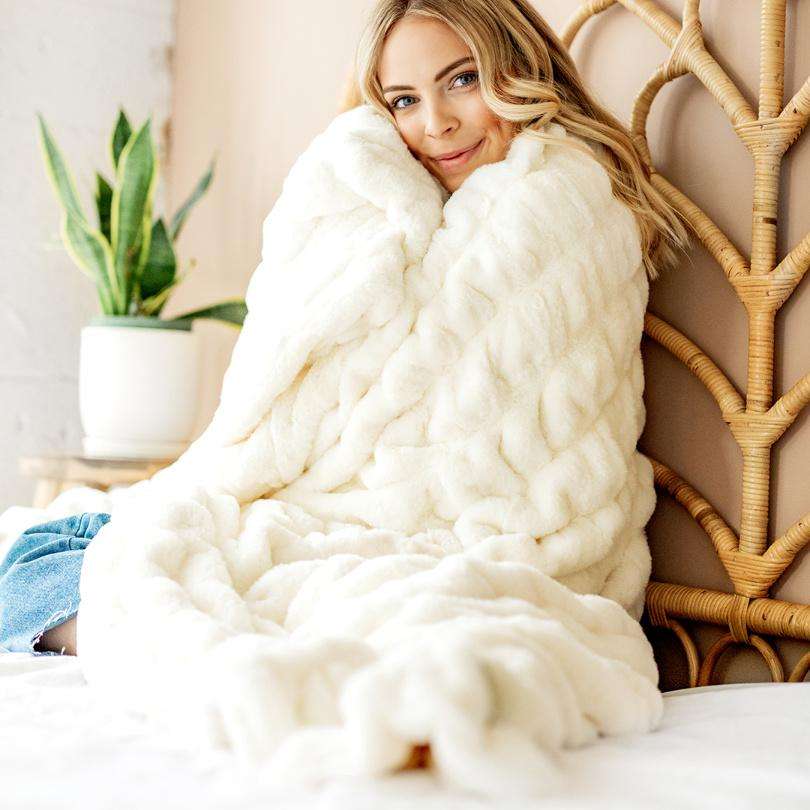 Reward yourself for a job well done
Congratulations! If you've followed each of these steps, your home should be in good shape to welcome in the warmer weather. Stand back, admire your work and reward yourself with a well-deserved nap on your freshly-cleaned bed — preferably with a soft, cozy blanket from Minky Couture!
×