Estimated read time: 6-7 minutes
This archived news story is available only for your personal, non-commercial use. Information in the story may be outdated or superseded by additional information. Reading or replaying the story in its archived form does not constitute a republication of the story.
LAS VEGAS — With four seconds on the clock and San Francisco nursing a double-digit lead against BYU in the quarterfinals of the West Coast Conference Tournament, Jamaree Bouyea swiped at a steal and sprinted down court before using his long strides to propel himself high above the rim at the Orleans Arena to throw down a mammoth dunk.
The whistle blared, Bouyea received a technical foul, and BYU fans jeered, but it was the best tech Bouyea has ever taken.
For the first time since 1998, the house that Bill Russell built is almost assuredly heading back to the Big Dance. Call them a lock, a guarantee, or anything but officially "ticket punched," but the Dons are going to NCAA Tournament.
"This was a big game for a multitude of reasons," USF coach Todd Golden said. "The media had been building this up as an elimination game, and I didn't feel that way with our body of work. But tonight, we left no doubt."
While there was no doubt and dancing among the San Francisco fans that flooded out of the arena before the conference's second quarterfinal between Portland and Santa Clara — SCU rolled to advance to face Saint Mary's in Monday's semifinals — the vibe was demonstrably different in the BYU locker room.
Devastated and dark, the Cougars watched as their once promising season — one that included wins over San Diego State, Oregon, Utah, Missouri State and Liberty before the New Year and start of conference play — was pushed to the brink by the inability to take advantage of one last NCAA Tournament lifeline.
If BYU's tourney hopes aren't over, they're on life support. Miracles never cease and lesser teams have been invited, but a resurrection of a bid for the one-time No. 12 team in the Associated Press Top 25 may require a personal call from Lazarus himself.
The Cougars are 22-10 after the latest defeat, their second in three tries against USF and have lost six of their last 11 games. The five wins have all come against Loyola Marymount and Pacific, including three against the Lions after Friday night's WCC second round rout.
Put another way, the Cougars — who ranked No. 50 in the NET in the most recent update Friday morning — haven't defeated a team in the conference's top-six since Jan. 22 against Portland. It's even further against the top four, to a 71-69 win over USF on the Hilltop — well ahead of a four-game slide against Santa Clara, Pacific, USF and Gonzaga from Jan. 27 through Feb. 5 that threw a once-promising sadness into chaos.
Saturday night was the latest dagger — and potentially final nail.
The elimination loss in Las Vegas dropped BYU to 4-5 in Quad 1 games for a 7-8 record in the first two quadrants. Mark Pope's team challenged themselves during nonconference play and it paid off — even more than they expected, in the form of themselves becoming Quad 1 and Quad 2 wins on the schedules of their conference mates.
And that's the last thread on which BYU's tourney hopes may be hanging — if the robe hasn't fallen off the hook yet.
"We played a top-30 toughest schedule in the country," a somber Pope said after the latest loss. "I think there are four teams ranked ahead of us that have played a harder schedule in the nonconference. That matters or it doesn't. That also takes a toll on a team.
"That would be my first thing: Are we encouraging teams to go out and play the hardest schedule they can in the nonconference, or to pad and go play a light nonconference schedule? That's a pretty significant number, if you think about it. There are 49 teams ranked ahead of us, and only three or four have played a harder nonconference schedule; I think that's significant.
"These guys have battled since day one; we took on every NCAA Tournament team we could possibly find, every conference champion we could find. These guys put together an unbelievable run — and with that said, we stumbled a little bit. But this is a good team with star players and young guys who are exciting. So we're hopeful; we'll see."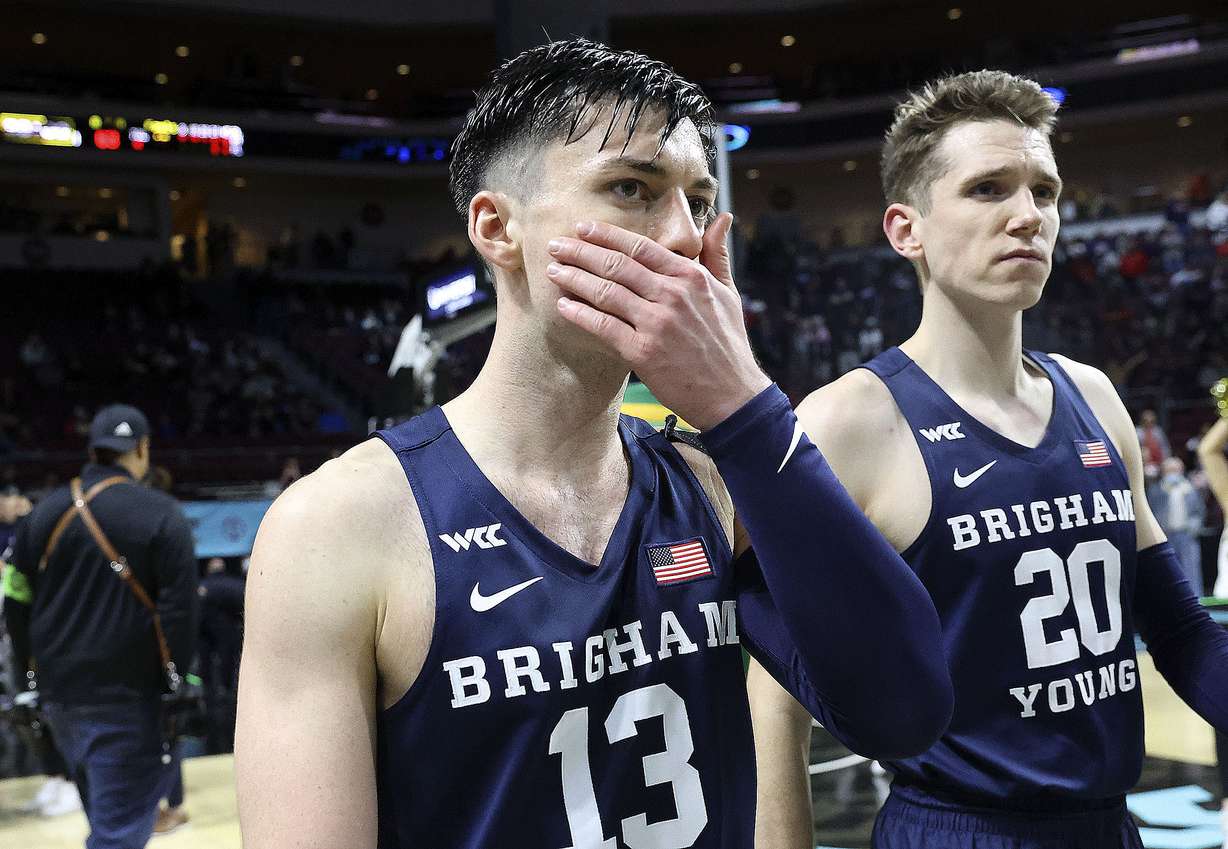 On one side, hope; on the other, confidence.
Golden didn't feel threatened by the media-driven magnitude of his team's quarterfinal Saturday night — at least, not publicly. But if he did, his Dons left no doubt who the better team was, just in case.
"I don't think we saw it as an elimination game," Bouyea said. "We saw it as another opponent in our way. We also thought this game was a little personal for us. The last time we went into BYU, things got sideways and chippy for us."
The Cougars have at least part of the West Coast Conference in their corner. Officials from the league confided prior to Saturday night that BYU's strength-of-schedule and overall resume should be enough to land them in the field of 68 — perhaps in a First Four game — with only a win over LMU. The Lions' own head coach added after their 85-60 loss that BYU seemed like a tourney team.
"Absolutely. They've got everything; they've got size, they've got shooting," said Stan Johnson, who played collegiately at Southern Utah and Division II Bemidji State. "This is a team that if they get into the tournament, they can advance. For us and for our league, I absolutely hope they can get in."
The Dons (24-8) got revenge on the Cougars twice — once for the way BYU stormed back from a 10-point second-half lead to top USF 71-69 on the Hilltop, and again for the "chippiness" that came in Provo. The chippy attitude and remembrance is likely due to some actions and name-calling that came from the home crowd than anything that may have been said on the court, according to a source from the student section who declined to repeat what was said.
Regardless, the Dons were motivated. It's unfair to say that BYU wasn't Saturday night, but the Dons were clearly moreso.
When asked if the other team across from them "seemed like a tournament team," BYU's Spencer Johnson was gracious.
"Playing high-level teams is always a battle," said Johnson, comparing the tourney tilt with the Dons to last year's matchup with UCLA. "They came out, they hit some shots, and it didn't go our way.
"But I totally think that we're a tournament team, and we have the guys and the resume. I'm really just super proud of the guys and how they competed. We'll bounce back; we always do, and we always will."
USF's Khalil Shabazz was … slightly less complimentary.
"Honestly, at the end of the day, we're worried about the Dons and not anybody else," he said. "It doesn't really matter; we've just got to go out and get the dub.
"I don't really care if the other team is an NCAA Tournament team or not."
×
Related stories
Most recent BYU Cougars stories