Estimated read time: 7-8 minutes
March can be a frustrating month in northern Utah. You're ready for spring, but snowstorms still intrude and there are typically plenty of blustery cold days. When you can't stand it anymore, you make the executive decision to accelerate the countdown to warm and get away with your family for a few days. Good idea.
Just a few hours from the Wasatch Front, Las Vegas and its nearby areas offer endless culture, entertainment (that's not casinos or clubs) and outdoor possibilities. And the winter season doesn't just bring milder weather, it also reduces the crowds — making it a perfect time to visit with your family. Here is a suggested itinerary for a three-day, family-friendly road trip to Sin City.
DAY 1
Beaver Creamery
After you've been on the road for a few hours (depending on where you started), you'll probably want a break to stretch your legs, use the restroom and grab a bite to eat. Plan your first stop of the trip at The Creamery in Beaver.
They have everything from squeaky cheese, fresh ice cream, and cheese curds to sandwiches and fries. There's even a children's play area where they (and you!) can learn about the dairy farming process and how the delicious food is made. You can find The Creamery at 165 S 500 West in Beaver.
Spend the night in St George
Though it's only about 3.5 hours from Salt Lake City, you'll want to take advantage of all the St. George area has to offer on your road trip. Spend the night at the Inn on the Cliff, which boasts spectacular views — day and night.
Since you might get there with some time to spare, it's well worth your time to hike up to The Dixie Sugarloaf in Pioneer Park for stunning views of the city at night.
DAY 2
Morning: Snow Canyon State Park
If you decided to stay in St. George, you are now approximately 20 minutes away from one of Utah's most underrated parks. Because Snow Canyon has the misfortune of being so close to Zion, it is often overshadowed. But anywhere else in the country and it'd be a national park and default Mac screensaver. (Ugh, southern Utah — you are so spoiled.)
Drive through the scenic route and stop as desired. Plenty of sand dunes and boulders are right off the road, which your kids are sure to enjoy. For family-friendly hikes, check out the popular Lava Tube Trail and Petrified Dunes trails. One of the park's best features is its paved loop, which accommodates hikers, bikers and even rollerbladers (which you should always have on hand just in case).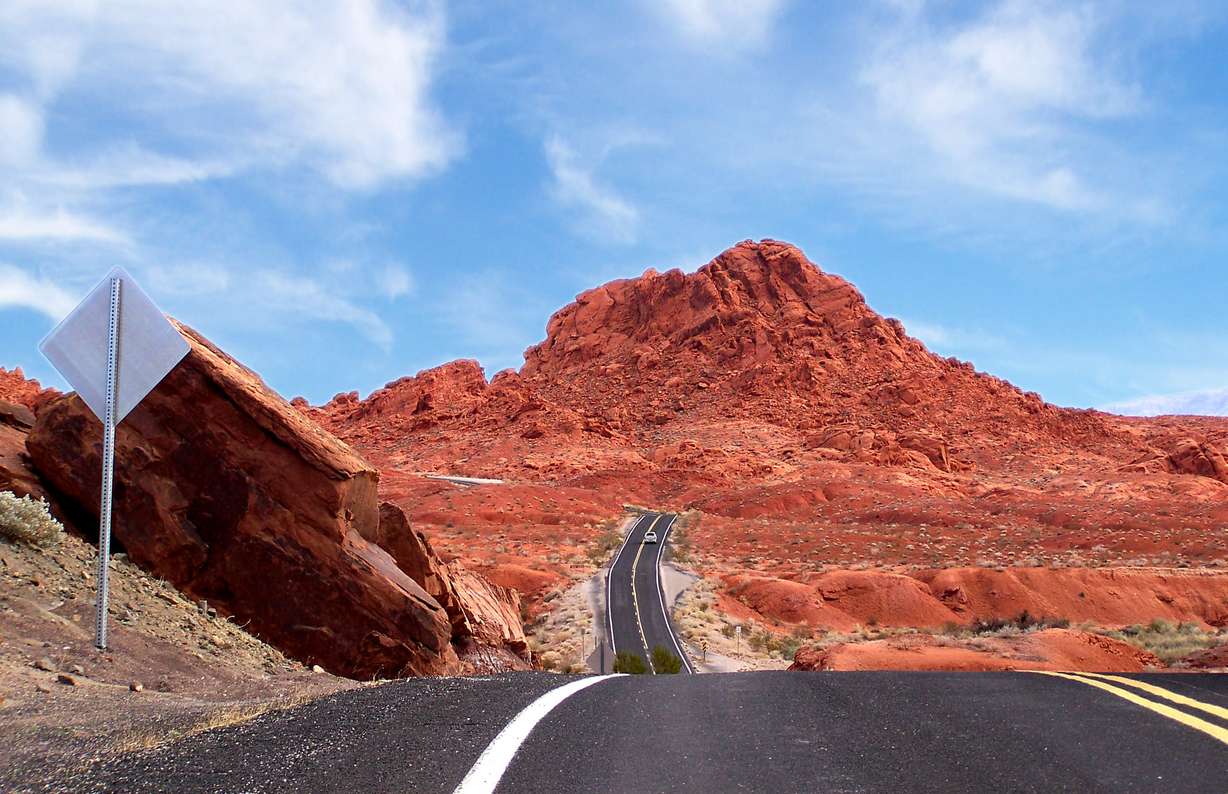 Afternoon: Valley of Fire State Park
You can't skip over Valley of Fire, where views are more dramatic than a toddler during a timeout. Located outside of North Las Vegas, you'll be glad you made the eastern detour. In the park, you'll see where nature carved some of her finest work on stunning colorful sandstone (after making the canvas herself, of course).
Take your time visiting the park and appreciating her creations, which range from fire waves/ice cream swirls to elephant rocks to beehives. She's generously made those easy to access too. If that wasn't enough, mystical ancient human-made carvings are also on display in the park.
Evening: the Strip
You probably can't check into into your hotel until 3 or 4 p.m., but try to arrive in Vegas a little earlier so you can do some exploring. Though much of the Strip is not family-friendly, there are certain places worth the stop!
M&M's World in Las Vegas is a fun place to stop for both adults and kids! With virtually every color of M&M imaginable, four floors of treats, shopping and interactive activities, you'll be able to spend at least an hour or two here.
On that same page, you should also treat yourself to a stop at Hershey's Chocolate World in New York-New York. Snap a selfie with the 800-lb. milk chocolate Statue of Liberty or customize your own chocolate bar! Inside the store, you'll also find a Jolly Rancher Flavor Wall, a Hershey's Bake Shoppe, a Hershey's Kisses Flavor Wall and more.
In the Mirage, you'll find the Siegfriend & Roy's Secret Garden and Dolphin Habitat. Check out the Bottlenose Dolphins, White Tigers, White Lions and Leopards in a fun and enchanting environment.
One Google reviewer said, "Easily the best part of our trip to Vegas. The dolphins are so much fun to watch, and they have shows very frequently. I would highly recommend the meet-and-greet package. You get to meet, pet and feed a dolphin, and you get a picture taken with it too, printed and digital."
When it comes time to eat, you have literally thousands of choices. For many options in one place, you could visit the Village Street Eateries. Located in New York New York, you'll have a very NYC-inspired walk through the various restaurants. Choose from Irrico's New York pizza, Greenberg's Deli, or a classic New York hot dog!
For dessert, visit Cafe Gelato in the Bellagio. The bright and colorful shop offers ice cream, gelato or yogurt in a range of tasty flavors. They also serve salads and sandwiches, so if you prefer to eat all of your meal in one place, that's also an option.
DAY 3
Early morning: Red Rock Canyon
The Red Rock Canyon National Conservation Area and its vividly colored sandstone cliffs are particularly worth the stop. Driving through the 13-mile scenic road shouldn't take you too long (though you should stop at the various viewpoints) and is a great alternative to the business of the Strip.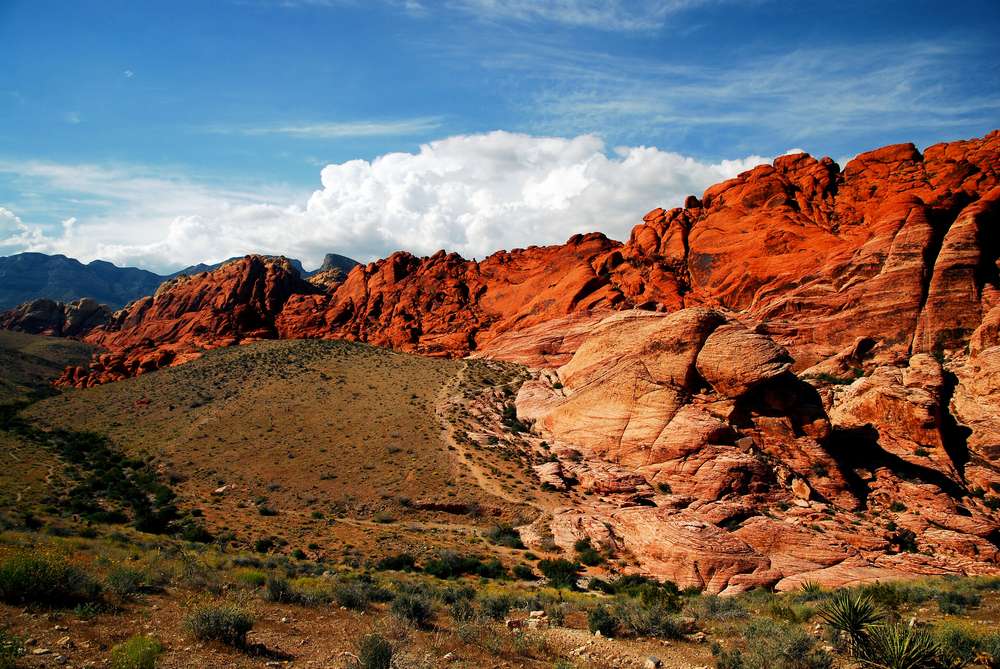 Early lunch: Off the Strip
For lunch, try one of the hundreds of incredible off-Strip restaurants — like the Japanese-influenced burgers of FukuBurger, conveniently located in between Red Rock Canyon and the Strip. FukuBurger is in Vegas' Chinatown, so feel free to spend some time there exploring.
Early afternoon: Mob Museum or other attractions
The Mob Museum is a Vegas classic. It's fun and interactive and you can even take a fake mugshot, but the museum is more than just a gimmick: its exhibits are highly informative and help visualize the impact of organized crime in America.
Note: Only kids ages 11 and up are allowed in the museum. If yours are younger than that, consider the Natural History Museum, Springs Preserve (a 180-acre complex with museums, botanical gardens, playgrounds and more) or the Pinball Hall of Fame.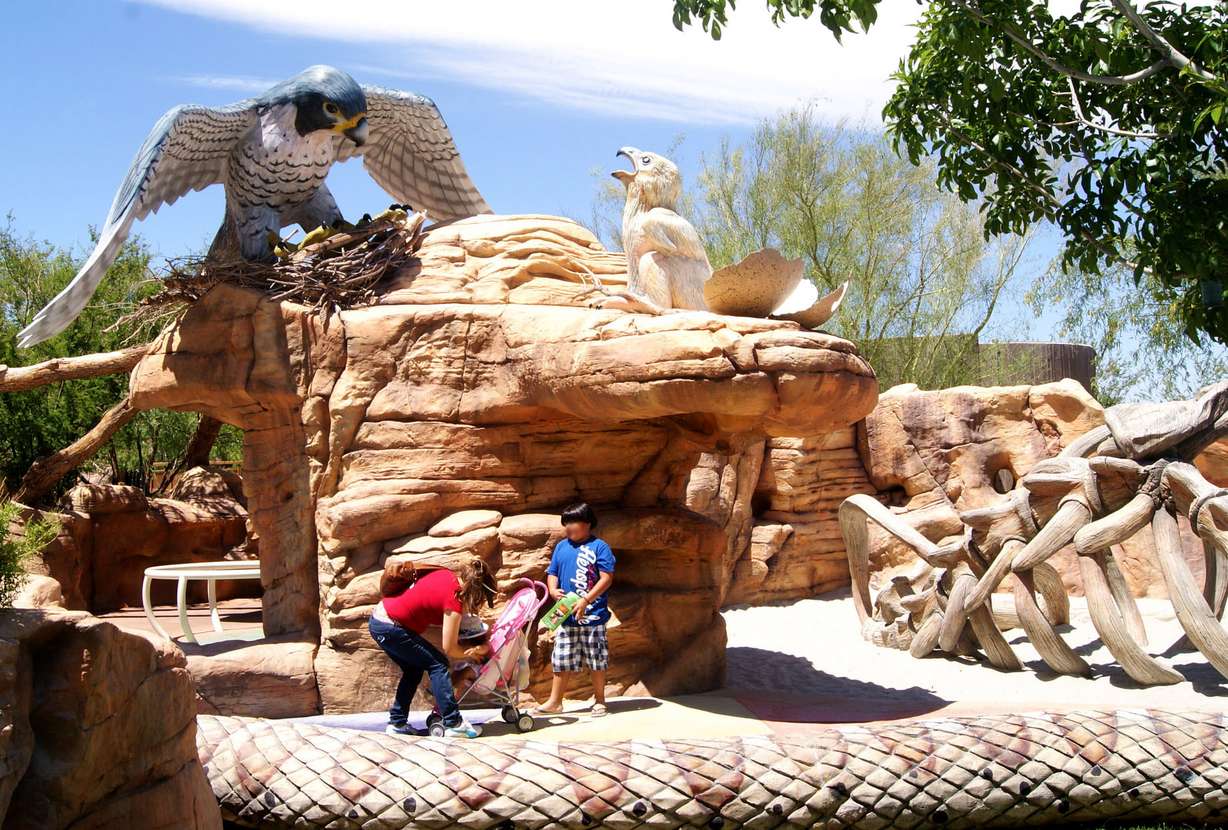 Afternoon: Drive back toward Salt Lake City
After a morning well spent learning about mobsters, it's time to head back to whatever lovely place you call home. If you have time on the trek back home, stop and see the Dinosaur Discovery Site at Johnson Farm in St. George. The kids can ooh and ahh over the life-sized models of dinosaurs and even walk next to the thousands of fossilized dino footprints.
After a thrilling stop, the kids should sleep the rest of the way home (fingers crossed)!
×