Estimated read time: 4-5 minutes
This archived news story is available only for your personal, non-commercial use. Information in the story may be outdated or superseded by additional information. Reading or replaying the story in its archived form does not constitute a republication of the story.
PROVO — Midway through the second half of BYU basketball's home finale against Pepperdine, Alex Barcello stepped through a wicked crossover, jumped back, drained a triple and tapped his wrist, as if to say "it's time."
Fousseyni Traore got the message.
Traore poured in 25 points, 19 rebounds and three assists en route to the seventh double-double of his career and BYU basketball wrapped up the regular season with a 75-59 win over Pepperdine in front of a close to 16,000 fans Saturday night in the Marriott Center.
Barcello added 10 points, eight rebounds and three assists, and Te'Jon Lucas had 15 points and four assists on senior night for the Cougars (21-9, 9-6 WCC), who also honored injured big men Gavin Baxter and Richard Harward before tipoff.
But on one particular play, Traore — like any good freshman would to a senior leader — was just following orders.
"I was so hyped," he said with a laugh. "He (Barcello) just needed to chill a little bit, right?"
That's when head coach Mark Pope jumped in, with a joke that might as well have been completely accurate.
"When AB did that," Pope said, tapping his wrist, "Fouss turned to AB, and said, 'if you want to put this thing away, get me the ball. Every. Single. Time.'"
Point taken for the 6-foot-6, 254-pound freshman from Bamako, Mali, the former Wasatch Academy standout whose freshman year has seen a steady rise since he became the top post player on a team missing its two top bigs in Baxter and Harward. But when Traore goes off, good things happen for BYU, which improved to 6-1 on the year when he records a double-double.
Traore has scored in double figures in three of the past four games, paralleling a rise that has seen BYU right itself after a four-game skid that propelled the Cougars to the edge of the NCAA Tournament bubble.
With four wins in the last five games — the only loss, a 69-64 setback at Saint Mary's, when Traore struggled to 4 points and five rebounds while playing through a groin injury — the Cougars have (seemingly, possibly, maybe) righted the ship.
"25 and 19? That is absurd," said Lucas, who celebrated his second senior night but first with fans and a crowd that included his mother, sister and grandmother in attendance. "And for a freshman to get that, 9-of-10 shooting. Seven-of-nine free throws. That is absurd."
Gideon George supplied 11 points in BYU's regular-season finale, and Trevin Knell had 8 points and four assists for the Cougars.
Houston Mallette scored 23 points to lead Pepperdine (7-24, 1-15 WCC) and fellow freshman Mike Mitchell Jr. supplied 18 points, eight rebounds and four assists for the shorthanded Waves, who only played seven players.
But on Barcello's second celebrated senior night in a BYU uniform, the Chandler, Arizona, product wanted to end the regular season in style.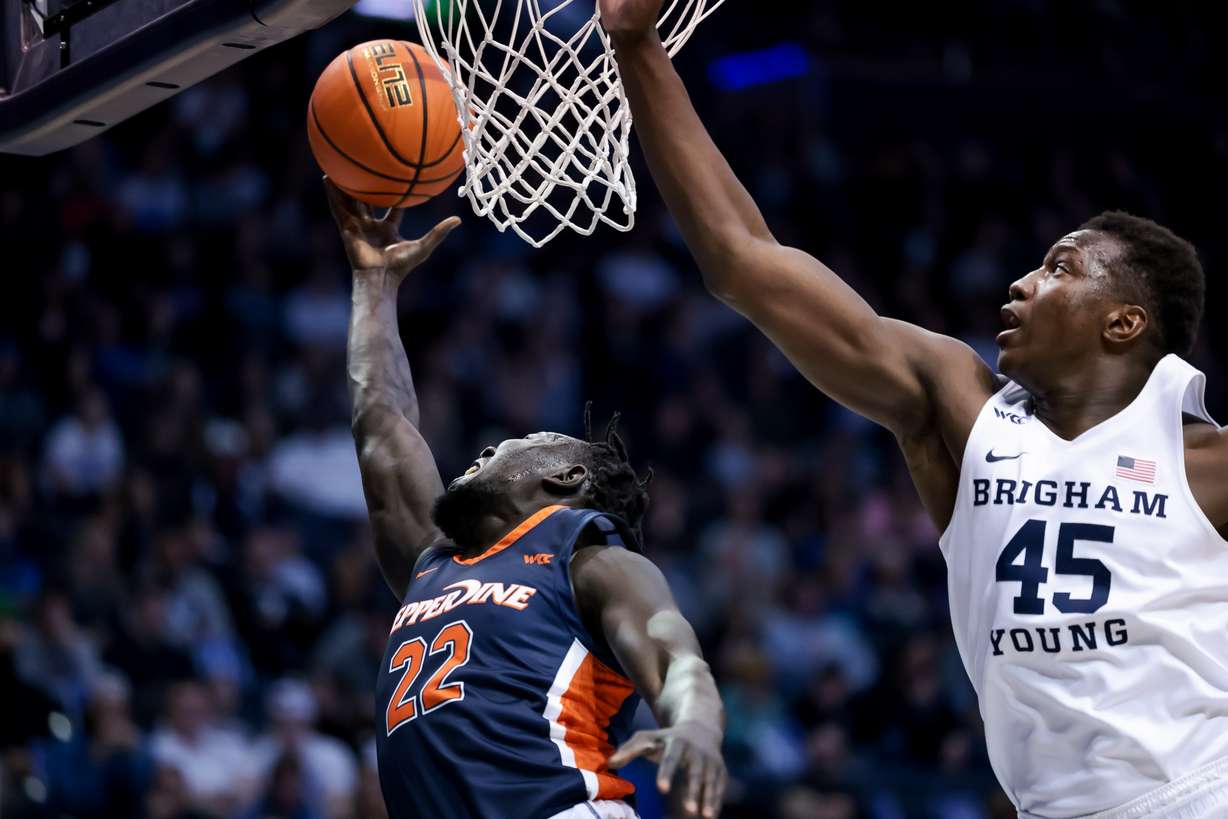 Knell capped a 7-0 run over just 57 seconds that pushed BYU to a 20-13 lead midway through the first half. But the Waves shot 48% from the field to BYU's 45% to creep within three, 36-33 at halftime.
The Cougars outrebounded Pepperdine 21-15 and scored 8 points off five turnovers before the break but couldn't pull away from a group of Waves guards that got anything they wanted — including 13 points from Mitchell.
It didn't take long for Barcello to take over, though. The Arizona transfer found Atiki Ally Atiki for a hammer dunk midway through the second half. On the next possession, Barcello finished off his crossover with a stepback 3-pointer that pushed the Cougars' lead to 49-40, highlighting an 11-3 spurt that pushed the Cougars' lead as high as 55-43 with 7:27 remaining to help seal the win for good.
"That stepback, that's Alex; that's what he does," Lucas said. "I just wanted to go over there and have fun with him, but that's OK. We talked about it in the locker room later, how he was wobbling or something.
"But that's Alex Barcello; I don't expect nothing less."
Moments later, Lucas found Caleb Lohner for a transition dunk that brought the house down and gave the Cougars a 61-46 lead they would never relinquish, holding the Waves to 27% shooting in the second half.
But back to Traore, who set a BYU freshman record with 19 rebounds — including 14 defensive boards. The West Africa product tied Mark Handy for the second-most double-doubles in a freshman season in BYU history, and also knocked down his 35th block of the season — the fourth-most all-time by a BYU freshman.
"I've been saying all year: he doesn't know how good he is," Barcello said. "This school, the coaches are lucky to have a guy like Fouss, who is so willing to learn and has so much raw talent. But when you put that together with his hard work, work ethic, and you see him in the gym at 8 o' clock every day, then to the study hall for five hours a day. It's awesome."
The win, combined with wins by San Francisco and Santa Clara, locks BYU into the No. 5 seed in the West Coast Conference Tournament — the Cougars' highest seed since joining the league in 2011. The Cougars will open the tourney next Friday, March 4 at the Orleans Arena in Las Vegas.
×
Photos
Related links
Related stories
Most recent BYU Cougars stories