Estimated read time: 4-5 minutes
This archived news story is available only for your personal, non-commercial use. Information in the story may be outdated or superseded by additional information. Reading or replaying the story in its archived form does not constitute a republication of the story.
During the wintertime, you probably spend more time at home than usual, so you want it to be a place where people feel comfortable.
You want it to be a safe place for the kids, a gathering spot for your friends, a sanctuary from the outside world.
Luckily, you don't have to buy a whole new home to make this happen.
With just a few easy steps and tweaks, you can transform your home into the cozy haven you've always wanted. Here are a few ideas to get you started.
Start right under your feet
Hardwood floors may be beautiful, but carpet provides a softer, warmer place for your feet in areas of your house where comfort matters most. Carpet is also great for insulation, so heat and noise don't escape as easily. But if you do have hardwood floors, you can always warm things up with a cozy area rug!
Make the fireplace the focal point
Nothing is warmer or more inviting than a fireplace in your family room on those chilly winter days. If you've got one, make it the focal point of the room by situating your furniture around it. An easy way to do this is to have sofas and chairs facing each other on opposite sides of the fireplace. Houzz also recommends complementing your fireplace with bold artwork, interesting objects or other design elements to draw attention toward it.
Don't have a fireplace? Don't worry! Windows, accent walls or even plants can serve as the focal point of your room, giving your guests somewhere for their eyes to rest.
Include plenty of seating
Adequate, comfortable seating is key when you're trying to create an inviting living space. You want the furniture arranged in a way that makes it easy for people to converse and relax. Make sure there's a good balance to the room and plenty of space for guests to walk around. It may seem counterintuitive, but The Spruce points out that pulling furniture away from the walls can make smaller spaces feel bigger.
To maximize your seating without overcrowding your living room, consider investing in an ottoman or two. They can provide a good anchor for the middle of the room while doubling as a footrest and extra seating when needed.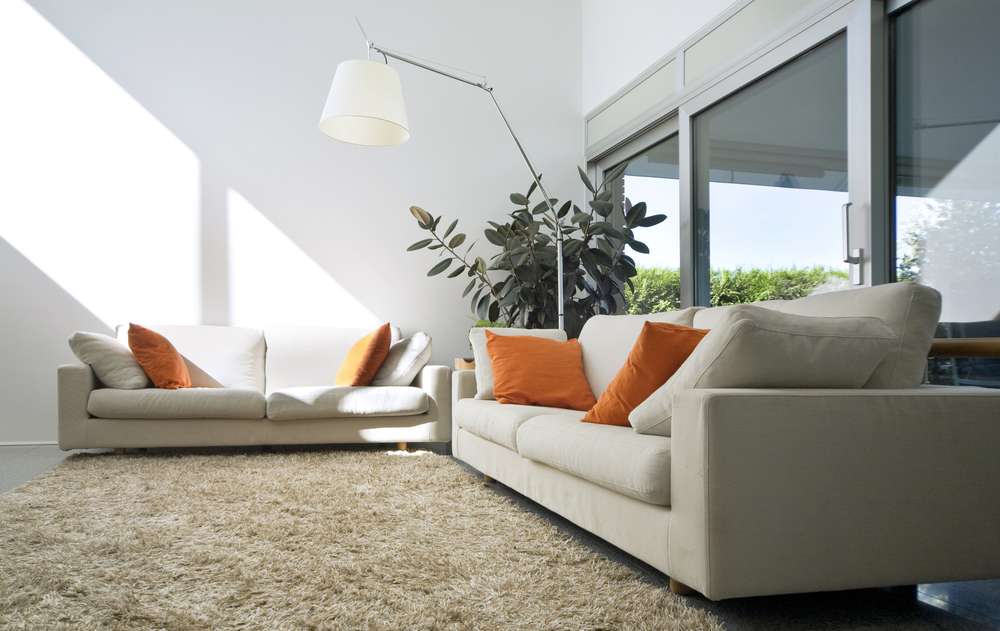 Layer with different textures and materials
Decorating with different materials and fabrics is another great interior design principle that will enhance the look and feel of your home. Pick out a variety of throw pillows and soft blankets for your living room couch to add dimension and warmth.
Oversized rugs are another great option because they can break the room up into different sections, add a little color and make things feel softer underfoot. Giant Carpet One has several different ideas for decorating with area rugs if you need a little inspiration.
Choose a casual color palette
Whether you realize it or not, the colors you choose for each room in the house will impact the overall feeling in that space. You'll probably want to steer clear of bright, bold colors if you're trying to create a calming atmosphere. To bring a more relaxing vibe to the room, Martha Stewart suggests soft, light shades of blue. She also says that the right shade of white (preferably creamy or off-white) can give a classic and cozy look to your living room.
Though different colors evoke different emotions for everyone, soft, muted tones are generally the most universally appealing.
Incorporate soft lighting elements
There's a reason why restaurants, spas and other relaxing places dim their lights: lighting directly affects your mood. So, choose wisely!
"In rooms where people spend a lot of time, I like to get away from recessed downlights, and instead use lights that bounce off the ceiling for ambient illumination," lighting expert Markus Earley told HGTV. "Bouncing light off the ceiling creates a sense of brightness in the room, and avoids the shadows or downward direction of recessed lights."
You also might consider adding accent lighting and candles to warm and brighten up each room in the house.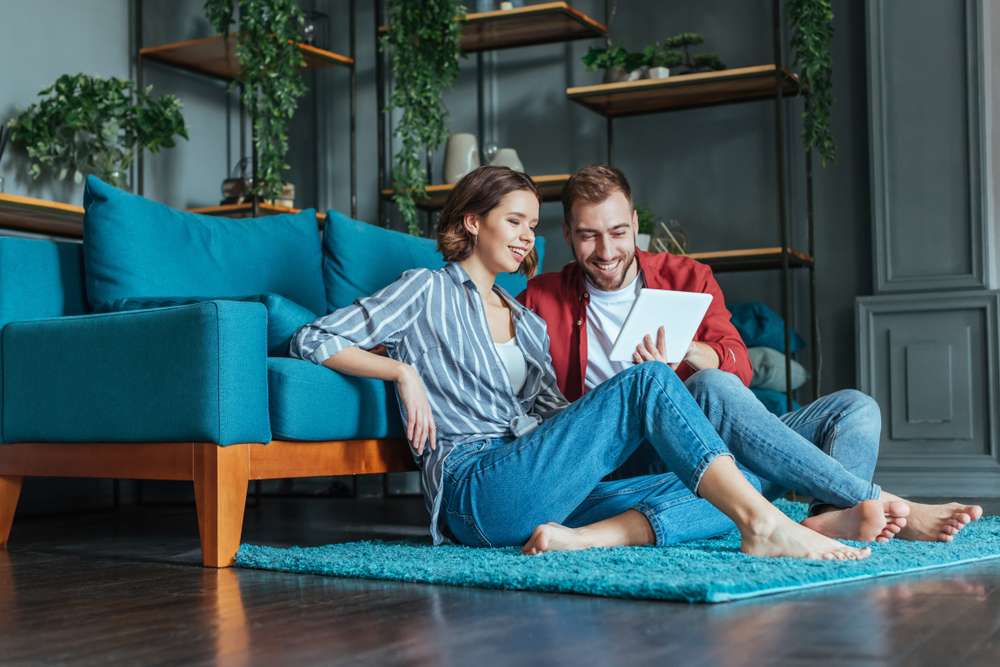 Add a touch of personal style
Give your home a sense of personality. It's easy to copy all of the stunning design ideas you see on TV or social media, but remember that your home should be a reflection of you and not just the people who influence you. Figure out your unique style and create a space that reflects you and the people who live inside. Decorate with pictures of your loved ones, keepsakes from your travels or things you're passionate about. If you love it and it makes you feel good, chances are your guests will feel good, too.
For more inspiration on how to make your home look and feel exactly the way you want it, check out Giant Carpet One's digital interior design magazine, Beautiful Design Made Simple.
×