Estimated read time: 6-7 minutes
This archived news story is available only for your personal, non-commercial use. Information in the story may be outdated or superseded by additional information. Reading or replaying the story in its archived form does not constitute a republication of the story.
As many of us watch some of the best athletes in the world compete at the Winter Olympics in Beijing, China, this February, all the intense preparation will showcase great performances but also painful injuries. Athletes of every age, and at every level of their sport, get injured and must battle back physically, emotionally, and mentally, to safely return to the field of play. Young athletes often struggle more with their mental health than most adults because sports are a larger part of their life and identity.
"It really kind of shakes kids to their core. If they've never been injured before, even if it is an injury that doesn't require surgery, it can still be quite significant in the sense that they start to realize they are destructible and can get injured," said Travis Maak, MD. Maak is an orthopedic surgeon and sports medicine specialist with University of Utah Health who treats patients of all ages.
No matter what his diagnosis of the physical injury might be, Maak knows his patients' mental health is critical to their care and recovery. "The role of sporting activities for a person's mental health is big, and the idea of an injury impacting that piece of someone's life is significant and often gets downplayed," said Maak. One of his 16-year-old patients, Kaden Holcomb, knows firsthand what it is like to suffer a serious sports injury and require the physical and mental healthcare of Maak and the team of professionals he works with at U of U Health.
Sports have been an important part of Kaden's life for as long as he can remember. He played soccer, baseball, and flag football throughout his grade school years, and then began tackle football in a high school youth league. In eighth grade, just as he was training with one of the newly organized Mountain Ridge High School squads, Kaden suffered a painful injury when he tore the cartilage between his ribs and sternum. It would take him more than a year to battle back and get in shape to play football for Mountain Ridge as a sophomore this past fall.
It was not going to be the successful season at wide receiver Kaden had envisioned. "The first day of school in my powerlifting class for football, I was either squatting or leg pressing and my left knee popped. But I was like, it's just a pop and it's probably like cracking my knuckles. Then in practice, I was running around and doing those sharp turns every wide receiver would do. I had planted my left foot, and in my left knee it felt like a strain, and began to get inflamed. So, I was like, it's hot, and then after that, it was 'oh no, it hurts to walk.' I knew something was wrong with my knee." Soon after, the athletic trainer, also a U of U Health employee named Bryanna "Bree" Howard, had Kaden in a knee brace with instructions to stay off his left leg until Maak could examine it.
The next week, on the same day Mountain Ridge took to the football field for the first game of the 2021 season, Kaden got a diagnosis from Maak. His mom, Stacey Bergquist, was there to listen and support her son. She said, "Doctor Maak ultimately decided that it was a second-degree Medial Collateral Ligament (MCL) tear." Stacey could only imagine what might have happened if the trainer had not ordered Kaden to stop practicing. "I probably would have pushed him a little harder and he could have torn the MCL all the way, which would have been a much worse injury," said Stacey. Initially, the diagnosis of even a partial tear was a real blow to the young athlete. Kaden recalled "Knowing that I might not be able to play football again, was scary. This is like the one thing that I am good at and enjoy doing and spending my time doing. Getting hurt is like, oh crap, it's over for me."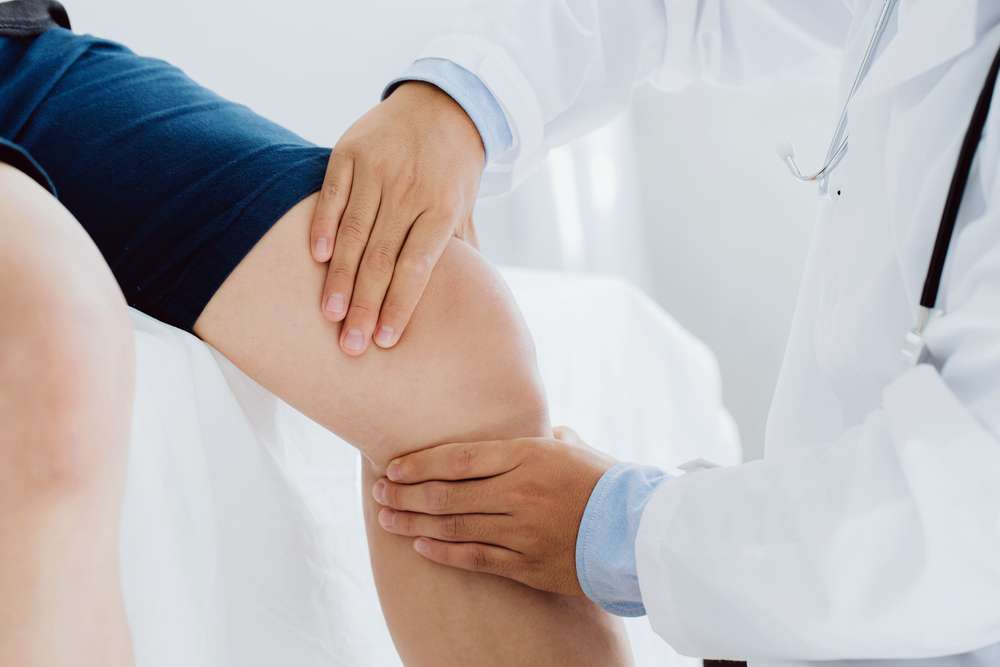 Maak acted quickly, as part of his professional approach to addressing his patients' state of mind, to have an honest conversation with Kaden about his future. He answered the two most important and empowering questions a young athlete like Kaden often asks. First is "Can I keep doing what I enjoy doing?" and second, "Will I be as good at my sport as I was before?" In Kaden's case, Maak could offer some uplifting news.
"I told him, you injured your knee but don't worry, you're going to play your sports again, you're going to be just as good, if not better than you were before." Maak also gives his patients a proposed timeline for their comeback, blocking it off in six-week intervals. "All athletes are incredibly motivated. So, I ask them to put a checkmark on a calendar six weeks from their visit. I then try to focus their motivation on what they should try to have accomplished in each of these six-week periods rather than thinking about the entire time they will be away from play," said Maak.
For Kaden, meeting his doctor's challenge meant hour upon hour of physical therapy, wearing a metal brace from mid-thigh to the bottom of his calf, working with his trainer, and then repeating the routine day after day and week after week. "Going through that stuff is hard because when you know you can't just go out and do something that you really love, it's difficult on your mental state. So, going through that and just having the support that I needed, was really good," said Kaden. The support came from family, friends, and a medical team who monitored his physical and mental rehabilitation.
"With Dr. Maak, he just kind of reassured me that everything was going to be ok, and I would be able to do the things I love again, it will just take time. Sometimes a lot of it. The support that I got from my friends, my parents, and my brothers and sisters was like 'let me listen to you and listen to what you're feeling, so I can understand what you're going through,'" said Kaden. In fact, Kaden considers himself fortunate because he never had to go looking for those resources while sinking deeper into a state of frustration and depression.
Maak encourages all his patients to view their injuries as opportunities to not only build back their strength and ability to play a sport but also to improve their overall health. Most young athletes have never had the chance to work with trained professionals. "So, I view the injuries as opportunities to get them back to sport but also train them on how to maintain their sport in a safe fashion," said Maak.
The experience of getting injured has made Kaden more safety conscious and cautious. He said, "I'm still an active person. I go to the gym a lot, I play football with my friends and other things like that. But even to this day, I wonder if I'm going to get hurt again, is this going to hurt my knee. I'm a lot more careful with my everyday activities." Most importantly, Kaden's in a good place mentally and emotionally when it comes to his future in athletics whether it is on the football field or playing another sport that makes him happy and keeps him active.
×