Estimated read time: 5-6 minutes
This archived news story is available only for your personal, non-commercial use. Information in the story may be outdated or superseded by additional information. Reading or replaying the story in its archived form does not constitute a republication of the story.
Along the often-stressful journey from pregnancy to delivery to the early days and months of caring for a newborn baby, there are always difficult decisions to make and milestones to meet. Over the past two years, obstetricians and their patients have also faced the daunting task of navigating the safest path for mom and baby through the COVID-19 pandemic.
Erin Clark, MD, a maternal-fetal medicine physician at University of Utah Health, says the pandemic has forced her patients to grapple with some tough issues. "I think we all acknowledge that the pandemic and dilemmas about exposure and vaccines have just added an additional layer of complexity that's a cause of anxiety for most of our patients," Clark said. As an obstetrician, her role is to be a patient listener and a medical advisor guided by the best science and information available about the impact of COVID-19 vaccines on a mother and baby's health during and after birth.
"I come into this conversation with my own biases being a health care provider that sees the sickest pregnant women with COVID-19," Clark said. However, at the end of any vaccine discussion, Clark always leaves options on the table for her patients to consider. "I personally always tell patients that 'I want you to feel my enthusiasm for protecting you through vaccination,'" she says. "But at the same time, 'I want to make sure that when you leave this appointment, regardless of your decision, you know that we will support you and take excellent care of you during this pregnancy.'"
The rapid development and distribution of novel COVID-19 vaccines has raised lots of questions among both pregnant and breastfeeding people, and it requires reassurances from medical professionals like Clark who are reviewing the research as quickly as it's developed and published. "We get questions about fertility, we get questions about the hormonal effects of the vaccines, we get questions about miscarriage and birth defects and fetal development issues, and we just take the time to reassure our patients that those complications have not been seen with vaccinations and we feel very reassured about their safety," Clark said.
At the same time, Clark believes it is critical to highlight the risks that doctors and researchers know are associated with getting the COVID-19 infection during pregnancy or after a baby is born and breastfeeding. "I just remind women that if they get very sick, it has implications for their baby," Clark said. "So, when you are making decisions about vaccinations, you are also making decisions about both your own and your baby's health. I try to orient the discussion to a comparison of the vaccine versus COVID-19, and in that comparison, there's just no question that medically we feel you are best protected with the vaccination at any point during pregnancy and during lactation."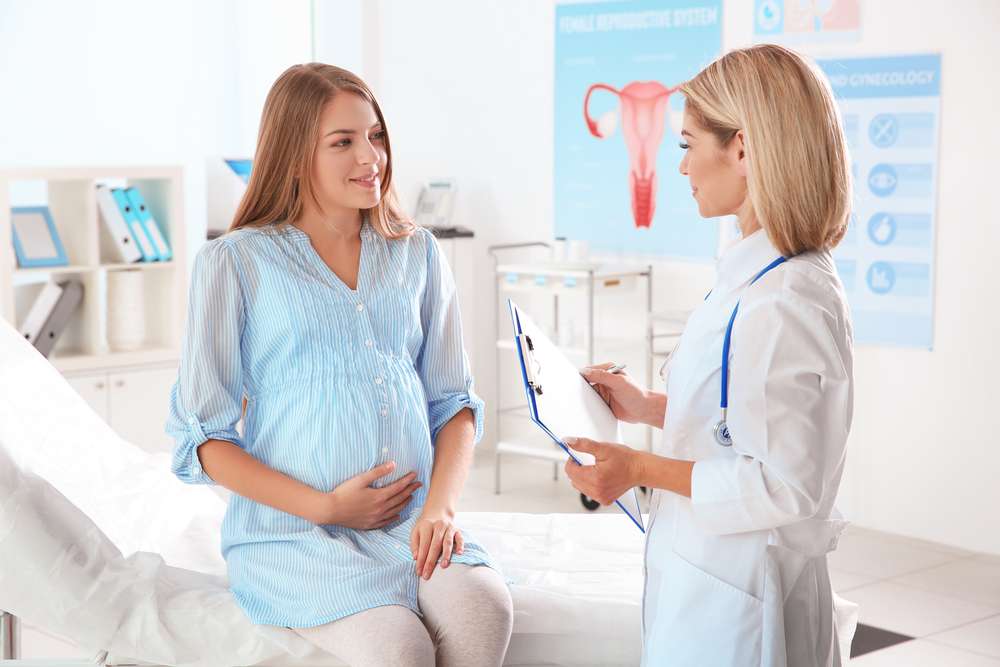 New knowledge and better understanding of the impact of COVID-19 vaccines on pregnancy and lactation is quickly accumulating, being analyzed and digested by health care professionals like Clark. A recent study out of the University of California San Diego School of Medicine focused on the impact of COVID-19 vaccines on breastfeeding moms and their babies. Christina Chambers, PhD, a professor of pediatrics involved in the study, summarized researchers' conclusions, "Our results should encourage lactating women to get the COVID-19 vaccine and to continue to breastfeed their infants. They do not have to choose one over the other."
Clark's advice to her breastfeeding patients reflects the views of those pediatricians who have begun to study and weigh in on the issue. "In the case of breastfeeding, we have seen that when moms get vaccinated, within several days we start to see the antibodies making their way into breastmilk," Clark said. "The presumption is that those antibodies will help to protect the baby from illness."
For several years, Clark and other obstetricians have been recommending influenza and Tdap (tetanus, diphtheria, and pertussis) vaccines for their pregnant patients. "So, we are increasingly enthusiastic about vaccination of moms during pregnancy and lactation because it can really provide an important protective mechanism to bridge to vaccination of the baby when they are old enough," Clark said. It is particularly important to supply babies with any protection a mom might pass on from her COVID-19 vaccines since no one yet knows when those vaccines will be available for infants.
The moms who have gone through pregnancy, childbirth, and breastfeeding during these pandemic times are in many ways medical pioneers. Every step of their reproductive journey has put them in uncharted territory with questions to ponder and decisions to make that women have not been asked to tackle for generations. Clark makes sure her patients are never alone when it comes to navigating these challenges. "For some women, it is very easy to decide about vaccination, yes or no," she said. "A lot of people, understandably, live in the grey in-between. They have various levels of enthusiasm for vaccination, and those are the folks that we walk alongside. We help field their questions and support them in a difficult decision."
Right now, the struggle continues, and the pandemic is still very real for Clark and her patients. But each day brings new knowledge about COVID-19 vaccinations. "I have had a lot of patients who were less sure at the beginning, but through that process of walking with us and thinking and seeing additional data come in, they eventually got vaccinated," she said. On the frontier lies a deeper understanding of the immunities COVID-19 vaccines can provide for pregnant women and their newborns—and the scientific inspiration to create new virus-fighting tools.
×