Estimated read time: 4-5 minutes
This archived news story is available only for your personal, non-commercial use. Information in the story may be outdated or superseded by additional information. Reading or replaying the story in its archived form does not constitute a republication of the story.
PROVO — No, this wasn't the Pleasantville High boys' basketball team, but you can be excused for thinking it was.
Playing the role of star forward Skip was Drew Timme, and Gonzaga simply could not miss Thursday night against BYU.
Julian Strawther and Andrew Nembhard threw a couple of haymakers early, and the Zags' own heavyweight champ — Timme himself — finished off Spokane's version of the Thrilla in Manila.
Thanks for playing, BYU Joe Frazier.
Timme poured in 30 points on 13-of-14 shooting, Nembhard added 22 points and 12 assists, and Gonzaga shot 69% from the field in rolling past the visiting Cougars 110-84 at the McCarthy Athletic Center in Spokane, Washington.
Strawther supplied 20 points on 7-of-10 shooting with three 3-pointers for Gonzaga (14-2, 2-0 WCC), and former top-rated recruit Chet Holmgren dealt 12 points, seven rebounds and five blocked shots for the Zags.
"We had no answer for Timme. We just didn't have any answers," BYU coach Mark Pope said. "They're really good here, and we could not find a defensive answer. Our guys fought and competed and battled. We just couldn't find an answer."
Alex Barcello led BYU with 19 points, five rebounds and four assists, and Te'Jon Lucas added 10 points and four assists.
Caleb Lohner had 17 points and five rebounds, his best game since scoring 19 Nov. 20 against NAIA Central Methodist, for a BYU squad that shot 43% with 13 3-pointers.
Fousseyni Traore had 8 points, seven rebounds and a block in the freshman's fifth-straight start for BYU (14-4, 2-1 WCC), and Seneca Knight and Gideon George each added 8 points for the Cougars.
BYU competed; Gonzaga was just better. The Zags did what the No. 2 team in the country is supposed to do at home against an unranked opponent.
"We came in here knowing it would be a fight," Lohner told BYU Radio after the game. "This team is one of, if not the, best teams in the country. We just got our ass kicked; I don't think there's any way around it."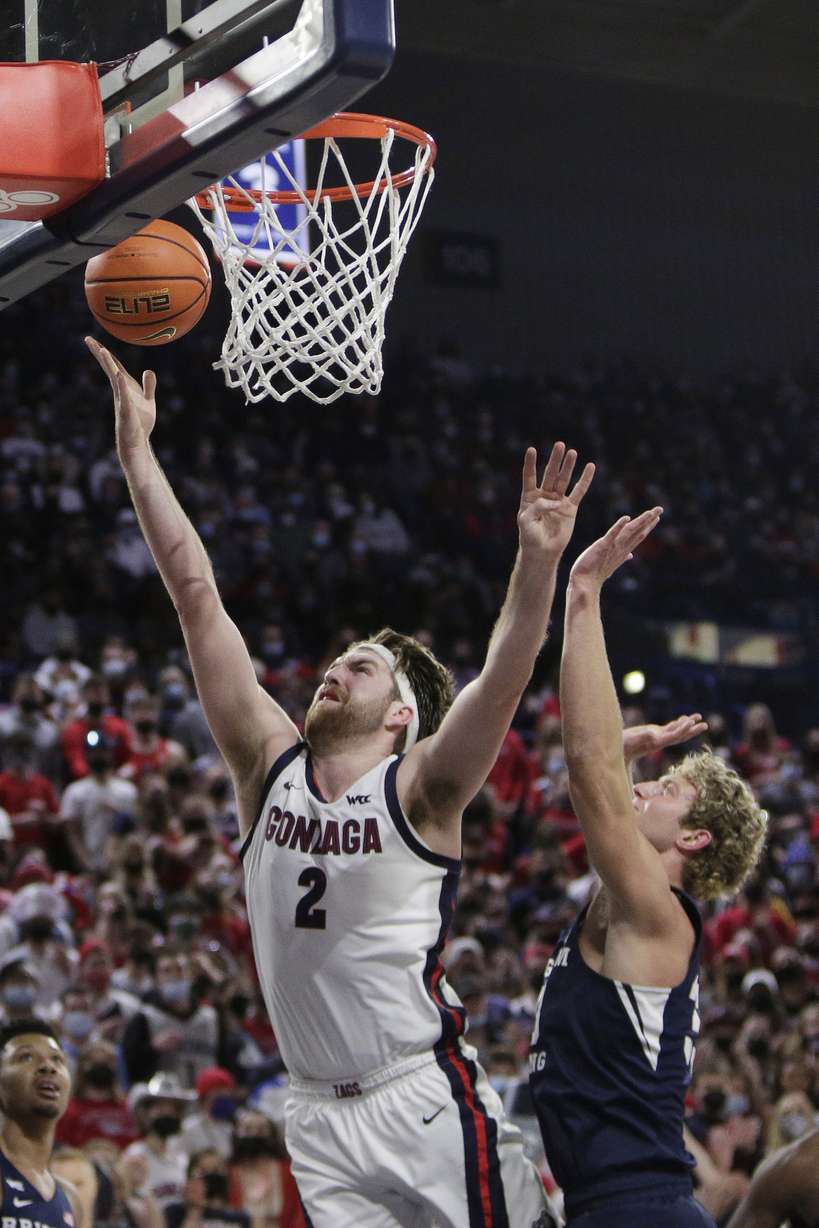 BYU scored the first 7 points of the game, including a stepback 3-pointer by Lohner in the first minutes. But the Zags responded with a 10-0 run, including Strawther's own 3-pointer off a turnover with just under three minutes into the game.
The Cougars opened by making 4-of-6 3-pointers and — even if for a brief moment — showed they could hang with the second-ranked Zags, who made seven 3s in the first 10 minutes of the game en route to a 31-22 lead.
But that helped Gonzaga take control with a 17-3 run, scoring 14 points on six turnovers en route to a 37-25 advantage with 7:03 left in the half.
Pick your poison — and even then, it might not matter.
"We made a conscious decision in game planning to do everything we could to try and protect 2-point land, especially around the rim," Pope said. "They shot 10 for 15 from the 3-point line in the first half. That's what a great team does.
"There are so many issues that they cause for teams. We tried to make an adjustment in the second half, and then they make every single shot inside the 3."
This game was in every way unlike the Cougars' defensive rock fight against Saint Mary's Saturday.
BYU shot 50% from the field in the first half, including 10 of 18 from beyond the arc, led by Barcello's 14 points, four assists and three rebounds — and still trailed 61-49.
The Zags were just hitting shots at Pleasantville-like rates: 68% from the field, 67% from 3-point range, assisting on 14 of 23 made baskets. Gonzaga simply couldn't miss. Two good teams were playing in the Kennel, but the Bulldogs were out to show only one team was great.
"I think our commitment on the defensive end and them hitting shots, it was a combination of everything, and it got out of control," Lohner said. "We cut it to seven and were feeling good. Then the wheels kind of fell off … and they got it back."
The Zags got up by as much as 33 midway down the stretch and never looked back in deferring to role players like former Wasatch Academy guard and McDonald's All-American Nolan Hickman, who had 4 points and three assists in 19 minutes, as Gonzaga finished off their 61st consecutive home win.
BYU continues its road trip against the third of the top-three teams in the conference Saturday against San Francisco. Tipoff from the Hilltop is scheduled for 9 p.m. MST on CBS Sports Network.
The Cougars haven't lost back-to-back games in the regular season in three years under Pope. That streak may be in jeopardy come Saturday night.
"This is not the first time we've come up here and had a major setback. We've got to respond," Pope said. "We've got our work cut out for us. It's very humbling. It gives us a very clear picture of things we've got to address if we want to get better."
×
Photos
Related links
Related stories
Most recent BYU Cougars stories