Estimated read time: 4-5 minutes
SALT LAKE CITY — In June, Utah gymnastics lost two assistant coaches to LSU. The married couple, Garrett Griffeth and Courtney McCool Griffeth, wanted to be closer to home, and the move made sense.
The move was impactful, but one Utah head coach Tom Farden acted on immediately and replaced with the hiring of Jimmy Pratt, a Utah native who previously coached at All American Gymnastics, to serve as the primary vault coach. Days later, Farden hired volunteer coach Myia Hambrick, a former standout gymnast at LSU.
Farden called it another "transitional year for Utah gymnastics."
But through the change to the coaching staff, Utah remained relatively unchanged. On Thursday, the Red Rocks were selected to finished first in the Pac-12 in the Coaches Poll, beating out conference foe UCLA, and the program returned all but one gymnasts from last season's Pac-12 title and third-place finish at nationals, headlined by all-around champ Maile O'Keefe.
That's a strong position to be in coming into the 2022 season. But for added measure, the Red Rocks got a boost with the addition of four gymnasts, including three that were selected to represent their respective countries for the Summer Olympic Games in Tokyo, Japan.
Olympic silver medalist Grace McCallum, who qualified as one of four gymnasts on Team USA, highlights the freshmen additions. She's joined by Olympic bronze medalist Amelie Morgan of Great Britain, Olympic alternate Kara Eaker and the uneven bars national champion Sage Thompson.
That already strong position got even stronger.
"I've said this before, but it truly is a coach's dream to bring three athletes that were in Tokyo into your program — world class athletes," Farden told KSL.com. "You have to pinch yourself because by our good fortune, by our community and the support that our community has given to our program for 47 years, our community is what helped us maintain and stabilize ourselves as a blueblood in gymnastics."
The Red Rocks have depth and they're not going to be any less difficult to beat as the reigning Pac-12 champions — a title they're not ready to hand over to someone else anytime soon.
With that much depth on the roster, Farden has the luxury to play around with lineups and give gymnasts rest throughout the season before finalizing lineups for postseason play. It also creates a highly-competitive environment for the gymnasts to compete in on the various events.
"Yeah, it's really exciting to have pretty much a full returning team and then adding so much talent with our freshmen," O'Keefe said. 'It's kind of interesting because we've never had a team much bigger than 13, so with 16 girls it's nice to have some depth, but lineups are really competitive this year."
With so many talented gymnasts competing for a spot on one of the four events, it gives Farden the flexibility to coach the way he said he's always wanted to coach: use the first couple of months of the season "to play with lineups and rest people, and then find the right combination for postseason."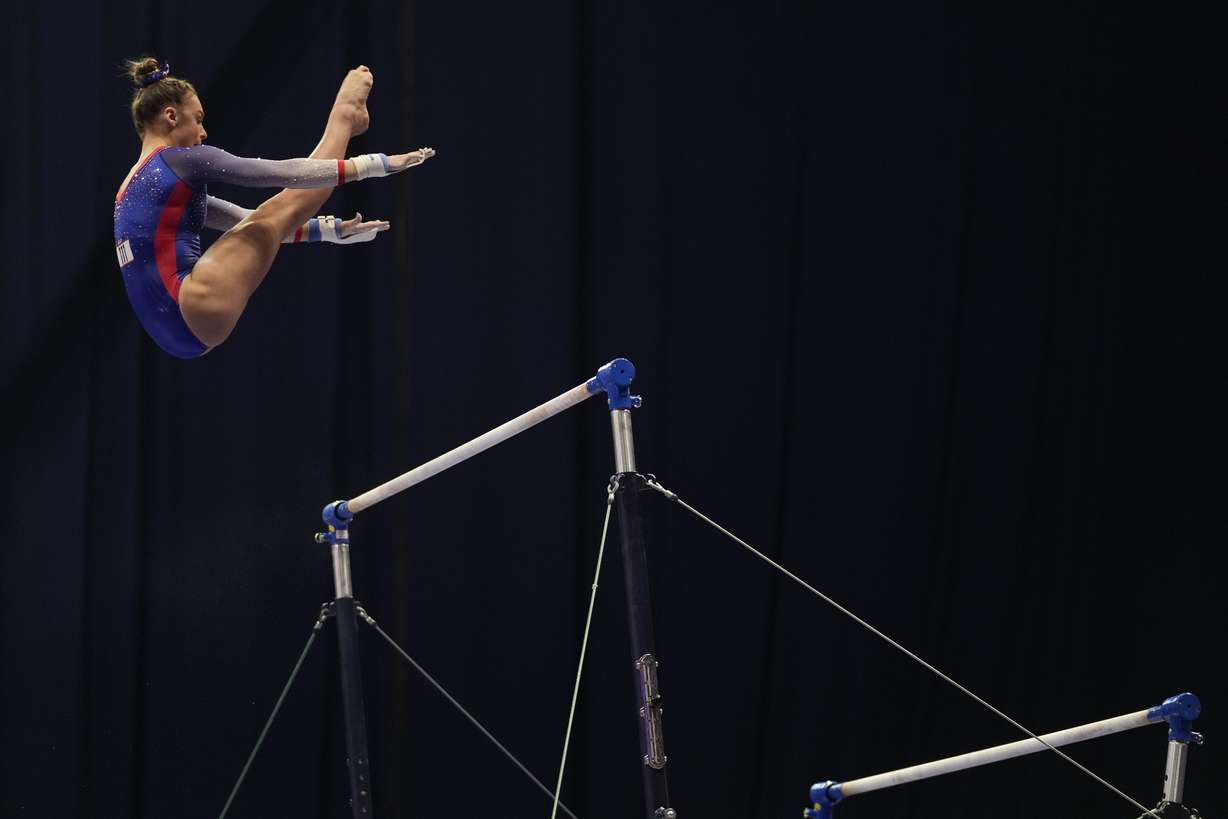 But Farden cautioned about the depth the team being seen only as a positive.
"Depth is a luxury but also can be a curse," he said. "One of the luxuries with depth is obviously we're going to be able to interchange a lot of people and different events, and hope that it doesn't affect our overall score too much. But obviously there's a liability to it. I'm trying to keep 16 women happy — highly competitive women — engaged, motivated and caring about the same goal."
That's no simple task, but one he said he'll "tinker" with as he tries to settle lineups over the coming weeks. Those lineups are in the "formative" stage but ones he said realistically have 11-12 gymnasts that could compete for some individual events. For example, on bars, Farden said he has three freshmen "taking spots" to help shore up that event.
So as the Red Rocks open up the season to the public in the annual Red Rocks Preview on Friday (7 p.m. MT), it's a chance to showcase some of that talent in front of fans for the first time since the pandemic limited fans from being live at the meets.
"They're just tickled pink, they're so excited to have fans back," Farden said of his gymnasts. "We see what it does. ... A fan base can energize those athletes to run through a brick wall."
"I think I'm most excited for having the fans back in the Huntsman and competing like normal again, and going up and getting to celebrate with the girls after a good routine," O'Keefe said.
The Red Rocks Preview night at the Huntsman Center is free to the public and will be streamed on the Pac-12. The Red Rocks will officially begin the season on Friday, Jan. 7 at the Maverik Center in the third annual Rio Tinto Best of Utah meet against BYU, Southern Utah and Utah State.
×
Related Stories