Estimated read time: 5-6 minutes
This archived news story is available only for your personal, non-commercial use. Information in the story may be outdated or superseded by additional information. Reading or replaying the story in its archived form does not constitute a republication of the story.
Many people feel uncomfortable in their own skin at some point in life. Here in Utah, and across the country, dermatologists are realizing the mental and emotional discomfort their patients can feel while dealing with skin conditions like acne and eczema must be taken more seriously. They are committed to bringing the patient's voice back into every doctor's visit.
Aaron Secrest, MD, PhD, a general dermatologist and researcher with University of Utah Health, suggests that the challenges facing his young patients with acne have worsened with the increasing number of "beautiful people" images on social media. "When you see the idealized form of everyone else on social media, it accentuates that discrepancy between other people and your imperfect skin and how you present yourself to the world. I have a lot of patients who come in with what I would think is very mild acne, but it has huge effects on their quality of life," Secrest says.
Secrest is a member of a consortium of dermatologists from across the U.S. who use assessments of their patients' health or patient-reported outcomes (PROs) to better understand the impact of their skin conditions on their overall quality of life. "If their acne is bothering them because they are emotionally distressed, and they are depressed or anxious about it, or socially isolating because of it, that's what I need to address. If I just go over their symptoms, then they might say, 'I don't think he heard me, he wasn't even listening to my needs.'"
The use of PROs is not new, but Secrest has tried to improve and expand upon a program he was first exposed to as a dermatology resident called Skindex-16. Dermatologists compare this measure of their patients' physical, mental, and emotional health to the vital signs used by primary care doctors, like blood pressure, pulse rate, and temperature, to help with diagnosis and management.
---
When you see the idealized form of everyone else on social media, it accentuates that discrepancy between other people and your imperfect skin and how you present yourself to the world. I have a lot of patients who come in with what I would think is very mild acne, but it has huge effects on their quality of life,
–Aaron Seacrest, MD, PhD
---
"The whole point of the Skindex is to learn how much the skin issue that you are coming to see me for is bothering you. It is a wonderful gauge to know how aggressively I need to treat them," Secrest says. "Then, as my patients repeat the Skindex at follow-up visits, I can track how much they are improving with treatment from their first visit, just as a primary care doctor tracks blood pressure levels after starting a blood pressure medication."
Any treatment plan must be based on the overall diagnosis of the patient's condition. It has become more apparent to dermatologists like Secrest that the hardest questions patients have about conditions like acne and eczema are often not mentioned in short clinic visits, like how the acne, psoriasis, or eczema is affecting their relationships with others.
Recent research shows that about 30% of all dermatology patients also suffer from a mental health condition like depression. Secrest emphasized that "If you have unaddressed depression or anxiety, you are less able to follow the instructions to get your skin conditions better. Depression just really makes you feel low and when you feel low you don't really apply a cream twice a day or take every pill you are supposed to take. You are just not in the right place to focus on improving yourself. If you assume that your patient is not depressed, they might come back in a month and not have any improvement in their skin."
Even those closest to a young person with acne, like their parents, don't always see the mental and emotional scars that lie below the skin's surface. That is why Secrest often shares the results of a patient's Skindex assessment with their parents. He said, "The results often surprise the parents, especially fathers, who tend to say, 'Wow, this is really bothering my kid.' It should really be more at the forefront of the family's mind that this is bothering their child."
Testimonials from patients using the Skindex and other patient-reported outcome assessments express higher satisfaction with their treatment and follow-up exams. As their scores drop, dermatologists like Secrest can more easily develop a program for the future to wean off prescriptions or transition to safer long-term medications. Sometimes they can be replaced with recommended over-the-counter solutions to keep their skin clear.
Eczema is another condition Secrest regularly treats in patients of all ages, especially here in Utah. He said, "Eczema runs the whole gamut from childhood through elderly and it is exacerbated by living in Utah. This state has one of the worst climates for our skin. We have high altitude, we have no humidity, so we have no moisture in the air to help moisturize our skin, and then we also have a significant sun exposure with over 300 days a year of sunlight."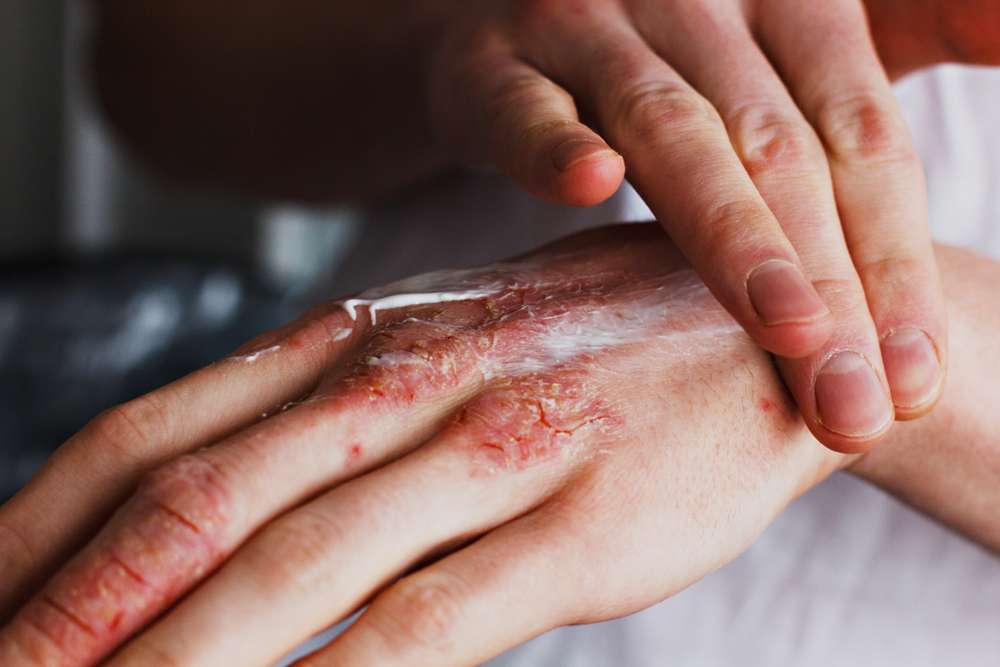 As winter sets in, Secrest has some free advice for anyone experiencing dry skin issues. "You just have to make moisturizing part of your daily routine. You brush your teeth, you bathe regularly, just add moisturizer to your 'I need to do this' daily routine," he says.
The dermatologist also wants everyone to know that many common skin conditions can be corrected without an expensive trip to his office. He said, "My heart goes out to people who have a high deductible plan, they come to see me for a minimum of $150 to $200 visit, and I tell them if they just knew how to use a few over-the-counter products correctly, they could have solved the problem without needing to see me." Secrest even shares some "Medical Secrets Everyone Should Know," about caring for your skin at https://www.msesk.com/ and on Instagram@aaronsecrestmdphd.
No matter your skin type or prior conditions, the past 20 months have been challenging ones. From skin issues due to wearing masks or "maskne" to what Secrest calls eczema hands from all the sanitizing and handwashing, COVID-19 has created a new set of skin issues. However, throughout the pandemic and the push to a new normal, Secrest has kept his focus on being a good listener. Whether his patients are using verbal or written communication, he strives to hear what they are saying because it will dictate how he diagnoses and treats these important quality-of-life issues.
×