Estimated read time: 4-5 minutes
This archived news story is available only for your personal, non-commercial use. Information in the story may be outdated or superseded by additional information. Reading or replaying the story in its archived form does not constitute a republication of the story.
SALT LAKE CITY — With just under nine minutes left to play in the third quarter, Utah receiver Britain Covey escaped down the sideline and leaped for a first-down play inside the Arizona State 5-yard line.
The excitement of the play got to Covey and he flexed in front of the Arizona State defenders lying on the ground below him. It didn't take long for the ref standing next to him to throw the yellow flag. Unsportsmanlike conduct: taunting.
"Is that what he did?" Utah head coach Kyle Whittingham quipped. "I thought he showed his helmet off and showed how the Rogaine is working.
"I didn't notice, but he apologized to the team afterward," he added. "That kid made play after play. I love Britain Covey and his competitive spirit, as well."
The penalty had the potential to hurt a much-needed Utah drive, but quarterback Cam Rising connected with Brant Kuithe on the ensuing play for a 20-yard touchdown strike to erase an Arizona State lead that felt insurmountable in the first half. With the touchdown, Utah tied up the game after taking a 21-7 deficit into the halftime break.
"We just came together in the locker room and pretty much just talked about that we know what we need to do. It's not something that we're running from; we've got to attack this thing," Rising said. "And we just talked about it and the defense did a great job and put us in position to continue being in place to score."
And the Utes weren't done scoring.
In total, Rising led the Utes on a 28 unanswered points second-half performance to beat No. 18 Arizona State 35-21 at home in front of an announced crowd of 51,724 fans.
The win puts Utah (4-2, 3-0) in the drivers' seat for the Pac-12 South title and it makes them the only undefeated team left in conference play.
Rising shook off a poor first-half performance that featured two interceptions and several drops from receivers to give the Utes some life in the second half.
The California native finished the game with 247 yards and two touchdowns on 21-of-33 passing in the win. He also added 59 yards on the ground, including a 9-yard rushing touchdown in the first half, on six carries.
"It's easy," Rising said, speaking to his ability to bounce back from a poor first half of play. "I mean, I just lean on my teammates and they get me right back to where I need to be, and make sure that I'm in a position to make sure that this offense is going in the direction that we need to be going."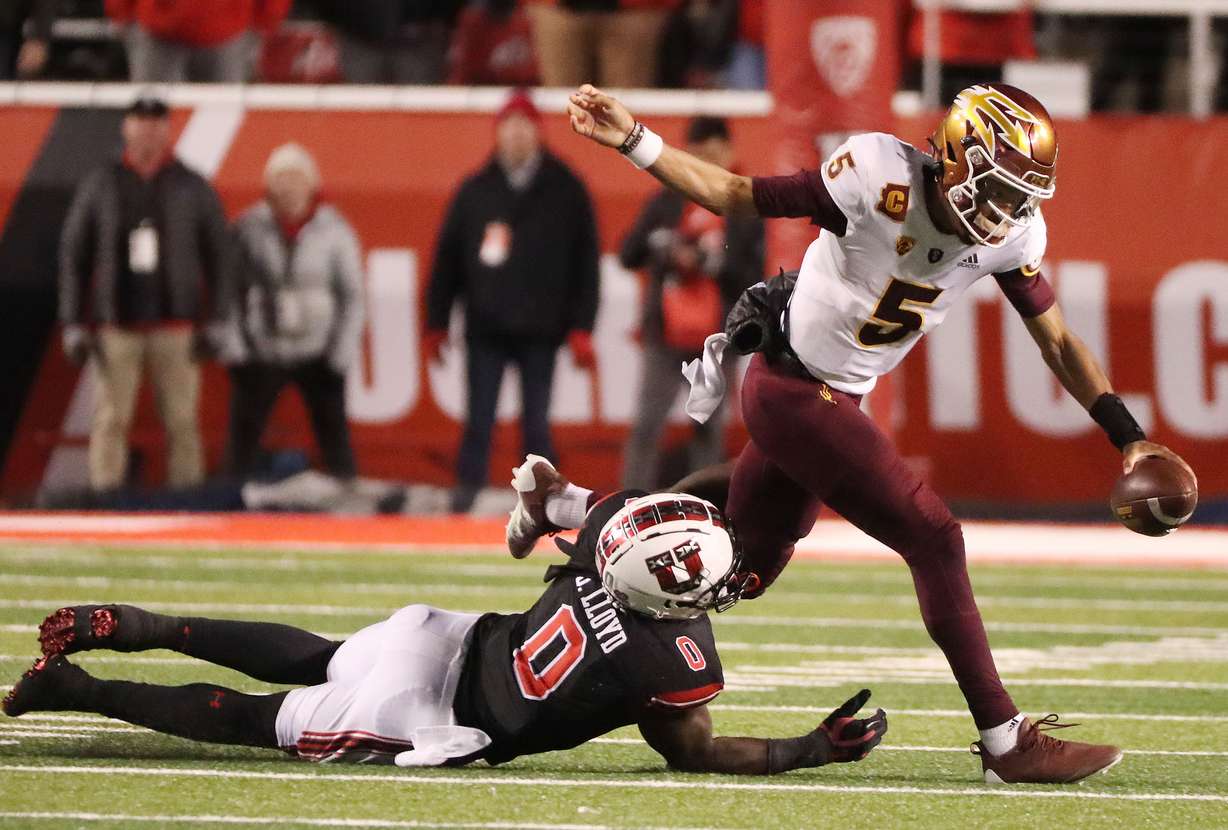 Arizona State (5-2, 3-1) quarterback Jayden Daniels, who made his second appearance at Rice-Eccles Stadium since a 25-yard passing performance his freshman season, diced up the Utes in the first half to take a 14-point lead into halftime. Simply put, there was little Utah could do to stop Arizona State's attack.
The Sun Devils opened up the game looking to establish dominance early with a drive that pushed Utah around and set the tone for the half. Daniels orchestrated a 12-play, 75-yard drive that was capped off when he connected with Jaylin Conyers for a 7-yard touchdown strike. And it was off to the races ... or so it seemed.
Daniels was held in check in the second half and finished throwing for 237 yards and two touchdowns on 20-of-31 passing in the loss. The junior from San Bernardino, California added 32 yards on the ground, including a 2-yard rushing score that sparked a 14-0 run in the second quarter, to give the Sun Devils the halftime lead.
But Utah's defense turned up the intensity in the second half and held Arizona State to only 97 total yards of offense and zero points. The most telling mark of Utah's dominance came in the final seconds of the game when the defense, which was led by Devin Lloyd, sacked Daniels on three straight possessions for a total of 30 yards to end the game.
Utah finished the game with four sacks.
"Just priding ourselves on finishing, and that's a staple of this program," Lloyd said of that last series. "Like Cam said, we just banded together that entire second half, really, and just leaned on finishing plays, finishing drives. I think it's safe to say we did that."
Utah got some help from an Arizona State team that was penalized 13 yards Saturday night for a total of 115 yards.
"I can't tell you how rewarding it is and how much our players deserved it," Whittingham said of the win after his team had an altered week as a result of the team attending Aaron Lowe's funeral on Monday. "They had a great week of practice, and it's got to be in the top 10 of wins since I've been here as far as satisfying wins — proud of the team."
×
Most recent Utah Utes stories