Estimated read time: 5-6 minutes
This archived news story is available only for your personal, non-commercial use. Information in the story may be outdated or superseded by additional information. Reading or replaying the story in its archived form does not constitute a republication of the story.
Whether you're an entrepreneur or a professional, becoming successful in the business world is tough. It requires patience, determination and a lot of hard work. And for women, it's even harder — especially Utah women.
According to a recent study conducted by WalletHub, Utah ranks dead last of all states for women's equality. (The study took into account factors like workplace success, education attainment and political empowerment.)
Although it is a harrowing statistic — and one that all Utahns should work towards improving — many local organizations, groups and resources for women have been created with the goal of leveling the playing field.
So to all the working women of Utah, keep reading and keep fighting. Here are six resources that could help you become the next Whitney Wolfe — but more importantly become the best you.
Women's Business Center of Utah
The Women's Business Center of Utah (WBCUtah) is the ultimate resource hub for Utah businesswomen. In its own words, the organization is dedicated to "help women start and grow their own businesses."
WBCUtah has two offices: one in Salt Lake City serving northern Utah and the other in Cedar City serving southern Utah. At both locations, several experienced business advisors provide free one-on-one training; you can schedule a session here. (Note that all sessions are currently held remotely due to COVID.)
The center also provides an extensive online learning library, with topics ranging from financing to management and marketing, and hosts a variety of live events — both online and in-person.
Utah Women's Networking Group
It is often said that "it's not what you know; it's who you know." Although the adage isn't exactly accurate (you do have to know some things), it accurately reflects the critical importance of networking to succeed in business.
The Utah Women's Networking Group's (UWNG) mission consists of empowering women in five different ways:
Connecting like-minded business owners and professionals, digitally and in-person.
Educating members through events and discussions.
Providing members tools to grow their businesses and/or personal lives.
Inspiring and encouraging members to live their dreams and live out their passion.
Supporting local nonprofits that provide valuable services to the community.
UWNG also hosts a yearly grant and pitch competition, which you can learn more about here.
The group is very active on Facebook (several posts per day on average) and you can gain access to the page by requesting a trial membership here. Email these awesome ladies at info@utwng.com or shoot them a Facebook message with any questions.
Women's Tech Council
It's no secret that Utah is a star player in the tech world, with billion-dollar companies like Pluralsight, Lucid and Qualtrics born on the Wasatch Front. And so, it's only natural a major organization was created locally to support women in the tech sector.
Founded in 2007, the Women Tech Council strives to "inspire, innovate, activate and amplify for women in tech" through a wealth of programs and events.
One of the nonprofit's key events is its annual Talent Summit, where influential women discuss everything from career progression to skills development to the state of women in the tech world.
The council will also host its yearly Women Tech Awards on September 30 at the Grand America, which will celebrate 21 of the state's most innovative, brilliant and successful tech women. (You can register here for the event.)
You can join the WTC for free here (so there's no reason not to do it!) and start getting communications about programs, events and networking opportunities right away.
Womenpreneurs
Through skill-building events, comprehensive programs and networking, Womenpreneurs is a network of women "committed to moving women into positions of power."
Currently, the group hosts the two following programs:
The Raise: a program designed by women, for women to teach female founders (both novice and experienced) the ins and outs of fundraising and how to overcome the inevitable biases they will face in that endeavor.
Ascendant Circles: a six-month initiative where small curated groups of women work to unleash one another's potential through tactical training and relationship-building — the ultimate women-supporting-women group.
Womenpreneurs also launched a blog named "Womensplain" this year, which is noteworthy both for its valuable content so far and its iconic name.
You can sign up for the group's newsletter here to learn about its latest news and events.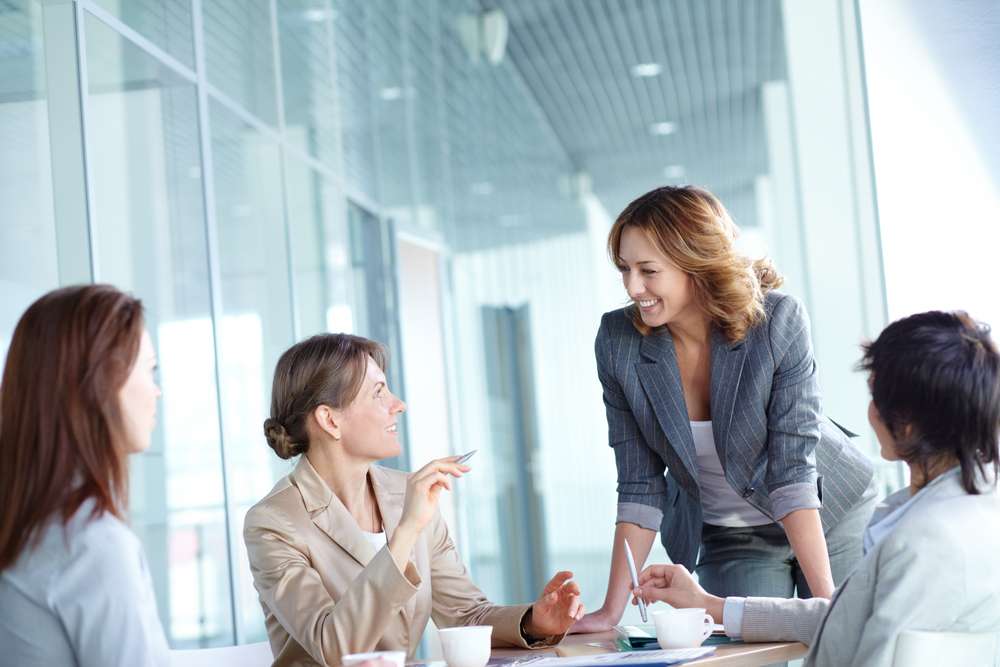 The internet
You can become proficient at pretty much anything these days thanks to the internet — short of heart surgery or training your boyfriend to put the dishes in the dishwasher immediately after usage.
For businesswomen, the internet holds an abundance of learning resources that cover every aspect of business, from fundraising to marketing to technical-skill development. Some of those include Udemy, LinkedIn Learning and Utah's own Pluralsight. YouTube can also be your friend (plus it's free) as long as you avoid the late-night meme rabbit hole.
And of course, let's not forget the ultimate networking tool — LinkedIn. If you haven't yet, take your time to become an expert on the platform. It will pay dividends.
Women's programs and seminars
The Salt Lake Chamber hosts several business seminars and conferences for women looking to excel in business. This month, you can attend the Business Women's Forum on September 21. To learn more about the agenda and what you can expect, visit the Chamber's website.
You can also plan for the Women & Business Conference and ATHENA Awards Luncheon in November. This year will be the Chamber's 45th time hosting the event, so you know you'll get valuable information in attending. To register for the conference, go to the Chamber's website.
×