Estimated read time: 3-4 minutes
This archived news story is available only for your personal, non-commercial use. Information in the story may be outdated or superseded by additional information. Reading or replaying the story in its archived form does not constitute a republication of the story.
On a rainy weekend or even a restless weekday, you might be at your wit's end with kid TV shows playing in the background and children whining about being bored. While loading up and going to the park is too much work sometimes—and often not weather-appropriate—there's one sure way to keep your kids (and you) busy for hours: a blanket fort.
Building blanket forts is an easy and imaginative way to spend quality time (and pass the time) with your kids. Knowing how to build some cool blanket forts is a rite of passage for parents, and Minky Couture, the best in the blanket business, is here to help.
Here are four ways to build a blanket fort you and your kids will be excited to play in.
Table blanket forts
Not all blanket forts have to be elaborate hide-outs. Sometimes, the simpler, the better.
For a quick pop-up fort, grab a blanket, drape it over the kitchen table and chairs, and voila! You've just created an instant nook for reading, drawing, or planning to take over the world. Sure it's not as intricate as other blanket forts, but kids will still have a great time as they hide in their new little nook.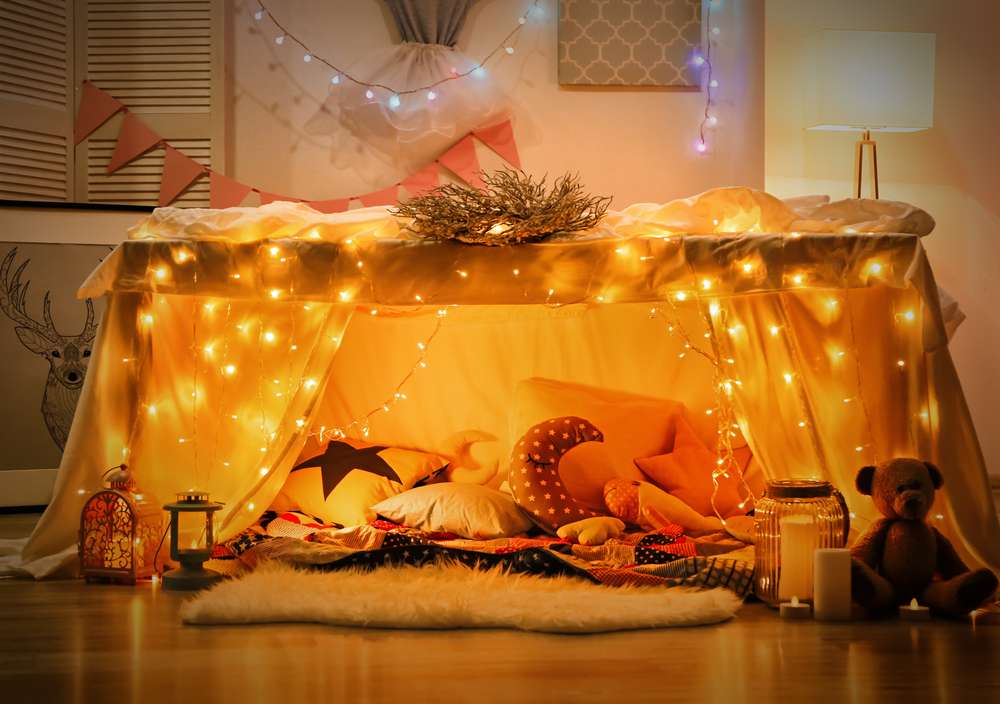 Corner blanket forts
Another way to make a simple blanket fort is to take advantage of the corner of your room. To start, hang your largest Minky Couture blanket as high as you can in the corner of a room, then attach the edges to shelves or a sofa or ottoman, then, lastly, bring in pillows to lounge on.
Creating their own little corner of the world is a great way to maximize your blanket's coverage area, without having to bother with making walls.
Clothesline blanket forts
If you're feeling ambitious, you can go all out and make clothesline blanket forts. Warning: because of the extra work involved, these forts are the most elaborate. Your kids may put up a fight about taking them down.
To make a clothesline blanket fort, get some clothesline, yarn, rope, or other strong string or wire. Hang the clothesline across the room (or hang a few, who's stopping you?). Drape blankets over the clothesline, or attach them with clips. Blankets can be fastened together using clips or painter's tape to make the walls more solid.
If you have space for a parallel clothesline, drape blankets across the two for a roof.
Then add cushions and stuffed animals and you're ready to be transported to another world of imagination.
These ideas can also be used to make awesome outdoor blanket forts as well. If you're worried about getting blankets dirty, picnic blankets and beach towels work just as well.
Teepee blanket fort
This one is very simple, but can inspire lots of imagination and play once it's done. A teepee blanket fort only needs a few items. Grab a couple of sheets and some clothespins or safety pins. Attach the two sheets together with the pins, and then wrap a string around one of the shared corners of the sheets. You'll take the string attached to that corner and tie it to a ceiling fan, a hook where a plant hangs, or anything else that's sturdy and overhead. (Make sure it's sturdy before you try this fort.)
Fashion your new fort with a soft blanket underneath, lots of pillows and some fun toys or games.
Getting the best blankets
No matter what kind of blanket fort you're making, big, comfortable blankets are essential. Whether you're building the world's best blanket fort or cozying up with your kids to read books before bedtime, Minky Couture's blankets will be a favorite in the family.
Visit the Minky Couture website for all their latest fall styles.
×