Estimated read time: 5-6 minutes
This archived news story is available only for your personal, non-commercial use. Information in the story may be outdated or superseded by additional information. Reading or replaying the story in its archived form does not constitute a republication of the story.
The Baby Boomer generation accounts for more than 70 million people in the United States, according to Statista, so it's no wonder retirement is at the forefront of many conversations (both casually and politically). Many of those people are worried about their retirement savings being enough—and worried about their lack of savings.
Two Utah authors are helping Boomers make the most of their retirement. Ryan Thacker and Tyson Thacker, owners of B.O.S.S. Retirement Solutions and Advisors, are expanding the reach of their expertise beyond state lines with their book, "The B.O.S.S. Retirement Blueprint: Your Guide to a Secure and Independent Retirement," which releases today, September 28.
The "retirement brothers" have created a guide for anyone looking to create a more financially prosperous future. Here's a glimpse into their methods.
Clearing the way to financial freedom
Removing retirement obstacles is no small feat for most Americans. In fact, according to Forbes.com, half of Americans are unprepared for retirement. And with about 10,000 people turning 65 each day, that means the retirement struggle is only getting more real.
In "The B.O.S.S. Retirement Blueprint," the Thacker brothers compare retirement reality to the infamous Utah mudslides of 1983. In the book's introduction, the authors describe watching their neighbor's cabin as it was pushed off its foundation, completely destroying their mountain dream.
"You're watching your neighbor's retirement get swept away by a mudslide of obstacles facing them, like no income plan, wild swings in the stock market and taxes," the introduction reads.
The trick, of course, is to ensure your own financial foundation is sound—despite the mudslides or other metaphorical disasters that may befall you.
The "B.O.S.S. Retirement Blueprint" provides the retirement planning background every American worker should have—whether or not they currently have a plan in place. Tackling issues like income problems, growth versus risk, tax dilemmas and retirement readiness, the book doesn't just make readers aware of retirement obstacles—it also provides real, tactical ways to remove them.
Tried and true methods
To say the Thacker brothers speak from experience is an understatement. With six offices throughout the Wasatch Front, B.O.S.S. Retirement Solutions and Advisors has long been helping Utahns plan a more financially secure future.
Using the B.O.S.S. Retirement Blueprint™ the company helps clients view their retirement strategy from every angle, identifying and mitigating risks and challenges along the way.
Now, the Thackers have put that blueprint to an actual print, with a book written for all Americans—particularly those who are concerned about their financial security.
"I admire Ryan and Tyson for their passion of working with families to understand their financial goals and help build plans to achieve them," said Jim Bowman of Advisors Excel in a review. "Their key differentiator is they do not consider themselves money managers, insurance people, or tax specialists, but problem solvers that leverage all financial tools to provide the most effective and tax-efficient way for people to enjoy the best chapter in their lives! I wish more advisors thought this way!"
Making retirement dreams a reality
While most Americans dream of a leisurely or adventurous retirement—think golf days and international travel—the hard truth is that most of today's workers are not on track to enjoy the kind of lifestyle they'd hoped for in their golden years.
This is especially true given the fact that, according to the authors, Social Security will only cover about a third of income needs for most retirees. This realization often comes as a shock to retirees, and, as Thacker and Thacker state in their book, they don't want that to be you. And fortunately, they have a plan that can help.
As the fifth and sixth born into a family of seven kids, Ryan and Tyson Thacker have spent decades of Sunday dinners together—talking about what really matters. Today, they're still talking about what really matters for their customers, readers and all American families.
Through their book, they hope to help you and your family create a more confident, more financially secure future.
The B.O.S.S. Retirement Blueprint is today on Amazon starting Sept. 28 and is available this week only for $1.99. Click here to purchase the book at a discounted price. To learn more about the authors and how you can get started on your personal retirement plan, visit the B.O.S.S Retirement Solutions website.
Financial peace of mind for the future
It's never too late (or too early) to start planning for your retirement. If you have $200k or more saved for retirement and want to learn exactly how much money you could see in taxes in retirement, schedule a free Retirement Tax Analysis with one of our fiduciary advisors by clicking here or calling 801-216-3683.
Ryan Thacker and Tyson Thacker are the Founders of B.O.S.S. Retirement Solutions with 6 offices throughout greater Salt Lake City. They are three-time winners of Utah's Best of State Award.
Advisory services offered through B.O.S.S. Retirement Advisors, an SEC Registered Investment Advisory firm. Insurance products and services offered through B.O.S.S. Retirement Solutions. The information contained in this material is given for informational purposes only, and no statement contained herein shall constitute tax, legal or investment advice. The information is not intended to be used as the sole basis for financial decisions, nor should it be construed as advice designed to meet the particular needs of an individual's situation. You should seek advice on legal and tax questions from an independent attorney or tax advisor. Our firm is not affiliated with the U.S. government or any governmental agency.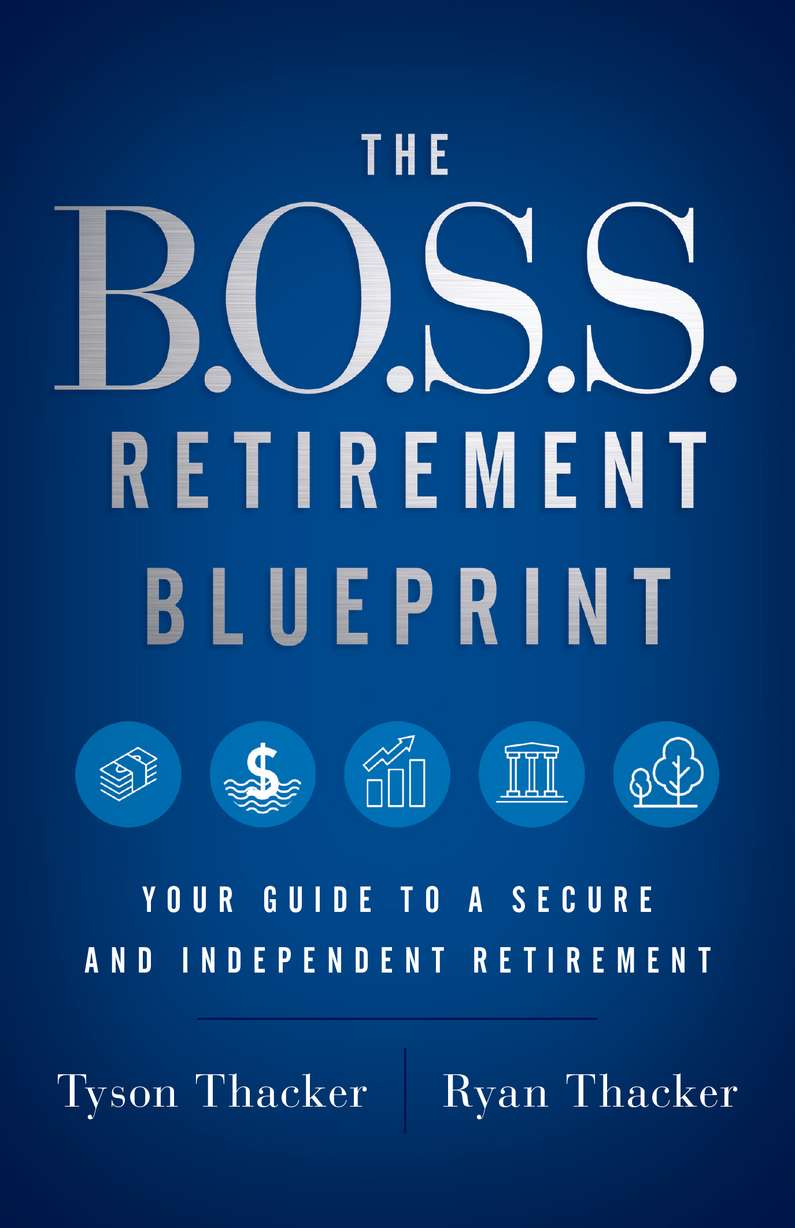 ×