Estimated read time: 4-5 minutes
With a hot housing market, getting into a new home can be an exhausting experience. Bidding wars, low inventory, and difficult sellers are not ideal conditions for putting down good money on what is likely, as Housing Wire explains, the largest investment of your life, but it is a reality for many Utahns.
However, these conditions and external pressures notwithstanding, buyers should not be in such a hurry to get into a home that due diligence is tossed aside. A Homes.com report found about 40% of homebuyers say it's the most stressful experience in modern life, says Housing Wire. However, it's not one to be rushed. Ignoring, overlooking, or being blind to red flags can mean expensive repairs and potential safety and health risks for you and your family.
In your zeal to buy a new home, don't ignore the red flags—they could end up costing you in more than one way. Here are five red flags to watch for.
Foundation cracks
While some hairline cracks in a concrete foundation are normal, Bob Vila says that foundation cracks wider than half an inch, as well as cracks that have been patched, could spell serious trouble for the home's foundation and structure.
Buying a home with an unstable foundation is a considerable risk financially and to your safety. If you notice any large foundation cracks, be sure to have them examined by a licensed foundation contractor.
Damp, musty smells
While most mold isn't toxic, inhaling any type of mold can contribute to health issues including headaches, colds, allergic reactions, respiratory issues, and more.
The presence of mold also could be indicative of other, larger issues including leaking water, says HGTV. Be sure to check around sinks, windows, and basements for any leaks if you smell a damp, musty smell. If there have been sustained leaks for some time, it could also require replacing drywall, wood, flooring, and carpets.
Faulty wiring
While inspecting your potential new home, UL.com says you need to be aware of any potential wiring issues. These include the use of too many extension cords, dimming or flickering lights, funny odors, sparking, buzzing, hot outlets or switchplates, and loose, exposed wiring.
Breaker boxes found in older homes also have the potential to be dangerous. Be sure to look for anything that looks loose, or shoddily put together, especially if there is significant heat coming from old outlets or breakers.
Faulty, old wiring that isn't up to code could be a significant risk to you and your family's safety and can be expensive to replace.
Warped or sloped flooring
When looking for red flags in a house, the flooring can tell you a lot. If the home has hardwood floors, be aware of warped or damaged pieces or areas of wood. If water damage has occurred, only extensive restoration processes or replacements will have it looking like new.
If you're concerned about damage to hardwood floors or want to replace your flooring with the most beautiful flooring options on the market today, reach out to the experts at Giant Carpet One.
Sloped floors can also be a concern. Bob Vila says that while being slightly out of level is normal due to the home settling over the years, noticeable slopes could signal foundational problems, rotted support beams, or broken floor joists.
Structural problems are not simple, inexpensive repairs. If these issues are a potential concern, contact a structural engineer to have them come and check it out.
Insects
This is obvious, but if bugs are infesting the home you're looking at, you probably don't want to live there.
Not only will they be a nuisance to get rid of (and will fuel your nightmares for years to come), the presence of insects—especially termites, is a sign of serious issues just beneath the surface of the home.
Termites love to devour anything made of wood, including walls, joists, and beams—all critical elements in keeping the house stable and safe for your family. If you're concerned about termites, get a licensed termite inspector to look at the home.
Fresh paint on one wall
Mysteries are fun in books and movies, but when it's your own home, not so much.
Having an out-of-place wall freshly repainted while others are not, could be an indication of a cover-up.
Whether it was a water stain or other damage to the wall, be wary of oddly placed fresh paint.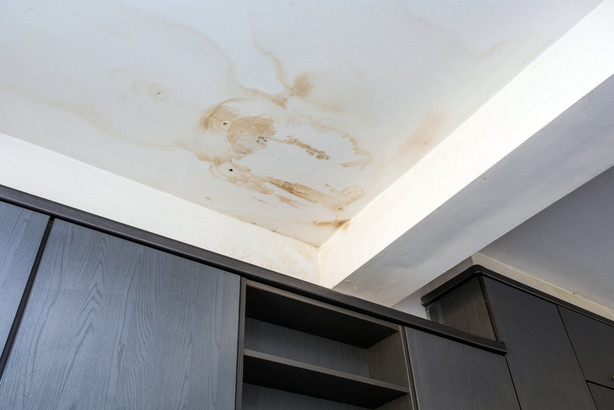 Water stains
Speaking of water stains, no matter where they are, water stains are major red flags—especially on ceilings.
Water stains and a sagging ceiling, as The Spruce explains, could be the result of several issues like roof leaks, structural movement, and insect infestations.
Whatever the cause of the water stain, or sagging ceiling, it will be an expensive and potentially very involved repair process to remedy the issue.
Once you finally find the home of your dreams, make sure it has the flooring you've dreamed of, too. Visit a Giant Carpet One near you to check out your options.
×