Estimated read time: 4-5 minutes
Parenthood is no easy task—particularly in today's world.
Many experience occasional toddler meltdowns in the supermarket, or moody teenagers that speak in monosyllabic words. But with the rise of social media and a hyper-connected world, many parents worry about their children's mental and emotional health—and for good reason. According to the Centers for Disease Control and Prevention, cases of depression and anxiety among children are steadily increasing.
So, with all that's going on, what can you do to bolster your child's emotional resilience and make your home a safer place? Here's some advice from mental and behavioral professionals.
Find ways to connect with each other
If you want healthier, happier children and family relationships, it starts with connection. Remember that what happens in your house is more important than what happens anywhere else. Find what works best for your family and resist the urge to compare yourself with others.
First and foremost, take time to connect with the people in your home. Put your phone down. Make eye contact. Focus only on the people and relationships that are around you at that moment. This could be 10 minutes, it could be an hour—do whatever fits in your schedule!
It's particularly important that parents don't let cell phones come between them and their kids. Dona Matthews, Ph.D., writes in Psychology Today that children whose mothers constantly use devices experience several negative effects. They're less resilient, they feel unimportant, and it interferes with their social and emotional development.
"Ultimately, kids thrive when they receive consistent, dependable, focused, loving attention," Matthews writes. "When you're with your child, be with them."
There are many different and simple ways to do this. Storie Stinger, a licensed clinician with Utah Behavior Health suggests going on a family walk and let the kids ride bikes or scooters. Go on a drive and get ice cream. Play a board, or card, or social game. Try to do things that will allow you to connect on their level. You could even have them pick the activity!
The most important thing is to just be present. Be right here, right now.
Try these conversation-starters with your kids
Now that your kids are back in school, you'll probably have a lot to talk about at the end of the day. Instead of asking, "How was school today?" try something a little more specific. Here are a few suggestions from Stinger:
"What was your favorite part of the day?"
"What was your least favorite part of the day?"
"Tell me about a new person you met today."
"What kind things could you do for someone tomorrow?"
Open-ended questions like these are important because they lead to more thoughtful answers. They show your child that you're genuinely interested in what they have to say.
Focus on their strengths
It can be easy as a parent to praise your child for their talents and accomplishments. If they score a goal in their soccer game or get an A on their report card, naturally, you feel proud! But it's also important that you point out their character strengths that aren't based on results or performance.
Stinger suggests saying, "I love how kind you are." Or, "I noticed you tried really hard on that thing." And then there are the words every child needs to hear: "Thanks for being a part of our family. I love you."
According to an article in Greater Good Magazine, "children and teenagers who have parents who help them to see and use their strengths enjoy a raft of well-being benefits, including experiencing more positive emotions and flow, being more persistent, feeling more confident, and being more satisfied with their lives."
The article continues, "Kids and teens with strength-based parents are also less stressed, cope better with friendship issues, cope better at meeting homework deadlines, and get better grades."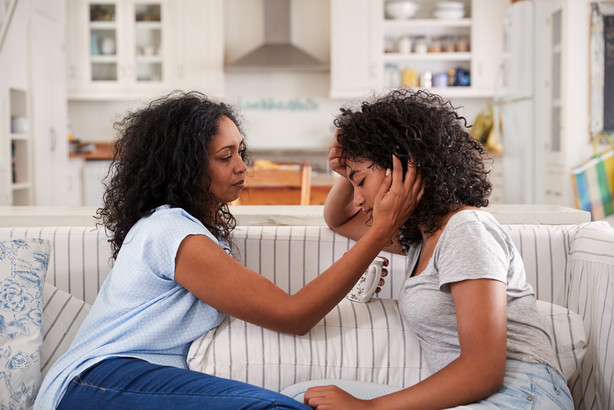 Children need physical affection
Words are great, but connecting on a physical level is important, too. A study published by the National Institutes of Health found that sensory stimulation contributes to healthy development in children. (and... in adults and all other living organisms).
Give hugs, high-fives, and touch or kiss your children's face. Snuggle up to read a book, or play tickle monster. These may seem like small things, but the effects are long-lasting and life-changing. Your child will have greater self-esteem, lower anxiety, and better overall health.
Seek professional help when you need it
Every family and every child is different. Sometimes it helps to seek professional guidance when dealing with behavioral or emotional health concerns.
Utah Behavior Services is dedicated to creating successful children and developing strong families by providing high-quality, evidence-based behavioral health care services. With multiple treatment centers throughout Utah as well as in-home and telehealth options, UTBS can easily meet your family's needs.
Utah Behavior Services is also looking for talented clinicians and technicians to join their team. If you're ready for a new opportunity to make a real difference in childrens' and families' lives, visit utahbehaviorservices.com today!
×