Estimated read time: 5-6 minutes
This archived news story is available only for your personal, non-commercial use. Information in the story may be outdated or superseded by additional information. Reading or replaying the story in its archived form does not constitute a republication of the story.
Utah students and teachers will carry a mix of excitement, fear, and cautious optimism into their classrooms this fall. Many are returning to full-time in-person learning after 16 months of online and hybrid teaching. The COVID-19 pandemic upended schedules and disrupted face-to-face education and social interaction with classmates and friends.
As students prepare for a return to some normalcy, pediatricians and parents have also observed a sense of mental energy and enthusiasm in their patients and children. It's a rare phenomenon these days, but doctors say it is critical to young people's recovery from a period that has challenged them emotionally and mentally.
Alanna Brickley, MD is a general and developmental pediatrician with University of Utah Health. She saw her patients throughout the pandemic and observed some disturbing trends. "I have seen a lot of teenagers struggling with mental health issues, and it's not just the pandemic, it's the social isolation of virtual school and the uncertainty of it. It's missing the social company of other teens and that is so important to their formative years. The volume of mental health issues in my teen population is concerning. I've really seen it dramatically increase over the last year," said Brickley.
A new study by mental health experts at the University of Calgary in Canada suggests depression and anxiety in our youth doubled during the pandemic. Their analysis was published this August in JAMA Pediatrics.
Parents like Elpitha Tsoutsounakis, whose three sons are all Brickley's patients, saw the deterioration in her two eldest boys' mental health. It was obvious and alarming. She said, "The most profound difficulty for my oldest son (10 years old at the time) was just being so isolated. I don't think that he even realized how isolated he was, but he was just sad all the time. He'd say things like 'When are we going to be part of the world again?' or 'When are we going to be back to the way it was?' and he would just mope."
Elpitha added that there were four or five weeks in the spring of 2020 when she and her three boys were in tears throughout the day. Her 10 and 8-year-old sons were frustrated with virtual learning and there were scary signs of anxiety and depression in her oldest boy who started sleeping a lot more hours and refusing to eat.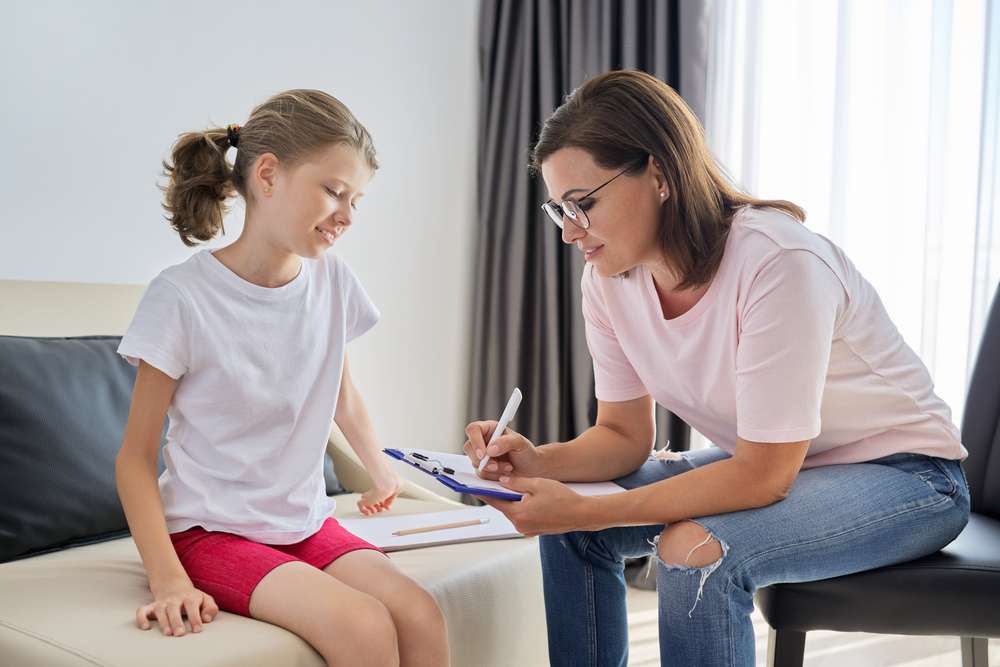 Video games became a lifeline for Elpitha's sons because they learned how to chat and work together with friends online to play and win games like Minecraft. She said, "We (she and her husband) ended up letting them spend a lot more time on video games and screens than we ever thought we'd be comfortable with because it made it possible to interact with other kids."
During the pandemic, many parents have come to understand the importance of their children's interactions outside the home, especially in school. It is something Brickley knows well from her work as a pediatrician and her focus on children's development.
"It is hugely important. The social engagement one-to-one and the ability to have some learning experiences about how we all interact with each other in a safe environment, is critical. And I think right now, the debate that parents are having is 'what is the value of that in relation to the risk of doing it,''' said Brickley.
Despite the challenges of rising COVID-19 cases and the spread of the Delta variant, Brickley believes school leaders can ensure their classrooms are safe to reopen if they follow the science. It will go a long way to helping students get back on a more stable mental health footing.
She says her young patients are ready to go back to school and willing to tackle the uncertainties that might lay ahead. "I have been hearing lots of excitement," she said. "I thought kids would feel more nervous about going back, but I think they are just excited to have things go back to some semblance of normal with this new school year. My population has not been as nervous or anxious about the transition as anyone thought."
When Elpitha's boys had the opportunity to go back to their school a year ago, they thrived on a variety of levels even with all the additional safety measures in place to protect them. This year, she's confident they will adapt to whatever awaits them in the classroom. "I think the structure of the classroom is what gives them the space to be independent and to thrive as independent people who have to be responsible for themselves separate from their parents and their family. My kids go to school, and they know how it works, and they know what the expectations are," said Elpitha.
---
Everyone is at risk for mental health difficulties, so having an open place where that is acknowledged to be the case and there is some sort of regular check-in with each other, is extremely important.
–Alanna Brickley, MD
---
The pandemic has already taught families some valuable lessons about being present and listening to one another. Brickley offers some advice as children return to full-time school learning and their parents deal with the maze of issues that could arise while COVID is still a factor inside and outside classrooms. She said, "The most important thing is to have an open platform for conversation with all family members and an acknowledgment that everyone can be affected by this in different ways. Everyone is at risk for mental health difficulties, so having an open place where that is acknowledged to be the case and there is some sort of regular check-in with each other, is extremely important."
When there is time to assess the impact that pandemic lockdowns on learning had on students' intellectual, emotional, and mental health, Brickley believes there will be evidence of long-lasting and difficult effects. However, she also sees a positive side to this once-in-a-century pandemic event.
Brickley said, "Kids are remarkably resilient, and they can take periods of adversity and turn it into something that is truly beneficial to them as they move forward in life. We have no ability to control that COVID happened, but our kids are remarkable, and, in the end, they tend to do much better than anyone thinks they are going to do."
×