SALT LAKE CITY — Mike Conley's decision to stay with the Utah Jazz was relatively simple.
As he got a sense of the market and the opportunities that would be out there for him, something became clear: Utah was the best option.
"We're right there. We're knocking on the door," Conley said after officially signing his new three-year deal with the Jazz.
Conley had multiple teams interested in his services, but none of those could offer better odds of winning an NBA title than the Jazz. Throw in the comfort level he already had with the coaching staff, players and ownership group and that's how a deal was struck nearly the moment free agency opened.
But after making his choice, Conley's role in free agency wasn't done.
Once Conley agreed to a new contract with Utah, he found himself with a new position. He was suddenly the team's unofficial recruiter. There was one player in particular the Jazz knew he could help with: Rudy Gay.
It's been 14 years now since Gay and Conley took the court for the first time as teammates. Back then they were two young, up-and-coming players for a young upstart Memphis Grizzlies team. Together, they saw the franchise go from having the worst record in the league to contending in the stacked Western Conference.
Those years didn't just forge the famed "Grit and Grind" Grizzlies, it also forged a lasting friendship.
"Me and Mike always text and talk. We've been talking ever since I left the Grizzlies," Gay said. "He's always been the guy that I've talked to about, whether it's injuries or situations or anything."
Or where he should go in free agency.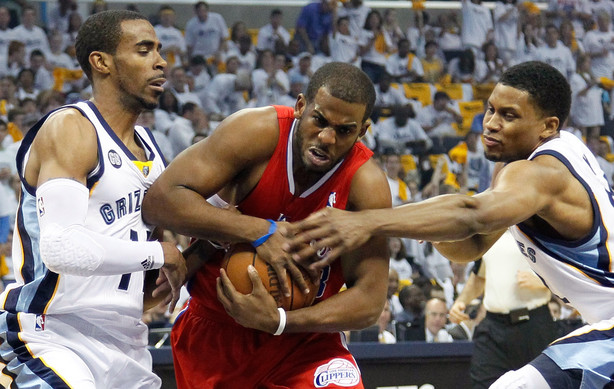 Conley reached out to his old friend to see how he was feeling about playing in Utah. For Gay, the location wasn't that important ("If I want to go to a big city I will just go in the offseason," he quipped), it was all about what opportunity he'd have.
"Rudy asked a lot of questions just to try and get a feel of how he'd be used in the system, Utah as a whole and our team," Conley said.
He must have liked the answers. The day after Conley agreed to re-up with the Jazz, his longtime friend decided to join him.
So what did Gay like about Conley and Utah's pitch?
"It's just the culture. The ownership group is great. Coach Quin (Snyder) is great. They really sold me on it," said Gay, who averaged 11.4 points and 4.8 rebounds last season in San Antonio. "But even more than that is — a lot of really, really good teams were coming after me and wanted me to be there, but I think this team was the team that had the most need for what I can do."
With his ability to play multiple positions, the Jazz should be able to find a role — or two — for him.
"I couldn't be more excited," Conley said. "He's a good friend of mine, our families are close, it's just a really good situation and I think he can really help us."
×
Related Stories