This story is sponsored by Robert J. DeBry—more than 200 years of combined experience practicing personal injury law.
Utah is already gearing up for a hot, record-breaking summer. In fact, Salt Lake City tied with the hottest temperature on record—a sizzling 107 degrees—on June 15, according to U.S. News.
With the heatwave in mind, you might be searching for ways to keep cool that don't entirely involve hibernating indoors all summer. While getting up to the mountains is always a good option, you don't have to leave your neighborhood most of the time to enjoy a cool day outside.
For parents, individuals and families wanting to cool off this summer, check out these favorite splash pads and public pools throughout the state.
Splash pads
Vineyard Grove Park splash pad
Located west of I-15 in Vineyard, this relatively new splash pad is making waves among Utah County families. With tall sprayers, a slide with running water and plenty to climb on, your kids will be entertained (and cool) for hours.
One Google reviewer said, "You will find so many water features like slides, a small path with water for little babies, buckets that dump you water every often."
The park also has an intricate playground with zip lines and swings to help dry the kids off.
Many reviewers recommend bringing a hat or umbrella for some sort of shade, as there isn't much at this park. You can find the splash pad at 350 N 100 E in Vineyard.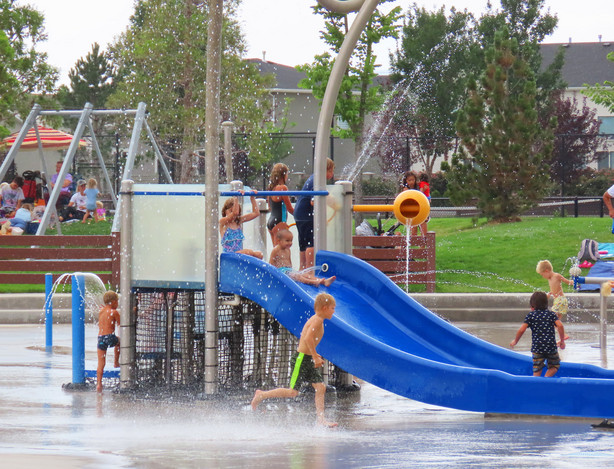 Springville civic center splash pad
Located between the Springville Civic Center and the fire station, this cute splash pad comes highly recommended from Google reviews. It has a decorative fountain, an interactive stream, spray features along the stream, and grass for the parents.
"A way nice splash pad! Probs the nicest one I've been to. It has a really cool little waterfall that kids can dunk themselves in it and a nice little man-made creek to run around and have fun for all ages," recommends one Google reviewer.
The splash pad is located at 50 S Main Street. Springville.org asks that you don't park along 100 W if you decide to visit the splash pad, but there is plenty of parking at the Civic Center at 110 S Main St.
Wardle Fields Park splash pad
Wardle Fields might be where you go to play a game of pickleball, but for little kids, it's a dreamland. With two splash pad areas, a small stream running down the middle and a waterfall, this splash pad is the one your kids will beg to visit.
There's plenty of shade and grass at this park, including two pavilions that each seat 80 people, and a third that seats 32. However, you might want to bring your own lawn chair if you want to sit closer to the splash pad.
Wardle Fields Regional Park is located at 14148 S 2700 W in Bluffdale.
Hogle Zoo
This might not be the first place you think of when you're searching for a fun splash pad, but it should be! Located in the Hogle Zoo is the set of a storybook come to life: Lighthouse Point Splash Zone. It features a lighthouse with a slide, barrels that spray water, a pirate's ship, a tide pool and a blowhole that sprays water every 90 seconds.
You get access to the splash pad with every zoo ticket purchased, so go check out the animals, and when you're nice and toasty, cool off in the splash pad! Just don't forget to bring a towel.
The Hogle Zoo is located at 2600 Sunnyside Ave. in Salt Lake City.
Ellison Park splash pad
If you haven't heard of the Ellison Park sea monster—you will. Just pack up the kids and head to the splash pad to see what all the rave reviews are about! The green sea monster equipment will spray water, shoot water and shower water all over anyone in the line of fire. There's also a dump bucket and slide to keep your little ones entertained for hours.
One Google reviewer said, "The splash pad here was amazing! There are a lot of activities to do, and the water is a pleasant temperature. They have shade coverings around the pad that provide a good seating area."
Check out the splash pad with your family at 700 N 2200 W in Layton.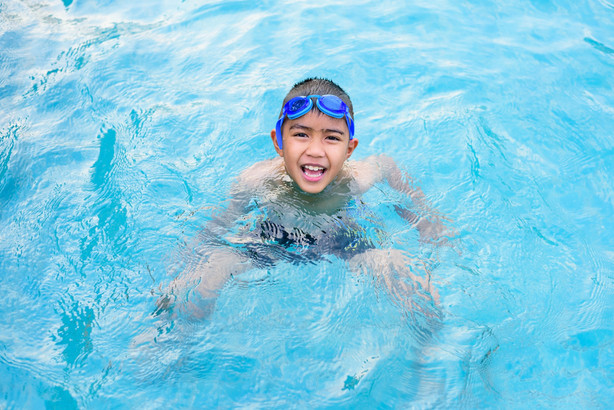 Pools
Payson Community Pool
If you're in southern Utah County, making some time to enjoy the Payson Pool is essential. You'll find a lap pool, a shallow kids' pool, kids' slides, large slides, a lazy river and more. While kids and even adults will love the variety of activities, parents will love the price tag even more.
According to the Payson Pool website, it's $1 for kids 0-3 years old, and $5 for everyone else. Seniors age 55 and older only pay $2.50.
A quick Google search will show you how popular the facility is. One reviewer said, "My family loves the Payson Pool - it's a must visit every summer! I love how there are enough areas that you don't feel crowded when there are plenty of people there."
Head over to 655 Main St. in Payson for a refreshingly great time.
Draper Rec Center
To be fair, this isn't just one pool, but rather three in one place! The Draper Rec Center has a lap pool, a leisure pool (great for kids) and an outdoor pool that resembles a beach.
The Leisure pool has a large water slide, water play features, a smaller water slide, lap lanes, and a lazy river. All of these features are indoors, too, so you can visit any time of year.
The outdoor pool starts at 0 feet and gradually gets deeper until it reaches 13 feet at the deepest end. There you'll find a diving board, lap lanes, and other water play features. So if you want to soak up your daily dose of vitamin D and still stay cool, the outdoor pool may be your ideal way to spend an afternoon.
The Draper Rec Center is located at 657 E Vestry Rd.
North Shore Aquatic Center
The North Shore Aquatic Center in North Ogden is exactly what the family needs to cool off in these record-breaking temps. According to Visit Ogden, the center features a large waterslide, two diving boards, a splash pad, lazy river, beach front and more.
For even more added fun, they also host Flick N Float nights on the water. While you're floating on the pool or lazy river, you can enjoy a movie at the same time.
Prices depend on age and whether you're a North Ogden resident or not, so be sure to check out their different pricing tiers on the North Ogden City website. The North Shore Aquatic Center is at 2705 N 550 E in North Ogden.
Sand Hollow Aquatic Center
This indoor aquatic center is any adventurer's absolute dream. From tikis to waterfalls, to a diving board to waterslides, you cannot imagine a more entertaining water experience. The pool mimics a beach, with a gradual increase in depth as you wade in. There are also plenty of features to climb on, including ropes strung across the top of the pool and a climbing wall.
EMBED:
One parent left a Google review saying, "My kids had a blast here and they didn't get bored! Lots of stuff to do...big water slide, rock wall that falls into the water, blow up obstacle course. Also, the price of admission is very reasonable. Awesome!"
The Sand Hollow Aquatic Center is located at 1144 N 2400 W in St. George.
Lindon Aquatics Center
Utah County residents know where to go for a cool afternoon—the Lindon Aquatics Center. Even though it's warm outside, frigid pool water isn't very refreshing after a few minutes. That's why they warm up all of their pools to a perfect 84 degrees.
With an average of 4.6 stars on Google, it's no wonder people love spending their summers at the aquatic center. There's a lazy river, slide, kiddie pool with slides, a pool with a rock-climbing wall and even a Flowrider to practice your surfing skills.
"The Lindon pool is our favorite. We love the lazy river and the variety of activities for all ages. The facility is clean and we always have a good time. There is a decent snack bar and surfing pool too," said one Google reviewer.
For those opting to stay out of the pools, many reviewers say there's plenty of seating in the shade and the grass. Visit the Lindon Aquatics Center at 60 W 60 N in Lindon.
Utah has a plethora of options to stay cool this (warm) summer. Just remember to drink lots of water and apply your sunscreen often!
×