My first experience with a Ford Explorer was about 2005. It was a beautiful two-tone green and tan. My family was shrinking as children left home and we downsized from a Suburban to the Explorer. We only had it a couple years before we downsized again to a Pontiac G6.
The 2021 Explorer ST I tested recently bears little resemblance to the earlier one I owned. The only thing in common is that they were both classed as mid-size SUVs and both were stylish and comfortable.
Explorers have been around for more than three decades now, something few other SUVs can match.
"The new Ford Explorer looks to build on its previous success of being one of the most popular SUVs ever. Immediate improvements include an optional hybrid drivetrain, an 8.0-inch touchscreen with Apple CarPlay and Android Auto standard, as well as a new mechanism that allows passengers easier access into the third-row," reports Car and Driver.
My test drive lasted four days and I enjoyed all of the opportunities I had in the Ford Explorer ST. My driving was all around town and on the highway. I didn't get a chance to take it on gravel or dirt. Here are some of the highlights.
Seating
As I've aged, interior comfort is increasingly important. The new Explorer ST doesn't match the Ford F-150 for comfortable seating and legroom, but the model I tested had heated and cooled massaging seats. This is one of those features you don't know you're missing until you've experienced it.
I didn't get the chance to take the Explorer on an all-day drive, but this is a feature that would be great for the times when you are spending extended hours behind the wheel. The massage function offers several modes to match your personal preferences. Initially, I wondered if the massaging seat would be a distraction while driving. It wasn't. In fact, on a long, boring drive, I think it could be invigorating and help the driver remain attentive.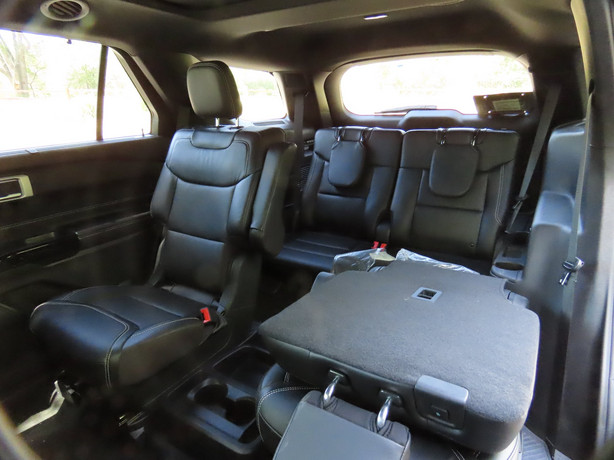 Second row
The Explorer ST was equipped with captain's chairs, meaning total seating capacity for this model was six. I didn't get a chance to test them, but my granddaughter said they were "fine." In 16-year-old-girl speak, that's a ringing endorsement.
Third-row seating
In a ranking of SUVs with third-row seating, the Explorer placed ahead of the Chevrolet Traverse, the Subaru Ascent and the Honda Pilot. In reality, third-row seating in any mid-size SUV will be tight. I actually own a mid-size SUV with a third row and can testify it would be uncomfortable for virtually any adult for an extended period. But on the rare occasions when that third row is needed, it's nice to have that option and the Explorer's third row is roomier and has better access than mine.
If I needed to use a third row on a regular basis, I'd opt for a full-size SUV.
Controls, safety and display
The ST was equipped with an optional 10.1-inch vertical touchscreen (an 8-inch horizontal screen is standard). The larger screen really shines when combined with the vehicle's safety features. For example, the 360-degree camera system makes getting into tight parking spaces a breeze and the larger screen makes everything clear and sharp.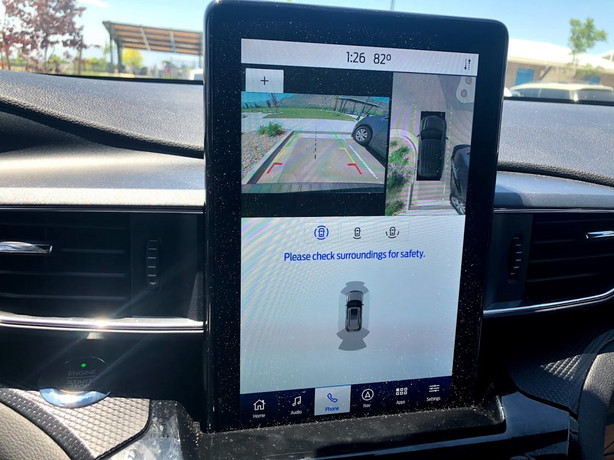 Other safety features on the Explorer include rear cross-traffic detection, front parking sensors, reverse automatic braking and automatic high-beam headlights. Other driver assistance features include lane-centering and adaptive cruise control.
Safety features have come a long way in just the past couple years. After driving many different makes and models of vehicles with an array of safety features, I'm convinced they will prevent accidents and probably even save lives. They are must-haves for any car I buy in the future.
Cockpit controls were all easy to find and to reach. I like the small round knob for changing gears rather than a shift knob or stick. The only thing I didn't like was a single USB port between the front seats. Don't they know that it's pretty common (always) for two people to want to connect their phones at the same time?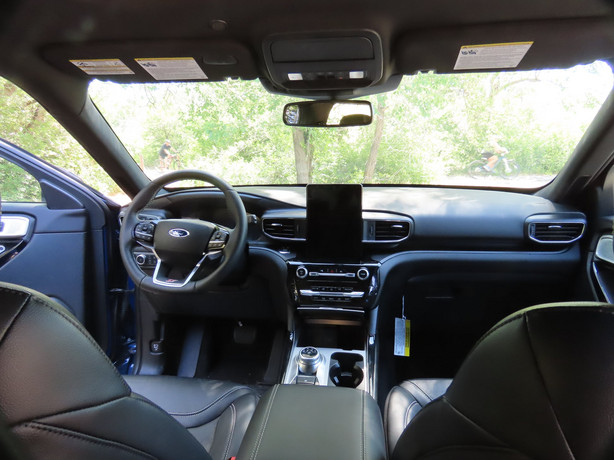 Power, performance and handling
Like the Ford Ranger and the F-150 I tested previously, The Explorer feels beefy and powerful. I drove the ST model, which offers a 3.0-liter turbo-charged V-6 engine that delivers 400 horsepower. So even with its beefiness, the Explorer ST had sporty acceleration and handling.
A Forbes article notes the Explorer ST generates enough power "to run from zero to 60 mph in just over five seconds, a feat typically reserved for exotic cars such as the Acura NSX not all that long ago. Ford's EcoBoost engines have a distinct turbo sound, but the Explorer ST's turbos produce a more satisfactory whoosh as they spool up."
Inside the Explorer you feel like you are sitting high--like in a truck. It's a feeling I prefer for its higher sightlines and improved visibility. But the Explorer ST handled and maneuvered much better than a pickup. I was impressed by the short turning radius. I had to do a quick U-turn in the middle of a busy two-lane road when my wife thought she spotted a monarch butterfly near a patch of milkweed. The butterfly was not seen again, but the Explorer ST made the turn with room to spare.
When it comes to mileage, performance will vary depending on the model and engine configuration. According to federal government data, combined city and highway miles per gallon ranges from the high teens to 29 mpg. The mileage over the four days of testing was just over 18 mpg.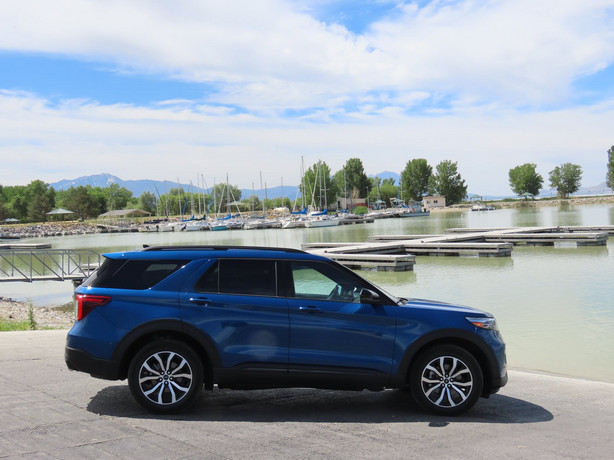 Cost and miscellaneous
Most of the vehicles I test drive are brand new--typically with under 100 miles. If you've followed recent news reports, you know that the pandemic has disrupted the inventories of new vehicles, so the Explorer ST I drove had about 4,500 miles and no window sticker. So I can't tell you its exact sticker price.
According to Ford, the price for a 2021 Explorer ST starts at $49,000. The lowest price for a base model is listed at $32,925 and the top-of-the-line Explorer Platinum starts at $52,730.
In addition to the things already listed, the 2021 Explorer had lots of thoughtful options like seats that fold out of the way, plenty of storage spaces in strategic locations, retractable window screens to block the bright sun, etc.
I've been impressed with each of the three 2021 Fords I've test driven so far. I'm not in the market for a new car right now, but if I were, I can honestly say one of the new Ford models would certainly be on the list.
×
Photos