If you've ever thought there's something transcendent about waterfalls, you're not alone. In fact, many religious and spiritual belief systems consider natural waterfalls symbolic of inner cleansing, energy flow, change and life itself.
If you're living or visiting the Wasatch Front, it's not difficult to find your own spiritual interpretation to one of nature's grandest designs. That's because waterfalls – large, small and everything in between – abound in Utah Valley.
Whether you're up for a scenic hike with a big payoff, or a casual nature walk with a spectacular backdrop, there are more than a few falls to fall for in Utah Valley.
Timpanogos Falls
There's a reason Timpanogos Falls is one of the more heavily trafficked hikes in Utah Valley; it's a short, moderate walk with a spectacular payoff. Just under two miles out and back, the trail is paved and easily accessible from the same trailhead as Stewart Falls (go for a twofer by tackling them together).
During the summer months, you'll enjoy a scenic display of dazzling wildflowers – not to mention the looming majesty of Mount Timpanogos, Utah Valley's highest and most iconic peak.
Scout Falls
If you're up for chasing waterfalls, you'll get a double dose by tackling Scout Falls, a twin waterfall on the trail to Mt. Timpanogos. Accessible from the Timpooneke Trailhead, Scout Falls is a moderate hike that can be easily completed in a few hours, or on your way to summit Mount Timpanogos.
If you're not in a rush to get back to the real world, take advantage of the Timpooneke Campground, located less than a half-mile from the trailhead.
Bridal Veil Falls
If you don't mind playing third wheel to multiple college students on first dates, Bridal Veil Falls is the perfect spot to enjoy nature without committing to a long or difficult hike. Easily considered one of the most iconic spots in Utah Valley, the falls are located just a short drive from the mouth of Provo Canyon on Highway 189. Of all the waterfalls in Utah County, Bridal Veil is easily the most accessible, with multiple parking lots, a paved river walk trail, grassy picnic areas, barbecues and picnic tables.
Whether you're looking for a family-friendly picnic spot or a quick and romantic nature walk, you'll be awe-inspired by the falls, which tumble more than 600 feet to the Provo River below.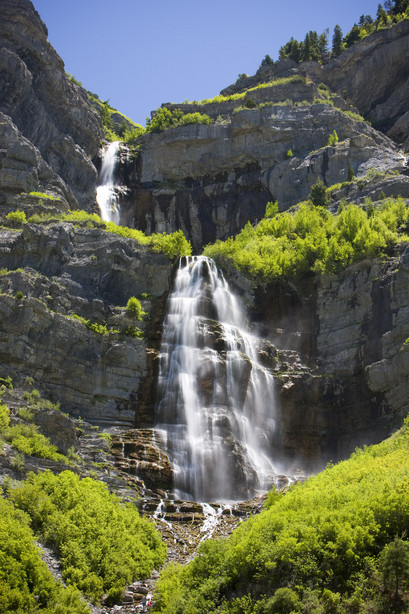 Stewart Falls
There's a reason Utah.com calls Stewart Falls one of the most scenic and photogenic waterfalls in Northern Utah (high praise considering the beauty of the rest of this list). Falling in two tiers more than 200 feet, the falls punctuate the beautiful, lush forest of Mt. Timpanogos.
Although the falls are accessible via three trailheads – Aspen Grove, Base of Falls, and Sundance Resort, AllTrials recommends starting from the Aspen Grove trailhead. But for hikers wanting the scenery without as much hiking, the Sundance route can be shortened with a lift ride to Ray's Summit (Tickets can be purchased at the resort.).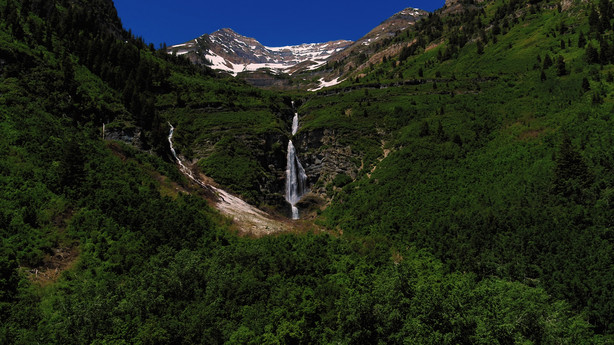 Grotto Falls
Tucked in the Nebo Loop Scenic Drive above Payson, Grotto Falls is an easy, out-and-back hike that's perfect for families or anyone looking for a quick, scenic payoff. While known for its fall colors, according to Utah.com, the Nebo Loop is also spectacular during the summer months, when wading into the waterfall spray can feel particularly refreshing on a hot day.
Horsetail Falls
Just like a horse's tail is full of thick strands of hair, you can see where this stunning waterfall gets its name. Horsetail Falls is located near Alpine, and is about 4.6 miles long, notes AllTrails. You can expect to climb quite a bit on this trail—1,617 feet to be exact. Because of the elevation change and the three streams you'll cross on your way up, this trail is rated as difficult.
To start, you'll park at the end of Grove Drive, just above rodeo grounds. You'll take the Dry Creek trailhead through Dry Creek Canyon. For more trail directions and reviews of the hike, visit the AllTrails page.
Dogs are also welcome to join you on the hike—but remember to keep Fido on a leash!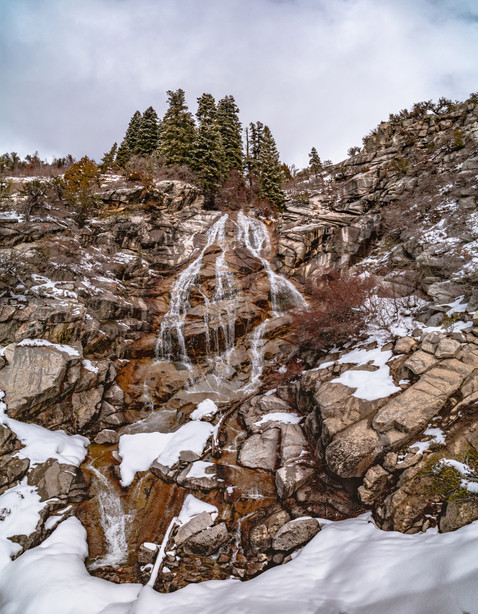 Battle Creek Falls
With a trailhead in Pleasant Grove, Battle Creek Falls is perfect if you're looking for a shorter, family-friendly hike. The main falls are just half a mile up the trail and easily doable in less than an hour.
Avid hikers can continue past the main falls on a challenging trail with spectacular scenery and cool shade along the way, according to Alltrails. Just over 4 miles, but boasting an elevation gain of nearly 2,000 feet, the trail will leave your calves sore and your spirits high, taking you past two smaller waterfalls as well as the main falls.
Summer is around the corner. Experience the transcendence of Utah Valley's natural scenery by chasing a few of the area's most notable waterfalls.
Please remember to be aware of slick surfaces, wear appropriate clothing and drink lots of water. Don't take any trails or paths that extend past your skill level, and remember to bring your phone in case of an emergency (or to take some gorgeous photos).
×