SANDY — Before she was a state senator from Utah's 1st District, Luz Escamilla was a soccer fan — or fútbol, as they called it in her hometown in northern Mexico.
While the state senator since 2009 is more than happy as a fan of Real Salt Lake, she also admits her roots run deep — in this case, roots to Santos Laguna, the verdiblancos from La Comarco Lagunera, near Torreon, in Mexico.
So when her day job as local politician representing Utahns intersected with the chance to bring Santos back to Utah for the first time since 2016, she was understandably giddy at the opportunity.
The 43-year-old senator was beaming as she introduced the club of her birth, which will face Club América in an international friendly July 4 at 6:30 p.m. MT at Rio Tinto Stadium.
But Escamilla was even more giddy when she spoke of her mother, who was traveling for the first time since the pandemic locked down most borders, vaccine in hand, to see Santos Laguna in the Clausura finals of Mexico's Liga MX from May 27-30.
Whatever it takes to get people vaccinated — especially in a population like Utah's Latino and Hispanic community, which has lagged behind the general population — Escamilla was all in favor.
Which brings her back to Monday's announcement.
"This is a huge incentive," said Escamilla, who was born in Mexico before moving to the United States as a teenager and attending the University of Utah. "Whatever works: what we need to get is people vaccinated. And if this is going to incentivize people and families to be participants in the game on the Fourth of July, then what a way to get people healthy and the opportunity to get people back to as normal as we can."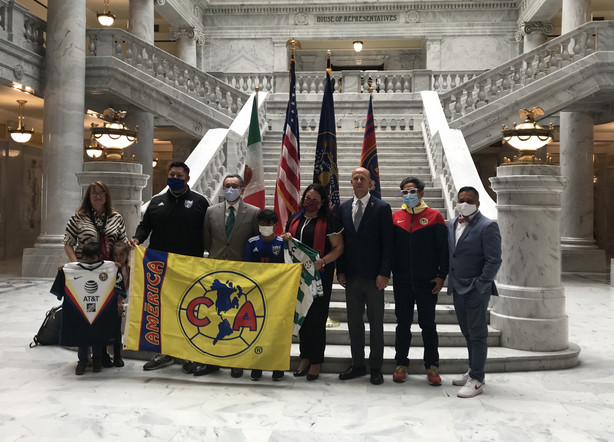 Real Salt Lake says it is planning — hopeful, even — to have Rio Tinto Stadium, which currently hosts two Major League Soccer clubs, opened to full capacity by kickoff on July 4. The club has been trending in that direction lately, recently removing the mask mandate inside the stadium for the roughly half-full capacity crowd of 10,000.
With vaccination rates continuing to climb, it seems likely that a packed house of 20,000 could welcome Santos Laguna and Club América, the winningest club in North America with more than 40 titles and 13 league trophies.
"The great news is Utah is doing such a phenomenal job with (vaccinations) — and there is still work to be done — and because of that positive momentum, we are bullish and excited about how things are going to start to open up," RSL interim president John Kimball said. "We're hoping by the middle of June, things can open up even more, and by the Fourth of July, we'll be at full capacity.
"But fingers crossed. We're going to do this very safely and very cautiously, because we don't want to do anything that would put any of our fans or anyone else in jeopardy."
Club América reached out to RSL about hosting the game as part of the club's preseason Tour Aguila — the official United States tour of Club América — and the three clubs quickly came to an agreement to host the friendly, as well as América's weeklong training camp that Kimball believes will include several community events, camps and clinics during their mid-summer stay in the Beehive State.
Las Aguilas have played in Utah three times previously, including facing the host side Real Salt Lake in 2006 and 2009, as well as a match against Monarcas Morelia in 2017.
That experience proved vital in making América — as well as Santos, which faced RSL at Rice-Eccles Stadium in 2008 and fellow Liga MX side Club Tijuana in Sandy in 2017.
"Not only did our group at Real Salt Lake treat them very well and fairly, but the community was so excited to see them," Kimball said. "Teams want to come back to places where they know they have fans, and we have a number of fans of both of these clubs that we know are going to want to come out and support them.
"Not only does the competitive side of where you're going help, but having a crowd and a sold-out stadium for them helps, too."
Standing alongside Consul General Jose Borjon of Utah's Mexican Consulate, who was holding a Club América jersey, Escamilla beamed as she represented Santos Laguna for RSL's annual event where it welcomes clubs from around the world to Rio Tinto Stadium.
But this one was extra special: for Santos, for Real Salt Lake, and for the people of Utah, as the senator works to vaccinate every eligible Utahn and show them that it's OK to stand shoulder-to-shoulder with friends and foes alike for an international friendly at Rio Tinto Stadium.
"This is very exciting. I love RSL, and I've been very engaged with RSL," said Escamilla, who helped sponsor a bill to allow the club its own license plate for Utah drivers to purchase through the state. "But when they called me to say that Club Santos was coming to face América, I was in.
"More than anything, the message we're sending is that we are welcoming the world again. We're reopening our doors. It's been close to 18 months, and look what we are able to do. But vaccinations are the key, and we're trying to promote that message."
---
International friendly
Club América vs. Santos Laguna
Where: Rio Tinto Stadium
When: July 4
Kickoff: 6:30 p.m. MT
Tickets: On sale beginning Wednesday, May 26th at 10 a.m. MT; available at select points of sale, axs.com, and ticketon.com, or by calling 1-800-668-8080.
×
Photos
Related Stories