This story is sponsored by KSL Classifieds. Create a listing and sell your stuff on KSL Classifieds.
Few things beat the rush of nimbly navigating obstacles on a singletrack in American Fork Canyon or flying full throttle around the banked turns at Jordan River Off-Highway Vehicle State Park. More than 80,000 miles of off-highway vehicle trails criss-cross Utah for your riding pleasure, ranging from open dunes to slick rock and gravel roads.
But before you can ride, you need the right rig. Which begs the question: "How do I choose between a dirt bike, a dual-sport bike and an adventure bike?" The answer depends on the primary type of riding you'll be doing as well as your skill level. Consider these things before purchasing your first motorcycle or getting back into riding after a long hiatus.
Where will you be riding?
Over the river? Through the woods? To Grandmother's house? The type of motorcycle you buy largely depends on where you'll be riding most.
Off-road only
An excellent option for beginning riders, trail bikes are designed for off-road use only — you also need a truck or trailer to transport yours to the trailhead. These motorcycles have a more forgiving suspension and knobby tires to roost off-road conditions. Smaller gas tanks keep things light. Yamaha, Honda, KTM and Kawasaki all make excellent trail bikes for newbies to the sport, with engine displacement typically ranging from 125cc to 300cc on adult models and safety features like hand protectors and radiator boards.
Mostly off-road with some on-road
Dual-sport bikes are intended for mixed-surface sojourns. They are equipped with all the things the Division of Motor Vehicles requires to make them street legal — turn signals, mirrors, lights, a speedometer and a horn — but are primarily built for off-road use. Larger fuel tanks and more comfortable saddles make longer rides possible.
Street-legal dirt bikes like these are ideal for trail-to-town access (think dinner and a cold drink after a long, hot afternoon of riding) or town-to-trail commutes in rural areas (shout out to Salina!) or bench neighborhoods (lookin' at you, Bountiful!). It's a good idea to shop for models in the 250cc range if you're going to be riding on highways with speed limits over 50 mph.
Mostly on-road with some off-road
Similar to dual-sport bikes, adventure bikes are street-legal motorcycles with minimal off-road capabilities. But adventure bikes are primarily built for on-pavement travel, with additional features like luggage racks, a passenger seat and a larger gas tank. These bikes are intended for traveling long distances in relative comfort. BMW, Honda, KTM and Yamaha are leaders in this market segment.
What is your ability level?
Cooper Webb rides a KTM 450 SX-F, so that's the type of dirt bike you should buy, right? Not necessarily. There's no denying it offers a fast ride and corners with ease. But it is better suited for aggressive riders with years of experience, and most of us aren't champions battling for position on a major motocross track. (Yet.)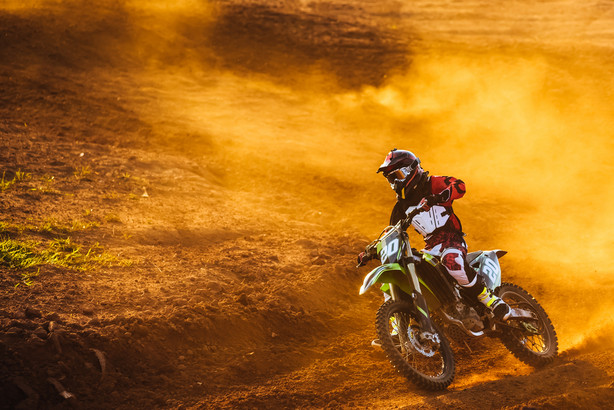 Your rides can still be exhilarating, however, if you match the size, speed and power of the motorcycle to your abilities. This extends beyond your actual driving skills to your physical strength. If you don't land a jump, can you stand the bike back up by yourself? Because of the additional components, dual-sport bikes are equipped with, they are a bit heavier and harder to maneuver than trail bikes. Dual-sport bikes tend to be taller too, making it difficult for the petite population to ride without purchasing a lowering kit and making modifications.
How fast do you want to go?
Dual-sport motorcycles don't reach the same speeds as bikes intended for off-road use only. The knobby tires are less aggressive so they don't get shredded when riding on pavement, which causes these bikes to be a little slower, as does the larger gas tank and other components. For many people, this doesn't matter. They prefer the versatility of a dual-sport bike to the velocity of a dirt bike.
For others, the need for speed is the draw to riding an off-road motorcycle. Once you're confidently blitzing the whoops and wanting to go as fast as possible, consider upgrading your trail bike to something in the 450cc to 650cc range or investing in a model tailored to the specific type of riding (Flat track! Enduro! Supermoto! Hill climb!) you prefer. Find your next dirt bike on KSL Classifieds — new or used — and give your beginner bike a new life by selling it there too.
×