If you're a new parent, you may be wondering when you should schedule your child's first dentist appointment. Well, the answer may be sooner than you think.
The American Dental Association and the American Academy of Pediatric Dentistry strongly recommend that parents take their children to the dentist within six months of getting their first tooth—but no later than their first birthday.
Many parents may disregard the importance of regular checkups while their children are young because baby teeth aren't permanent. But neglecting to care for your children's teeth—even from the time they're infants—can have long-lasting consequences.
Here are a few reasons why you might want to make that first dentist appointment sooner rather than later.
Your baby's mouth is prone to infection
A great reason to bring your baby to the dentist is so they can do a full oral examination and check for spots, lesions, or other issues.
Healthily notes that your baby is more vulnerable to infection because their immune system is still developing. Because of this, babies often suffer from a common infection called oral thrush. Most cases clear up within a few days, but if the infection persists, you may need to visit your dentist to get a prescription for an antifungal gel to clear things up.
Harmful bacteria gets introduced to your baby's mouth, causing cavities
Babies are born without the harmful germs, or mutans streptococcus, which cause cavities. However, parents can pass these germs on to babies through saliva transfer by eating from the same utensils or sharing toothbrushes. This introduces harmful bacteria even before age two. It can also increase the risk of cavities before a first tooth even comes in! As a result, many toddlers end up with cavities at a young age.
Risk for decay begins with the first tooth
You might think cavities are only a problem for little kids (and adults) who constantly consume sugary treats, but that's not true. Even an infant who only drinks milk is vulnerable to decay as soon as that first pearly white breaks through.
According to the AAPD, tooth decay affects nearly 1 in 5 children under the age of five. Of course, the risk does go up once children begin eating those sugary snacks that are so common for their age. Citrus fruits, crackers, fruit snacks—all of these can cause cavities. (Today's Parent noted that even those gummy multivitamins may be wreaking havoc on your little one's teeth.)
And if you do have a baby who takes a bottle, make sure you don't put sugary fruit juices or sodas in the bottle. Don't let them fall asleep with the bottle either, as this contributes to tooth decay.
Children don't always practice the best dental hygiene, so visiting a dentist early can help to combat that. A pediatric dentist can help to protect their teeth from cavities by providing preventive dentistry services as well as dental sealants.
Delaying the first dentist appointment increases risk of cavities
About 28% of toddlers aged 2 to 5 have cavities in primary teeth, according to the National Institute of Dental & Craniofacial Research. This is due to parents waiting too long to bring children in for their first appointment.
Tooth decay can cause chronic illnesses
Dental caries, the disease caused by tooth decay, can affect children at a young age, even causing chronic illnesses such as asthma and diabetes. The NIDCR reports that 42% of children between the ages of 2-11 have dental caries affecting primary teeth.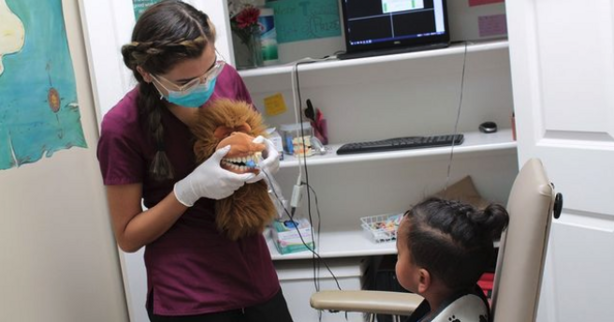 Your baby grinds their teeth
Cavities aren't the only problem. Your child may suffer from bruxism—or, in other words, grinding and clenching their teeth at night. Healthline estimates that 2 to 3 out of every 10 children grind their teeth at night. While most kids will grow out of this habit, it's a chronic condition for some that may cause tooth pain.
If this happens for your child, you should visit a pediatric dentist to get a night guard to protect their teeth.
Infants can have lip-tie and tongue-tie issues that interfere with feeding
If your baby is having trouble eating, it may be due to a lip- or tongue-tie issue. Most mothers report significant improvement in feeding after a quick, painless in-office procedure. Dr. Bruce Howell's state-of-the-art laser treatment at Orem Pediatric Dentistry causes little to no bleeding and eliminates the risk of infection.
What you do now will affect their adult teeth
It's easy to rationalize that baby teeth aren't as important because they aren't permanent. However, your child's baby teeth are crucial to their future dental health. Studies from the National Institute of Dental and Craniofacial Research show that children who develop cavities in their primary teeth have a higher risk for tooth decay in their adult teeth.
Additionally, your child's baby teeth act as placeholders for the permanent ones, helping their smile to grow in correctly. Regular visits to a dentist are important because the dentist can make sure your child's primary teeth are in good condition so they can have excellent dental health for life.
Schedule an appointment with a pediatric dentist today
Now that you know the reasons why you should take your baby to the dentist, there's no better time than now to schedule their first appointment. And if you're feeling guilty about missing the window for that first-year appointment, don't worry—hope is not lost. No matter how old your child is, it's not too late to begin the habit of regular dental checkups.
One of the best things you can do for your child is to take them to a pediatric dentist who specializes in helping children feel safe and comfortable during appointments. At Orem Pediatric Dentistry, you can expect top-of-the-line care and attention. Dr. R. Bruce Howell and his team care about you and your child and are committed to providing a positive experience in the dental office. They believe each child deserves healthy teeth and a perfect appearance for a lifetime.
Check out their website and learn how their pediatric dentist office in Orem can give your entire family a reason to smile today!
×