While you can never quite rule out the chance of a rogue storm, warmer days seem to have finally reached the Wasatch Front—and that means hiking season is officially here. Whether you're a backcountry pro or a hiking novice, there's a hike —or a dozen—for you in Utah county.
With scenic waterfalls, spectacular mountain vistas, cool mountain breezes and even the occasional natural hot spring, these Utah County hikes are easily accessible and worth every step.
Lake Hardy
Seasoned outdoor enthusiasts looking for a challenge will find one in Lake Hardy—a strenuous, 11-mile out-and-back trail with elevation gains exceeding 4,000 feet. According to reviews on AllTrails.com, the hike, which cuts through the Lone Peak Wilderness north of Alpine, can be overgrown and difficult to follow at times. However, if you're seeking serenity, you're sure to find it. It's easy to spend hours on the trail and not see a soul—particularly on a weekday.
Access to the Lake Hardy trailhead is off Aspen Drive in Alpine and parking is available next to the Lehi City gate. You'll hike a dirt road approximately two miles before coming to the official trailhead.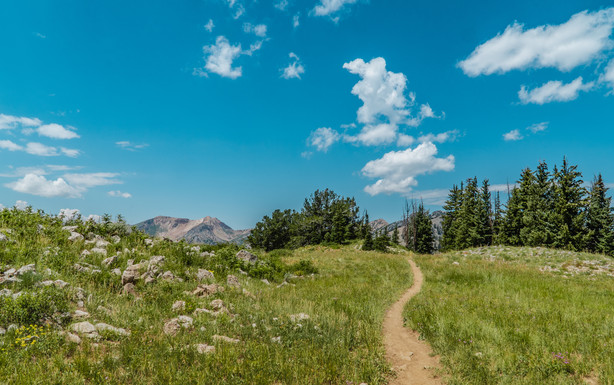 Provo Peak Trail
If you'll do anything for a beautiful view, the 11.4 miles and 7,119 ft of elevation gain won't stop you from conquering Provo Peak—a lightly trafficked trail perfect for a day-long hike. Even seasoned hikers aren't out of the woods on this one. One AllTrails.com reviewer claimed Provo Peak Trail is harder than Mt. Timpanogos, Mt. Nebo and several other "difficult" Utah hikes.
If you're looking to pare down, you can access the Provo Peak Summit off Squaw Peak Road, cutting the hike to a (very steep) three-mile out and back. Either way, you'll see sweeping views of Mt. Timpanogos, Mt. Nebo and the entire Valley on this spectacular hike. Keep in mind you'll need a high-clearance vehicle to access the trail.
Horsetail Falls
If you consider a waterfall the ultimate outdoor payoff, Horsetail Falls won't disappoint. A four-mile out-and-back trail, it's the perfect way to spend a warm summer morning. According to Outdoor Project, you'll enjoy views of the falls well before you reach it, but don't let that stop you from charging on. The trail takes you to the top of the falls, and if you're the adventurous type, you can hike alongside the falls, down to the base and even behind it.
While it's a steep walk, Utah's Adventure Family promises Horsetail Falls is doable for families—just be sure to bring lots of water and sunscreen, as parts of the trail are exposed. Access the trail from Dry Canyon Trailhead in Alpine and remember your camera—you'll want it for the spectacular scenery.
Primrose Overlook/Horse Spring Trail Loop
For families and casual hikers, Primrose Overlook and Horse Spring Trail Loop is certainly worth a few hours of summer daylight. A moderate 3.6-mile loop with less than 1,000 feet of elevation gain, the trail offers vistas of wildflowers and a stunning scenic overlook.
The trail is a steady, moderate incline, with a short-but-steep incline up to the overlook, according to Explore Utah Valley. Along the way you'll see beautiful aspens, lush meadows and breathtaking views of Mt. Timpanogos.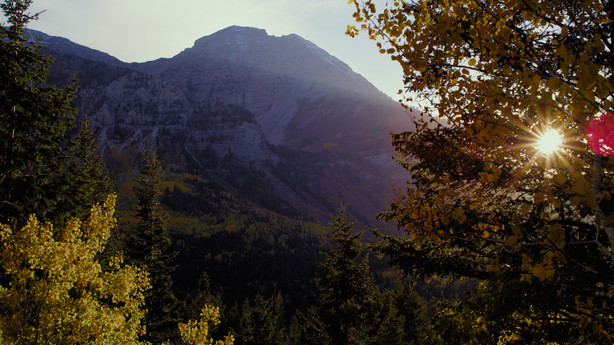 Big Baldy Trail
It may not be the road less traveled, but that's simply because the scenery of Big Baldy Trail is nothing short of spectacular. A smaller peak on the west face of Timpanogos, Big Baldy provides a fun, moderately difficult few hours of hiking.
You can access Big Baldy summit via Battle Creek Canyon or Dry Canyon—the shorter and more scenic option, notes Summitpost.org. They also say Battle Creek Canyon entrance, though longer, has a waterfall on the way.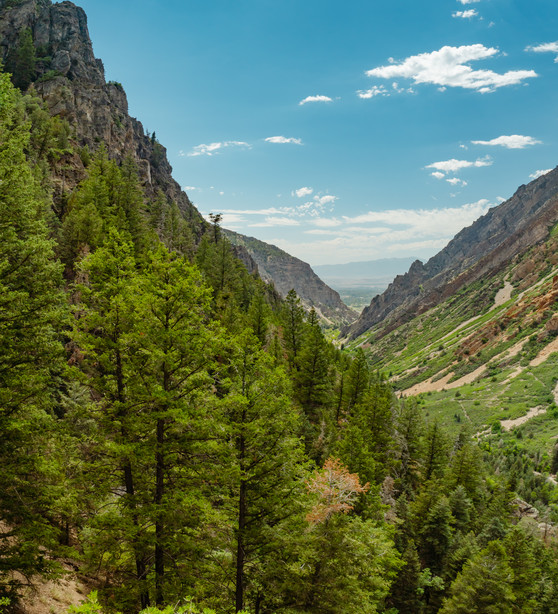 Grotto Falls Trail
If you want a hike that is easy for people of virtually all abilities, the Grotto Falls Trail is the ticket. Located seven miles from Payson up the Nebo Loop road, this popular trail is less than a mile out and back. A grotto is a cave formed by water and the reward on this hike is a beautiful waterfall inside a small open cave. It's a perfect adventure during hotter weather and it's near other attractions like Payson Lakes.
Utah Valley features dozens of hikes including some of the most popular trails along the Wasatch Front. Whether you want a short, gentle path suitable for small children or you are an experienced trekker looking to bag a high peak, you can find it here. Wildflowers are in bloom and this is a perfect time of year to explore someplace new. Check out this list of 50 hikes from UtahValley.com to find a trail perfect for you.
×