For many women, it has been more than a year since they have visited a nail salon, because of the pandemic. But since being vaccinated, many are making their way back and may be surprised to see the changes in nail spa options such as the new M. Vincé Nail Spa at Station Park in Farmington.
The minute one enters this spacious new spa they will know they've stepped into a whole new nail salon experience. A massive crystal chandelier hangs over the lobby with marble floors, dark wood paneling and touches of gold, like in a grand hotel! Within minutes women (and men) are seated in supple pedicure chairs with their feet bathing in warm scented water. Technicians will offer a complimentary beverage and then get to work expertly caring for their client's nails with a freshly opened new set of tools.
M. Vincé Nail Spa has affordable options that range from the $30, 30-minute Spa Pedicure to the $90, 80-minute Ultimate MV Spa Pedicure that revitalizes the skin. This writer opted for the $70 Royal Hot Stone Spa Pedicure, which included nail trimming and grooming, a sugar scrub, a cooling masque, hot towel wrap and an extended lower leg and foot massage with smooth hot stones and almond oil to loosen the muscles – aaahhh. Then onto the expert gel polish and a soothing treatment of warm, fresh paraffin. The treatment was so relaxing, guests just might ask to be scooped up and poured into the manicure chair!
The salon is so relaxing because there is no chit-chat between salon technicians, no cluttered workstations, no strong chemical odors and no television blaring (although there are large screen TVs in each of the four pedicure sections that accommodate seven people per section). The only sounds are the soothing strains of jazz piano music, the trickle of a large wall waterfall, and casual conversations with the pleasant, professional nail technicians.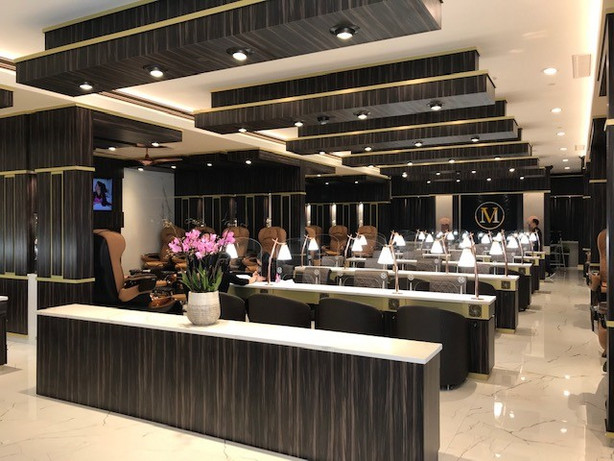 After a pedi, guests are seated at a long marble-topped table that accommodates six manicure stations. Four of these long tables are placed in rows surrounded on the sides by the four, seven-chair pedicure stations that are perfect for groups. Each manicure station has a protective plexiglass shield and an innovative built-in nail dryer that is flush with the front of the table. Manicure options range from $20 to $50 with additional costs for gel polish, acrylics and the dipping powder. There are also special prices for children's services.
The $26 Signature Manicure includes nail and cuticle trimming, shaping and buffing, a massage with M. Vincé Nail Spa's signature mandarin scented lotion, a hot towel wrap and the standard polish. However, one might want to treat themselves to the newest nail color technology. For an extra $40 one can try the odorless, non-toxic dipping powder nail color that is infused with vitamins. The process is fascinating to watch as the technician dehydrates the nails, paints them with a clear "glue," dips them into a jar of colored powder and gently flicks off the access. After two or three repetitions, the nail expert will buff and shape the hardened powder and add the topcoat for a lustrous finish. The final look is a little thicker than a gel polish but thinner than acrylic nails.
After a year-long hiatus from getting a mani and pedi, a visit to the luxurious but competitively priced M. Vincé Nail Spa may just be worth the wait!
M. Vincé Nail Spa also offers waxing, facial massages and eyelash extensions. Walk-in appointments are welcome and appointments can be made at www. MVinceNailSpa.com or by calling 801-447-9306. The spa is open Sunday through Saturday. Visit the website for hours.
×