Estimated read time: 5-6 minutes
This archived news story is available only for your personal, non-commercial use. Information in the story may be outdated or superseded by additional information. Reading or replaying the story in its archived form does not constitute a republication of the story.
In the summer of 2020, as the COVID-19 pandemic gained ever greater traction in the United States and across the world, 24-year-old Natasha went home to see her parents in Colorado. The University of Utah employee had worked hard to stay up-to-date on scientific understanding of the virus. Her parents were both at high-risk of becoming severely ill if they contracted COVID-19.
"If I wanted to hug them, I was putting them at a high risk of getting it," Natasha says. For her first trip home since the pandemic had started, she quarantined for 14 days and had two COVID tests. Even then, she says, she felt guilty and increasingly anxious the closer she got to their home. "I felt like I was doing something wrong," she says.
The answer to calming that anxiety emerged at the beginning of the following year. In January 2021, she went to University Hospital in Salt Lake City with a colleague and got the first shot of the Pfizer vaccine. "I knew if I wanted any semblance of normalcy, it was the first step to get there." She cried in relief that finally she wouldn't have to live with the fear of unwittingly infecting her parents. She was also keenly aware that the only way the U.S. was to achieve herd immunity—where sufficient numbers are vaccinated to make its spread unlikely—was if the vast majority were vaccinated.
Some of her friends, though, didn't share her enthusiasm for COVID-19 vaccines. Like her, they are Generation Y or more popularly known as Millennials, born between 1981 and 1996. They are a tech-savvy generation who are typically comfortable challenging authority, believe in transparency and relish the power and access to information—both well-informed and misguided—that social media provides. But unlike Natasha, some of them tilted to more conservative mindsets when it came to the COVID vaccine.
One young, healthy and active friend told her, "I don't know what's in the mRNA COVID-19 vaccines, so I don't want to get it." Natasha found her perspective frustrating, since all she had to do was do an internet search to see what it was made of.
But her friend's justification didn't end there. "If I'm young, healthy and active, what is the point since those around me are fully-vaccinated?" she said. "Why should I get vaccinated, when I haven't become sick already?" said another.
Their polar-opposite positions strained several of Natasha's friendships, particularly when her friends incorrectly argued that the vaccine wouldn't get rid of COVID-19, so why get vaccinated if it would end up returning annually akin to the flu? There was also pandemic fatigue, Natasha knew. She herself had become laxer since she got vaccinated about mask-wearing and social-distancing.
Manusheela Pokharel, PhD (an alumni of University of Utah), is familiar with many of these vaccine-reluctant perspectives. Since March 2020, her research team at the University of Utah has been gathering data on COVID-19 related trends on several variables including vaccination hesitancy (she is now an assistant professor at Texas State University).
In December 2020, the National Institute of Health reported that only 50% of Americans wanted to get the vaccine, 25% were unsure and 25% would refuse. That refusal group dropped to 21% by the end March 2021 based on recent polls. These more promising figures were published just before the Center for Disease Control announced they were pausing distribution of the Johnson & Johnson vaccine, because of concerns over a rare blood clotting issue among a few recipients.
Andrew Pavia MD, chief of the division of pediatric infectious diseases at University of Utah Health, underscores how remarkable it is that the mRNA COVID-19 vaccines are over 90% effective, making the vaccines among the most effective developed in years. "We now have safety data on 130 million Americans who have been vaccinated, so we are beginning to have an incredibly robust safety data base." COVID-19 remains "a major threat," he says, including for those who have been previously infected. And while young people are "at a lower absolute risk than adults from the virus, infection is still bad news for many young people," in terms of the life-changing impact it can have mid to long term on their health and ability to work and recreate.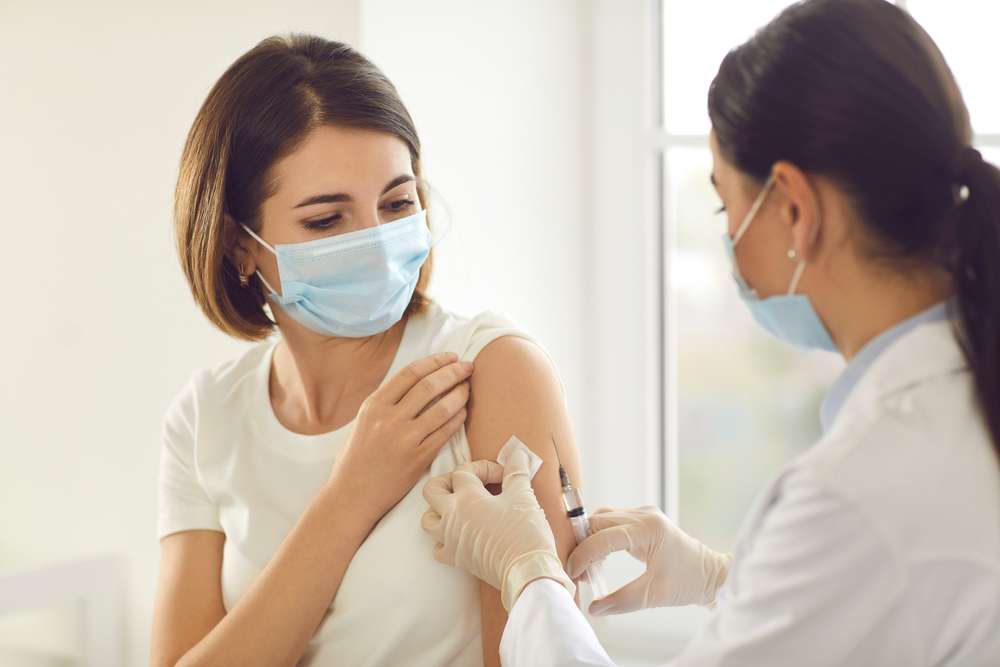 For concerned parents, relatives and intimates of young adults like Natasha's anti-vaccination friends, using what's called a "social norms" approach may prove beneficial to changing their mind, Pokharel says. "It's helpful to frame vaccination as a collective thing that is acceptable and is perceived to be beneficial by everyone," she says. For example, putting promotional material, like "I got the shot" stickers, in the car window.
Equally of value is recognizing it's not only the message, but who delivers it. "It really matters what people say, especially people in power, such as politicians, national scientists and state governors. What they say impacts the general public's behavior," Pokharel says. That's why directing the vaccine-hesitant to not only traditional health care message providers like a primary care doctor, but also celebrities, online influencers or public figures they respect can help sow the seeds of more positive perspectives of getting vaccinated.
As variants of COVID-19 started to push numbers of new infections back up in some states including Utah in early spring 2021, Pokharel says, "We all need to understand that if we take the vaccine now, it will take us to normalcy sooner."
In Easter 2021, Natasha went back to see her parents. This time she drove into their driveway without hesitation and fell into her mother's waiting arms with gratitude and joy.
COVID-19 taught her, Natasha says, that it's not about you, but about everybody else. That's a lesson her mother, who's a retired nurse, reinforced for her. Once her mother was fully vaccinated, she volunteered to work at clinics to assist others in getting their shots.
"Things had come around to this moment where she felt safe and able to do what she loves to," Natasha says. "Help others."
×