SALT LAKE CITY — Jordan Clarkson's perceived runaway win for Sixth Man of the Year has its fiercest challenge yet. And it's coming from within his own team.
According to the folks in Las Vegas, Clarkson and Joe Ingles have the best odds of taking home the award for the NBA's best bench. That means the Jazz, at least in betting terms, have the best two players off the bench in the entire league this season. Add that to three All-Stars and it's pretty easy to see why Utah has had the best record in the league.
While Mark Jackson confusingly suggested on a recent Jazz broadcast that the league should give an award for the second-best player off the bench, that's not how it works. So which Jazz bench stalwart will get the award?
"If it's got anything to do with Vegas and JC I think he's got a good chance of winning it because that's a good combination, those two," Ingles said, lightheartedly.
The fact is neither care — or at least won't publicly admit that they do. Clarkson has been the frontrunner for much of the season and he's always downplayed the award talk whenever it's been broached. Ingles, meanwhile, responded exactly like you'd think Ingles to respond.
"I've never in my life, definitely not the last couple years coming off the bench, honestly thought about it," Ingles said.
In one corner, you have one of the most confident scorers in the league that can get a bucket from literally anywhere on the court. In the other, you have a player that helps everything run and is having one of the most efficient shooting seasons in league history.
They are two completely different players, but those differences have helped each other get to the point where they are the top bench players in the league.
"They're both helping each other and they're both really selfless, and it's fun to see that dynamic on the court," Jazz coach Quin Snyder said.
Early in the Jazz's blowout win over the Houston Rockets, the Houston commentator said something that may have caused some Utah fans to chuckle. After lamenting over how the Rockets had passed up an open shot, the announcer heaped praise on Ingles when he quickly fired up a transition 3.
"He is a good example of a guy who does not hesitate. He's looking to shoot it every time," the announcer declared.
What's that now? Joe Ingles is the example of someone who doesn't hesitate?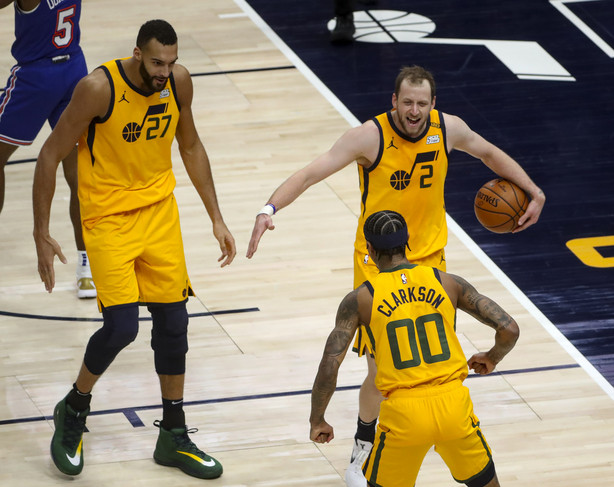 Historically, Ingles has driven coaches, fans and even members of the media shaking their heads as he passes up wide open shots all in the name of extra ball movement. This season, though, he is shooting at a frequency that he's never done before.
He's taking 5.8 3s per game in just over 27 minutes of game action. That number just continues to grow, too. Ingles has averaged a Clarkson-like 9.1 attempts in the last seven games (yes, me of those have been in starting roles, but as long as Ingles begins half his games off the bench, he's eligible for Sixth Man of the Year).
"Joe's seen Jordan's aggressiveness and confidence in shooting the ball," Snyder said. "And we've seen him continue to be more aggressive, in that respect."
That is what Snyder has always wanted in the first place. Ingles isn't just taking more 3s, he's also making a lot of them. He's shooting 49.4% from 3-point range this season, and has hit at a 52.8% clip since the All-Star break.
If he could find even more of his inner Clarkson, the Jazz wouldn't be complaining.
Clarkson, meanwhile, has benefited from playing alongside Ingles — and not just because Ingles likes to pass. Snyder said Clarkson has become more aware of how to impact a game from a playmaking standpoint. That doesn't mean he'll soon be a high-assist guy (though, he's had some games like that), but that he's more aware of where to be on the court.
"We know when JC is coming in, we're going to get him going," Ingles said. "And I think we play well together, I think we help each other, I think we kind of complement each other well. It's fun out there playing with him."
So there's not an actual competition between the two players for the end-of-season accolade. One will likely win the award; the other will be cheering for him as he does. It's that team dynamic that has pushed the Jazz to the top of the standings.
"I don't think that it's ever crossed either one of their minds that they're in competition with one another," Snyder said, before later adding, "I hope they're both competing with each other for Defensive player of the Year — I don't know if Rudy (Gobert) would accept that."
Like Clarkson and Ingles, as long as the team is winning, Gobert probably wouldn't mind.
"He's a hell of a teammate," Ingles said of his bench partner. "You guys should try and spend a weekend with him, he's a hell of a dude."
×
Related Stories