Utah is a mecca for any type of outdoor adventure, and off-roading is no exception. The Beehive State contains hundreds of trails spanning thousands of miles, with an incredible variety of both difficulty and scenery. You could be cruising with your honey on baby–soft sand dunes one morning and scaling vertiginous slickrock fins by dusk.
With more travel options and tourism opportunities opening up by the day, you're probably itching to hit the road and go off-roading. Make sure to fuel up at your local Maverik before you start your adventures.
Here are five favorite Utah OHV trails you've got to try.
Hell's Revenge
If you could choose one off-highway vehicle (OHV) trail to try, Hell's Revenge should be it. First of all, no geographical landmark has ever been as appropriately named as this one. This 6.5-mile trail is hard, technical and not for the faint of heart. Basically, it's not recommended for beginners.
From the very first rousing climb, you'll know what you're in for. After that, more steep climbs (and naturally equally steep descents) await you as well as sandy patches and tricky obstacles such as Hell's Gate, the Tip-Over Challenge, Escalator and Mickey's Hot Tub.
This trail is as scenic as it is exciting, with spectacular vistas of the La Sal Mountains, an overlook of the Colorado River and dino tracks. And if you want the thrills but don't have the skills, many local guides will be more than happy to accommodate you.
Little Sahara Recreation Area
Tucked away in the northwest corner of the Sevier Desert, the Little Sahara Recreation Area boasts over 60,000 acres of sand dunes, trails and sagebrush flats, notes Utah.com. LSRA's majestic dunes are the result of deposits left by the Sevier River into Lake Bonneville 15,000 years ago, which were then carried by the southwestern winds across the Sevier Desert. The area can be broken down into four areas of riding:
White Sand Dunes: These easily accessible dunes on the northern end of the area contain more bowls than college football and are suitable for every level.
Black Mountain: Dirt trails in the desert? Please and thank you.
Dunes southwest of Black Mountain: These low-lying and less traveled dunes are perfect for beginners and antisocial riders.
Sand Mountain: The crown jewel of this park, Sand Mountain provides the ultimate hill-climbing challenge with a 700-foot-tall sand wall.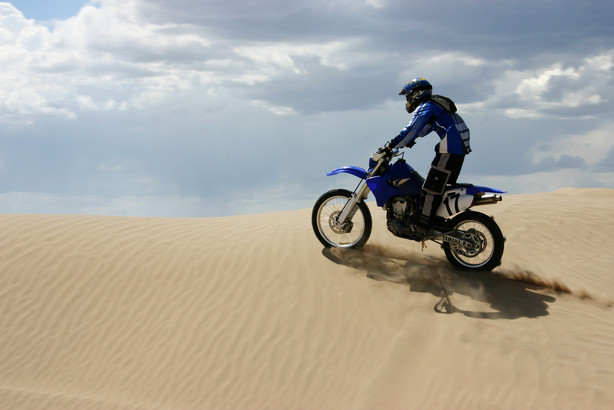 The Paiute ATV Trail
A joint venture between the BLM, P&R and Fishlake National Forest, the legendary Paiute ATV Trail spans over 275 miles (plus 1,000 miles of side trails) and is perfect for easy ATV/UTV riding, according to Utah.com.
Despite its popularity, the trail is so expansive that you'll often go miles and miles without encountering another soul—enabling you to immerse yourself in the peaceful dense forest that surrounds you. Wildlife can be spotted near the trail, with herds of deer and elk often roaming the area.
In its entirety, the trail is best enjoyed over a 3-4 day period, with September and October usually providing the best riding weather. Overnight accommodations can be found at many of the towns the trail passes through such as Fillmore, Salina and Richfield.
American Fork Canyon
American Fork Canyon is a microcosm of Utah's outdoors scene: it's a world-class spot with something for everyone. The Alpine Loop is a bucket-list climb for cyclists and a jaw-dropping scenic drive (especially in fall). Mount Timpanogos is one of the most iconic hikes in the state.
For OHV riders, the canyon offers hundreds of miles of trails ranging from dirt roads to single-track trails, most on the easy to moderate side. Mineral Basin and Silver Lake are must-see locations along the way. One of the most popular trails runs from Tibble Fork all the way to Midway. It's a relatively easy 30-mile trail (doable in a 4-wheel-drive vehicle) with beautiful views and only a few steeper/rocky parts.
To see all of the OHV trails in American Fork Canyon, check out this map from the Forest Service.
Knolls Recreation Area
Move over, Beyonce and Solange—the best Knolls in the world are right here in Utah. Just 80 miles west of Salt Lake, the Knolls Recreation Area boasts 36,000 acres of dunes, rock hills, mudflats and more—perfect for a multi-day OHV adventure.
The sand dunes can be mostly ridden on normal tires. The western dunes are busier due to their proximity to the campsites, but the ones to the east are bigger and more deserted, though it takes longer to get to them. The numerous trails can be harder and more technical and are recommended for more seasoned riders, according to Utahoutdooractivities.com.
Got the need for speed? The mudflats are the perfect area to pick up the pace and have a blast while you're at it. Speaking of blasts, the Knolls are located right next to a bombing range, so make sure you stay within the area boundaries.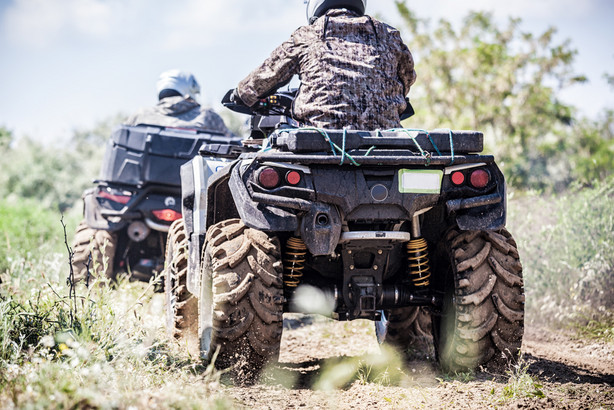 Ride safe
Lastly, riding OHVs can be as dangerous as it is exhilarating. Please make sure to follow Motosport's basic safety measures when out and about:
Proper gear: Wear a helmet, goggles, gloves, long sleeves etc.
Ride in designated areas: Don't go off trail when there is a trail. Don't get on the road unless it's legally allowed.
The right fit: Be like a cat—only sit if it fits. Get an ATV/UTV the right size and don't let anyone else get on unless it's a two-seater.
Strength in numbers: Going on a solo adventure in remote areas always carries extra risk so we recommend having some company. Plus it's more fun to talk to others than to yourself.
Ride sober: No elaboration needed.
Start every Utah Adventure with Maverik
Of course, the best trips start with the best preparation. Begin and end every expedition at Utah's premier adventure outfitter for fuel, food, drinks and more at Maverik, adventure's first stop. Visit Maverik's website to find a location near you.
×