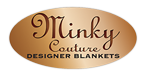 This story is sponsored by Minky Couture.
Being a new parent often sounds like something out of a Dickens novel: "It was the best of times, it was the worst of times."
On the one hand, nothing is more wonderful than snuggling that cute little bundle of joy. That new baby smell, the babble and coos, the first smile—it warms your soul in a way nothing else can.
Then there's the other stuff. Diapers. Vomit. Sleep deprivation. Not to mention the very real stress of knowing you are now 100% responsible for another human life. It's overwhelming, to say the least—especially for first-time parents.
To stay ahead of the game, many parents-to-be draw up pre-baby checklists: prep the nursery, install the car seat, wash the baby clothes, pick a pediatrician. (The simpler you can keep this list, the better.)
But sometimes things happen that you didn't plan for. According to Verywell Family, as many as 11.4% of pregnancies end in early deliveries. Most of the time, babies born very early need to spend time in the Neonatal Intensive Care Unit (NICU) before they can go home.
To help ease the emotional burden for parents of NICU babies, Minky Couture created the Heart of Minky program. When owner Sandi Hendry's grandson was born at just 30 weeks, she placed a mini blanket with his mother's scent inside the incubator for him to snuggle. Soon after, he began to thrive and grow!
Since then, Minky Couture has pledged to share luxury and comfort with as many NICU families as possible. For every adult-size blanket sale, they donate a mini-size blanket to NICU families.
Even though you can't anticipate everything that will happen, there are some things you can prepare for before your baby's born. (Spoiler: however many diapers you think you need, you're going to need more.)
Think you're prepared to be a parent? Take the quiz to find out!
×