PROVO — The BYU women's basketball team was still riding cloud nine after its 69-66 win over sixth-seeded Rutgers when head coach Jeff Judkins started to turn his attention to the Cougars' second-round opponent.
Arizona wasn't even halfway finished with its 79-44 win over Stony Brook before Judkins had already started to scout the Wildcats.
It's easy to scout a team when you've watched as much West Coast basketball as Judkins has, and one thing stands out about the Wildcats fairly quickly: the country's No. 16-rated defense, one that allows just 55.5 points per game, that the Cougars will face Thursday (5 p.m. MDT, ESPNU).
"They're the best defensive team I've seen this year, that I've scouted," said Judkins, a self-described basketball junkie. "They have a lot of weapons in how they defend, and every coach I've talked to who has played them has told me the same thing: their defense is unbelievable. And I think they're smart; they know how to play people and how to scout personnel."
Led by two-time Pac-12 Defensive Player of the Year and All-American Aari McDonald, the third-seeded Wildcats (17-5) have a defense that stands out above most team's offenses.
Sure, they can score at will, too. But good defenses win championships, and Arizona has a championship-caliber defense.
The Wildcats averaged just 67.1 points per game, but hold teams to just 36% shooting. The Pac-12's No. 2 team (behind only top-seeded Stanford) averages just 12.0 assists per game, but forces 12.9 turnovers for a 0.9 assist-to-turnover ratio.
"The one consistent thing those guys have is those guys can defend," Judkins said. "It's all about who wants it the most tomorrow and neither of us are going to change much of our offense. It's going to come down to who executes the best and who plays their game."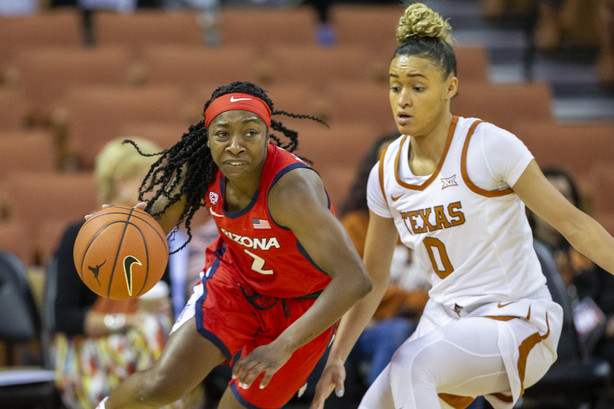 So the Wildcats are good, even better on defense than offense — but can pack plenty of punch with their 41.5% shooting in arguably the deepest conference in women's basketball.
But one area that the Cougars may find an advantage is rebounding. The Cougars average 37 per game to the Wildcats' 36.
The underdog 11-seed are led down low by Lauren Gustin, who learned to box out by playing against her older brother — former Salem Hills quarterback and Cleveland Browns defensive end Porter Gustin.
"We were always playing basketball together growing up," Gustin recalled. "He definitely taught me some toughness.
"He scares me a little bit."
It was also from her older brother that Gustin learned about health and nutrition — habits that led to her being the most "in-shape player in the tournament," her coach boasts.
"I'd put her against anybody," Judkins said. "That girl is unbelievable; she's strong, she can run, she doesn't get tired. She can handle the whole game, physically."
A former JUCO All-American at Salt Lake Community College who spent one semester at Idaho before transferring to Provo, where she earned Associated Press All-America honorable mention honors, Gustin has a chip on her shoulder after the Cougars were the first team to pull off an upset over a higher-ranked opponent in the 2021 NCAA women's basketball tournament.
Since then, two other teams joined them, including 12th-seeded Belmont's 64-59 victory over West Coast Conference champion Gonzaga. Judkins joked that Arizona might not have expected BYU to make it through its opening-round opponent; among the Last Four In to the bracket, plenty of outsiders picked Rutgers to beat the Cougars.
McDonald's a smart player, though. The Wildcats tipped off against Stony Brook in the middle of BYU's first-round game, but the senior who led the Pac-12 with 2.7 steals per game was quick to provide a short scout of the Cougars as their next-round opponent within minutes of their win.
"BYU is fundamentally sound, can really shoot, and they have some tall players," the Naismith Defensive Player of the Year finalist said. "We have to come in with the same mindset as we did today: execute, play defense, and most importantly, have fun. I think if we do those things, we'll be victorious."
Gustin is determined not to let the Cougars' first round be the last upset of the tournament. To do that, they'll have to get by a top-rated Arizona team — and that defense that draws all the attention.
"Arizona is a great team," Gustin said. "I think one of the biggest keys is getting back in transition; they've got a really quick point guard, and we've got to be smart. Our defense has to be good.
"I think if we focus on our defense, our offense will come through."
---
NCAA women's basketball tournament
Second round — Wednesday, March 24
Tipoff: 5 p.m. MDT
TV: ESPNU
Streaming: WatchESPN
Radio: BYU Radio 107.9 FM
×
Related Stories