Estimated read time: 4-5 minutes
This archived news story is available only for your personal, non-commercial use. Information in the story may be outdated or superseded by additional information. Reading or replaying the story in its archived form does not constitute a republication of the story.
It's a tale as old as the pandemic itself: you put your mask on, and suddenly you can't see a thing. Thanks to science, warm air funneled through your mask has nowhere to go but up—right into your glasses.
Rest assured, this is one problem for which there are several solutions, unlike some other pandemic conundrums.
If it's been a while since high school chemistry class, you might have forgotten why fogging occurs in the first place. According to National Geographic, fog happens when warm, moist air hits a cooler surface—like, for example, when the warm, moist air from your mouth or nose hits the cooler surface of your lenses.
Fortunately, with understanding comes solutions. For the a permanent and hassle-free fix, LASIK eye surgery is your best option. To learn more about that option, visit the Eye Institute of Utah's website and get $1,600 off.
Here are some temporary, yet easy ways you can keep your pesky glasses fog-free while wearing a mask.
The old soapy water trick
A 2011 article published in Annals of The Royal College of Surgeons provided a simple method for defogging spectacle lenses while wearing a mask. While it was originally written for surgical theater staff, everyone can relate to the problem now—and benefit from the solution.
Before you slip your mask on, give your glasses a wash in soapy water, then shake off the excess. After air drying or being gently dried with a soft tissue, the lenses will no longer fog because of the thin "surfactant film" left behind from the soapy water.
Adjust your fit
If your mask is always fogging your glasses, you might have a mask problem on your hands. Since lenses fog when they're hit by your warm exhalations, sealing your breath's escape route can be an effective solution. When a mask fits snugly around the bridge of your nose, air won't escape upward and obscure your vision. Look for masks with a moldable fit around the nose – or use double-sided tape to really seal the deal.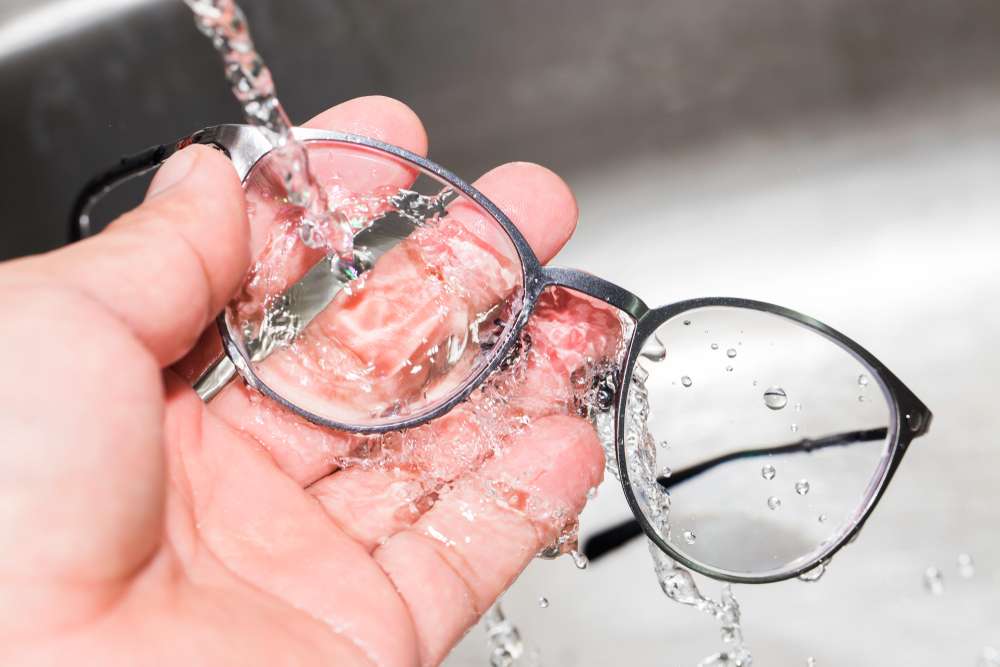 Pick up a solution
All of these solutions are just that, but a spray-on solution may also temporarily help your problem. Anti-fog sprays are available from a number of brands and retailers. These sprays and coatings work in the same way washing your lenses in soapy water works—by minimizing surface tension, which results in a non-scattering film of water rather than individual droplets that obscure your vision.
If you need a little help choosing the right one, talk to your optician about their recommended anti-fog spray.
Go for a permanent fix
With mask-wearing still a big part of the world's new normal, fogging lenses don't have to be a thorn in your side anymore.
After LASIK eye surgery, about 96% of patients will have their desired vision without glasses, according to WebMD. And if getting rid of glasses isn't enough motivation, here are some other advantages:
There are no needles, just numbing eye drops for the procedure.
In most cases vision is improved immediately or by the day after LASIK.
No bandages or stitches are required.
If the prospect of eye surgery frightens you, be aware that LASIK side effects are very rare. According to the Mayo Clinic, the most common post-surgery problems are dry eyes, glare or halos around lights at night. "These usually clear up after a few weeks or months, and very few people consider them to be a long-term problem."
If wearing a protective mask has made glasses even more of a pain these days, consider LASIK eye surgery with Utah's opthamology experts. You may qualify for the simple procedure that could eliminate your need for eyeglasses forever. Contact The Eye Institute of Utah to get $1,600 off LASIK.
Do you think you can see through foggy glass pretty well? Take this quiz to find out just how well you can decipher what the image is!
×
Most recent News stories