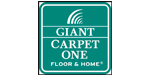 This story is sponsored by Giant Carpet One.
Wine, cheese, good investments—some things get better as they age. Unfortunately, your carpet isn't one of them. While carpet delivers many benefits—adding warmth and comfort to a room while being easy to clean and more affordable than many other flooring types—it doesn't last forever.
Depending on the quality and material of your carpet, along with your lifestyle and maintenance habits, you can expect your carpet to last anywhere from 5-15 years, says Giant Carpet One. That said, there are a few tell-tale signs that your carpet is nearing the end of its useful (and sanitary) life.
It's unsightly
You might walk all over it, but that doesn't mean your flooring can't be pretty—in fact, it should be. If your carpet is discolored or spotted with permanent stains (you know, the kind your professional cleaners can't even remove), it's probably time to replace it.
If you've tried everything to remove old, tough stains like red wine, bleach or mustard, but you still find yourself moving furniture to cover the unsightly spots, it's probably time to invest in new flooring.
According to Giant Carpet One, some carpets—like polyester and wool—are inherently stain resistant. Talk to a professional about your options to avoid playing the cover-up game in the future.
It's making you sneeze
One of the benefits of carpet is its ability to hide dust and debris. Unfortunately, that's also one of its drawbacks, because dust, debris, pollen and other particles hiding within the pile can cause or exacerbate allergies.
According to Healthline, if you're allergic or sensitive to pet dander, pollen, dust mites or mold and your allergies seem worse than ever—even after your carpet is regularly cleaned—it may be time to replace it.
For those with chronic allergies or asthma, low-pile or flatweave carpet is preferable to high-pile, as longer piles offer allergens more space to hide and grow.
You're holding your nose
Every home smells different, but no one wants kennel or litter box as their signature scent. Unfortunately, many odors—particularly pet urine or feces—can be difficult to remove from carpet, especially if it has penetrated the carpet pad, notes HomeAdvisor.
So if your floor is making your guests hold their noses—or you're still smelling those odors after thoroughly cleaning your carpet, it may just be the end of your carpet's lifespan.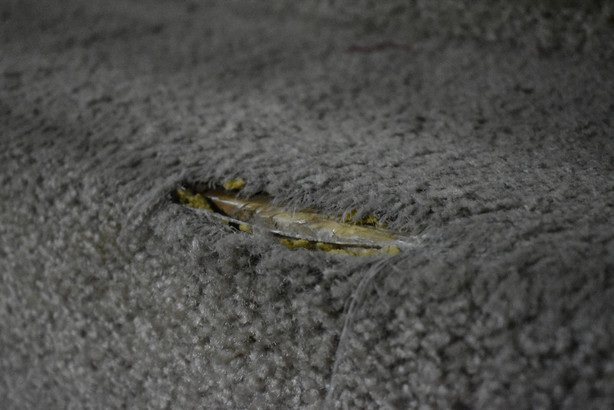 It's frayed, tattered or ripped
If you strategically avoid vacuuming certain areas of your carpet for fear of exacerbating tears, rips, matting and frayed edges, your carpet may be nearing retirement. Keep in mind that the carpet in high-traffic areas, like hallways and living rooms, will typically wear out before less-trafficked areas like bedrooms.
While you may be able to remedy mild fraying or matting yourself, you may want to consult a professional for more serious damage. Of course, if your carpet is damaged and more than a decade or so old, it's probably time to replace it.
It's hard and uneven
Even high-quality carpet can feel cheap without quality carpet padding. If your padding is worn out, you won't just feel the difference underfoot, you'll hear it too. Since carpet pad adds both comfort and insulation to your floor, you'll lose some of the pad's natural sound buffering capabilities as it ages. Additionally, your floor may start to feel harder and more uneven. Worn padding can also cause wrinkling in the carpet, which is both unsightly and a tripping hazard.
While it's possible to replace padding without replacing carpet, it may be more time and cost-effective to replace both once the pad's petered out.
You're over it
Sometimes, you're just ready for a change. If you're tired of the color, pattern or pile of your current carpet, changing it out is an easy and relatively inexpensive way to give your home an instant update. Whether you're ready for something bold and patterned or simple and monochromatic, new carpet won't just look good in your home—it'll feel just as nice.
If you're ready to replace your current carpet, it's time to visit Giant Carpet One. With locations throughout Utah, you're never far from an extensive flooring selection and guidance from experienced professionals. For more information, including showroom locations and hours, visit Giant Carpet One.
×