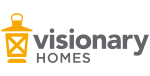 This story is sponsored by Visionary Homes.
Your home is at the center of how you go about your daily life, a safe place for loved ones, and a way to show off your personal style. It's where you bring family and friends together, create memories that will be cherished forever, and where you should feel happy and content.
When designing each room in your home, separating decorative elements into layers helps the process of creation and allows you to build a harmonious, relaxing place. In order to help you design your space successfully we have broken down the five layers of a well-designed home.
Layer 1: The paint and architectural embellishments
Paint is one of the most important layers of a home and an affordable way to transform any space. The right paint colors provide feeling in a home, adding warmth and richness while visually tying together everything you own to create a cohesive design.
Paint can be used to bring attention to certain areas of the home or disguise unsightly items by blending them into the background. Color can make a room feel taller, shorter, more intimate or more spacious depending on the goal of the chosen color. Consider adding a pop of color with an accent wall, this is a great way to incorporate your personal style without painting your entire home. When designing your dream home consider the different spaces that take paint, not just the trim and wall colors but the ceiling color as well.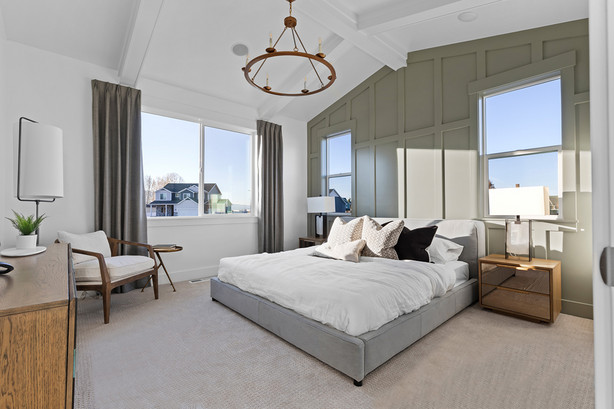 Also included in this layer of the home are architectural embellishments. These are the moldings that add value to homes, but also a ton of charm and substance to any space. Consider the openings in your home's walls: doorways, windows, fireplaces, and niches of all sizes. You can quickly and easily enhance the look of these features by simply adding architectural elements.
Don't forget the ceiling in your home, this space is often overlooked when it comes to designing a welcoming and inspiring home interior. The incorporation of decorative elements such as crown molding trim and ceiling medallions can make the difference between a room and a room that feels complete.
Layer 2: The flooring
Flooring is one of the most significant layers that can have an impact on the aesthetic of your home. The right flooring can instantly change the look and feel of a room, whether you want the room to feel larger, cozier, warmer or cooler. The flooring you choose will not only affect the look of your home, but it can also affect the way you feel. Those who suffer from allergies or are acutely sensitive to indoor air quality should spend time researching their flooring options, as certain flooring is better at resisting the buildup of common allergens, like dust and dander.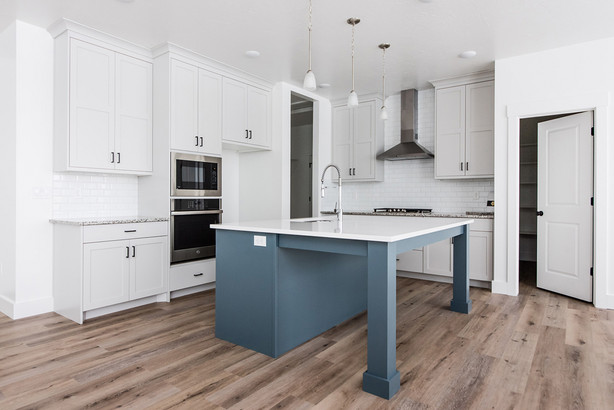 When it comes to choosing the right flooring for your home it's important to examine every aspect of flooring, not just what looks good. The type of flooring you choose can directly impact how you behave in your home from the acoustics in a family room or home office to comfort levels being able to walk around barefoot. Flooring can make your home safer for young children, and even help you save on heating bills by making your feet warmer and more comfortable. Take your time when deciding on this layer of your home to get the most out of your flooring choices!
Layer 3: The furniture
Now that the shell of your home is decided upon, the paint and flooring, it's time to get down to layer three of the essentials: the furniture. The furniture you choose for your home can make or break the design, feel, and most importantly, the livability of your space. The layout and size of each room will dictate what furniture best fits inside of it. From your dream sofa and that trendy side table to the farm-style king-sized bed you have been wanting, it's best to think in terms of placement, functionality, and cohesive design.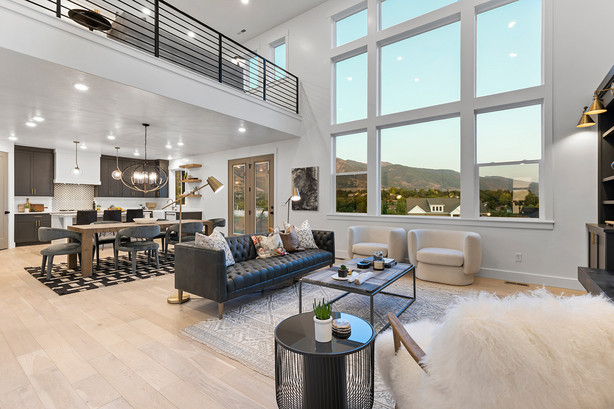 Before buying any furniture, find your vision, whether that's bringing warm or cool tones into the home, a vibrant color scheme or sticking with neutral colors. Once you have decided on your vision for each room, start with your main pieces, the items you anticipate splurging on like the dining table, couches, media center, and bed. These are the items you will want to invest in. Smaller ticket items can be worked in around your focal point pieces to tie the room together as well as provide surface space and designed storage.
Layer 4: The accents
Decorative accents can turn any simple room into a unique and stylish space with minimal effort. Accents are a great way to inject personal items like photos, art, books, mirrors and fun decor that has sentimental meaning to you. The key to home accents is restraint, too much can make your home feel tacky but too little it may leave it feeling bare. Depending on your personal style you may have a theme for your accents like farmhouse decor or modern while some opt for art deco or bohemian. Themed decor can add structure to your home accents while creating the atmosphere you desire. Lacking inspiration? We have put together some for you on our Style Inspiration page.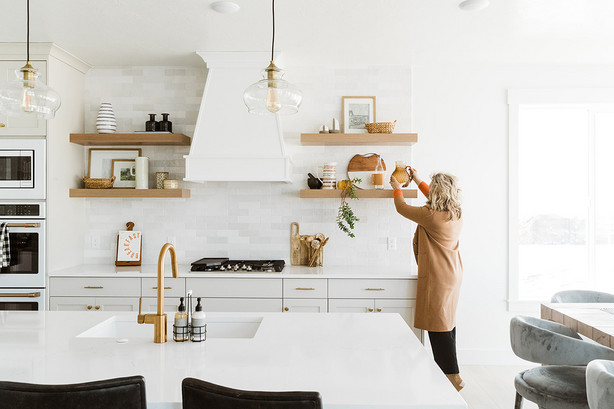 Along with creating a space that feels like home you can add life to your space by incorporating plants, fun fabrics, or even wallpapers. Plants have become a popular trend not only to add greenery but it brightens up any space almost instantly. You can add real or faux plants into the room; it doesn't matter which one you choose because both will have the same effect when paired with decorative planters. Colorful or textured fabrics can compliment neutral furniture or you can opt for a rug with color to liven up a space while creating dimension.
Layer 5: The lighting
Nothing can make or break a room quite like lighting. This brings us to the last layer of designing your dream home. Lighting changes the mood, sets the ambiance and can help define spaces like living and dining rooms or nooks and kitchens, particularly in the popular open-concept layouts. When it comes to the lighting, you can have both fun and functional, the options are endless. Whether you are designing recessed lighting or shopping for the perfect lighting fixtures there are certain elements that can be applied for each room in your home. It's best to include three sources of light for each room: general light (overhead or pendant), ambient lighting (sconces, candles, or decorative), and specific lighting (task or table).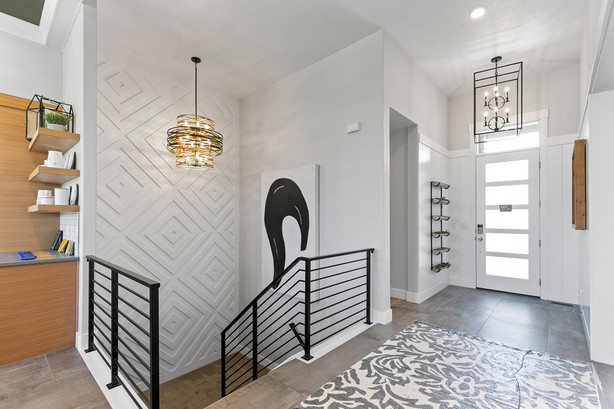 Natural lighting can be a great way to light up your space without flipping a switch! Maximize the sunshine by keeping your windows clean and choosing lighter shades for window fixtures. Reflective surfaces such as mirrors, glossy floors, and metallic finishes allow lights to bounce around the room making it feel bright and spacious. Whether shopping through a homebuilder's design studio for lighting options or shopping around for decorative lighting, the options you choose will determine the look and the feeling of each space.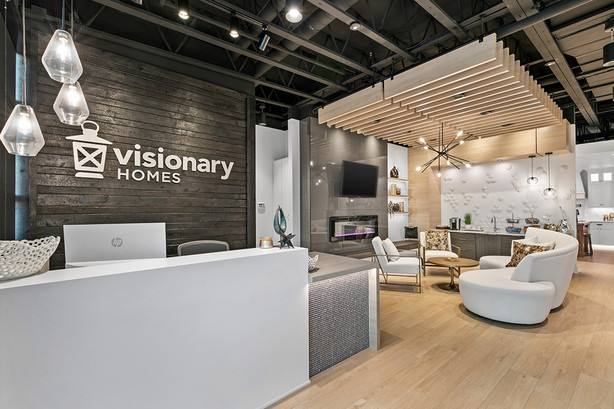 A Visionary Home
At Visionary Homes we understand what a home means to you, so we have teamed up with the most talented design consultants in Utah to bring your visions to life. Step into our brand new state-of-the-art design studios to see, touch and feel the products that will transform your future house into your dream home with personalized elements each layer at a time. And come visit our Northern Utah Design Studio which won a national award for best design studio by the National Association of Home Builders for 2021.
Ready to be inspired? Stop by one of our three design studio locations today!
×