Estimated read time: 5-6 minutes
This archived news story is available only for your personal, non-commercial use. Information in the story may be outdated or superseded by additional information. Reading or replaying the story in its archived form does not constitute a republication of the story.
DRAPER — The names change, but the program keeps chugging.
From the first day Alex Emmer stepped foot in the wrestling room at Pleasant Grove High School, he saw the tradition.
The banners. The titles. The state championship trophy.
The most titles won in Utah's largest classification has a legacy to uphold — and Emmer added his name to it Friday night.
That's when the senior who didn't wrestle his freshman year won the 138-pound state championship, helping the Vikings run away with their 22nd title in program history and 10th in the past 11 years.
"I've never been a part of a team with this much culture, that's this together. It's pretty amazing to be a part of history like this," Emmer said. "Everyone here knows there's a target on your back. Everyone knows you always need to get better.
"You look up on the wall in our room at so many championships, and you just want to add to it. Everyone wants to get better every day to add to it — and I think we have the best partners in the state because of it."
Emmer was one of three state champions on the night for the Vikings, joining Ted Johnson at 182 pounds and Wyatt Dawe, who beat teammate Kort Wilkinson 4-1 in the 285-pound final to easily out-distance second-place Layton, 278-196.
Fremont finished third with 148 points, followed by Westlake (145.5) and Davis (136) to round out the top five.
The Vikings won their fourth-straight state title for the third time in program history, a run of tiles that dates back to 1971. Pleasant Grove's current run of four in a row matches the second-best title streak in program history, joining the 2011-14 group that is behind just a string of seven straight from 1991-97.
The 22nd championship wasn't even close, though.
"It's to be expected," Emmer said. "When you walk around the room and see the Vikings or the Berserk symbols on everything, when you see it, you know you need to bring your A-game. It's not just time to joke around."
Pleasant Grove opened the championship finals with a 264-192 advantage over second-place Layton, and the gap never got closer thanks to the Vikings' seven finalists — including Emmer and Koda DeAtley, who wrestled each other at 138 pounds, and 285-pounders Wyatt Dawe and Kort Wilkinson.
"It was a little awkward," Emmer admitted of wrestling DeAtley for a title, with both coaches' corners bare and teammates only generically cheering on both teammates wrestling like every day in practice. "It was something new. He was a good opponent, though.
"When it comes to the mat, he's just an opponent. You can't be friends on the mat."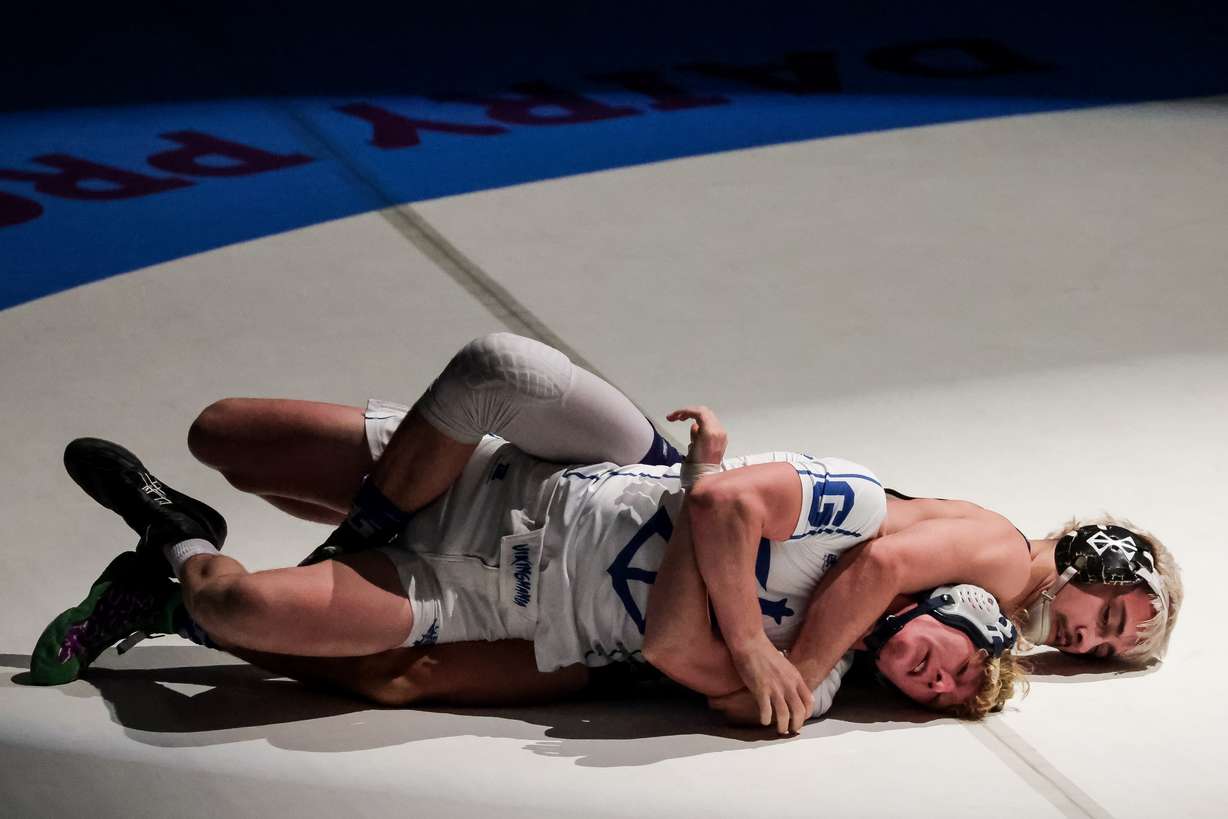 Quade Smith won his third state title to pace Layton to its runner-up finish. The Lancers are the only other team to win a championship in Pleasant Grove's division over the past decade.
"When I went out on the match, my coach told me, 'no one can take that away from me.' I told him, 'hell, no,'" Smith said. "No one's gonna take this away from me.
"Every time you get that hand raised in a state title, it feels so good. I didn't want anyone to take that away from me."
Perhaps the match of the night pitted two multistate champions against each other.
Jacob Finlinson, who became Westlake's first state champion in school history four years ago, was aiming to become the first four-time champ in school history, as well. But the senior rant into nemesis Drew Lang, the West star who coasted to a 4-1 win less than two weeks after beating Finlinson in the divisional tournament.
"I knew he was tough — he beat me twice last year," Lang said. "But in that match, I knew when I exploded and we were in 50-50 positions, I'd always get points. So I knew I could come out on top, and that's how it turned out."
Lang will wrestle collegiately at Princeton, where he will join his older brother Jack, a 157-pound sophomore who is taking a gap year with the Tigers. The duo joins oldest brother Will, who graduated from Princeton in 2019.
The youngest Lang had a goal as a freshman to win four state titles. Last year, that goal was interrupted by Finlinson.
But the Panther standout finished his career right.
"This year, I've been hunting him," Lang said. "I've wanted that revenge. I got it at divisionals, but that didn't count to me.
"I finally got him, and it was really sweet."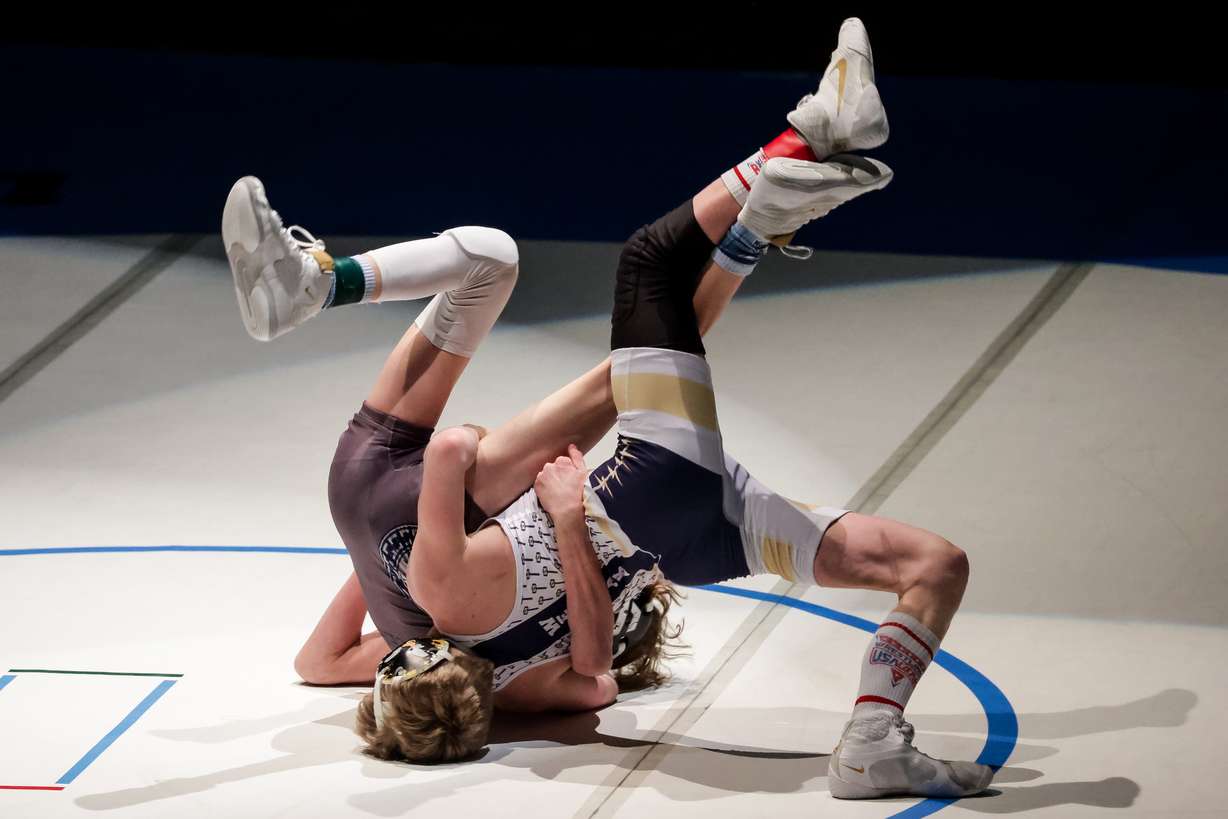 Team scores
Pleasant Grove 278, Layton 196, Fremont 148, Westlake 145.5, Davis 136, Corner Canyon 114.5, Syracuse 98.5, Skyridge 89, American Fork 76, Herriman 58, Lone Peak 46.5, Granger 44.5, Northridge 44, Riverton 44, Hunter 36, Weber 34, Bingham 32, Copper Hills 29.5, Cyprus 29, West 26.5, Clearfield 14, Roy 13, Jordan 3.
Individual championships
106 — Brayden Robison, Westlake d. Jace Lemons, Layton, 7-6; 3. Wade Mecham, American Fork; 4. Brykn Burnett, Fremont; 5. Parker Ballantyne, Westlake; 6. Parker Bowen, Pleasant Grove.
113 — Tyler Vivanco, Corner Canyon, d. Jacob Carson, PG, 6-5; 3. Ryker Brann, Layton; 4. Gavyn Gappmayer, CC; 5. Kyler Pace, Layton; 6. Isaac Price, Copper Hills.
120 — Quade Smith, Layton d. Dallan Hunsaker, AF, 8-6 (OT); 3. Cal Christiansen, Fremont; 4. Israel Gonzalez, PG; 5. Zachary Nope, CH; 6. Koen Musselman, Fremont.
126 — Brigham Bagley, CC d. Gage Ogden, Herriman, 11-6; 3. Jaron Priest, Layton; 4. Banks Love, Bingham; 5. Max Benson, PG; 6. Sutton Brown, Syracuse.
132 — Drew Lang, West d. Jacob Finlinson, Westlake, 4-1; 3. Isaac Griffin, Syracuse; 4. Logan Hancey, Fremont; 5. Nathan Bartholomew, AF; 6. Cameron Baum, Westlake.
138 — Alex Emmer, PG d. Koda DeAtley, PG, 6-0; 3. Kaden Olson, Riverton; 4. Corbin Platt, Fremont; 5. Isaac Ortega, Weber; 6. Trace Garrett, Syracuse.
145 — Joshua Millward, Skyridge p. Benjamin Brown, Northridge, 3:20; 3. Andrew Crowther, Layton; 4. Hayden Wilson, AF; 5. Trevyn Gates, PG; 6. Jace Brower, Westlake.
152 — Mclaine Percival, Davis d. Zeke Kelley, PG, 7-0; 3. Isaac Fisher, Layton; 4. Jacob Green, Westlake; 5. Tanner Giatras, Weber; 6. Michael Pearce, Northridge.
160 — Park Beeler, Granger p. Kael Bennie, Layton, 2:49; 3. Mahkyi Smith, Skyridge; 4. Jordan Faifai, Syracuse; 5. Carson Neff, Bingham; 6. Ty Ha'o, Clearfield.
170 — Kameron Moss, CC d. Cayaen Smith, Skyridge, 4-1; 3. Zachary Phipps, Syracuse; 4. Reilly Knable, Roy; 5. Jake Lewallen, Riverton; 6. Kadin Stosich, Lone Peak.
182 — Ted Johnson, PG p. Alex Schefer, Davis, 5:18; 3. Cesar Ubico, Hunter; 4. Nash Anderson, Syracuse; 5. Ethan Hearne, Layton; 6. Isai Hernandez, Granger.
195 — Talmage Carman, Herriman p. Damon Armenta, Cyprus, 3:53; 3. Mason Rigby, Davis; 4. Isaac Duran, Fremont; 5. Gabriel Yocum, PG; 6. Weston Miller, Fremont.
220 — Nolan Kiser, Fremont p. Davis Richardson, Davis, 2:19; 3. Cooper Mumford, LP; 4. Gentry Bowles, Riverton; 5. Noah Linford, Layton; 6. Bradley Critchfield, CC.
285 — Wyatt Dawe, PG d. Kort Wilkinson, PG, 4-1; 3. Kelton Gold, Fremont; 4. Tayden Roundy, Davis; 5. Mason Bodell, Westlake; 6. Lucas Baird, Davis.
×
Photos
Related stories
Most recent High School stories