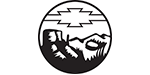 This story is sponsored by Discover Navajo.
In the 1994 movie, "Forrest Gump," the main character goes for a "little run." Thinking he would run just to the end of the road, he went on, through his town, across the county, and eventually across America.
At the culmination of thousands of miles, he stops, in none other than breathtaking Monument Valley Navajo Tribal Park in Southeast Utah. This scene, along with countless other movies shot in Monument Valley Navajo Tribal Park over the years, has made this portion of the Navajo Nation synonymous with what many envision the American West to be.
With its rugged sandstone cliffs and towering rock formations, the colorful desert landscape of Monument Valley Navajo Tribal Park is one of the most iconically beautiful landscapes in America—and it's only a short road trip away!
If you're looking for a memorable and historically significant area to visit this spring, look no further than Utah's own Monument Valley Navajo Tribal Park. Here are a few reasons why.
Petroglyphs like you've never seen
Captivating explorers and tourists for decades, one of the most alluring draws of Monument Valley Navajo Tribal Park are the petroglyphs. What are petroglyphs, you ask? As described by the National Parks Service, "Petroglyphs are rock carvings … when the desert varnish (or patina) on the surface of the rock was chipped off, the lighter rock underneath was exposed, creating the petroglyph."
These ancient carvings depicting Native American life several hundred years ago are a must-see. Some of the most famous petroglyphs of the region are on the Butler Wash Petroglyph Panel along the San Juan River.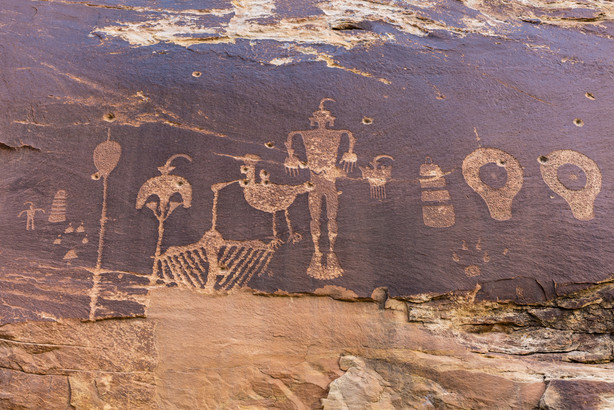 Native American history, culture, and art
Remote and isolated, the Monument Valley portion of the Navajo Nation has retained much of its traditional ways of life. Going back hundreds of years, the Navajo share history intertwined with early Spanish and Mexican influences, as well as their ancestors, the Anasazi (meaning ancient ones).
Given the deep history of those ancient people, visitors find Monument Valley Navajo Tribal Park an ideal location to retrace history and step back in time, made especially interesting through the preservation of Navajo culture and art.
If you love a good fair, the Navajo Nation's tribal fairs are sure to please. Artisans from all over the Navajo Nation proudly display their beautiful and intricate design rugs, baskets, turquoise, and silver jewelry, and pottery.
Surrounded by four sacred mountains representing each directional position, Navajo traditional teachings, language, and values remain strong and vibrant in this unique and historic area and can be appreciated through several Navajo museums, historic areas, and sites.
Unique year-round outdoor activities
If you're looking for some unique fun to be had, set against some of the most stunning backdrops in the world, the Monument Valley Tribal Park won't let you down.
Want to go running, hiking, or biking? There are plenty of trails to choose from. Or, if you're interested in organized races, consider running one of the most memorable marathons in the west, the Navajo-sponsored seasonal marathon within the Rainbow Bridge area of the park.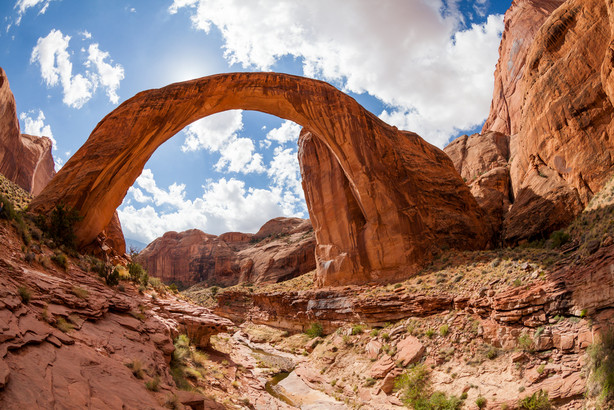 While spring, summer, and fall are all great times to visit the park, winter is also appealing, especially when it comes to the annual balloon festival held each December. The hot air balloons set against the desert landscape is an image you'll remember forever.
If it's photography you're into, guided tours for photographers can easily be arranged to help you capture the full potential of this spectacular landscape.
Another activity that should be on your Utah bucket list is a visit to the Four Corners Monument, where you can stand in four states at once. This especially unique corner of the Monument Valley Tribal Park is marked by an impressive granite and brass marker that displays the designation of each of the four states in each corner.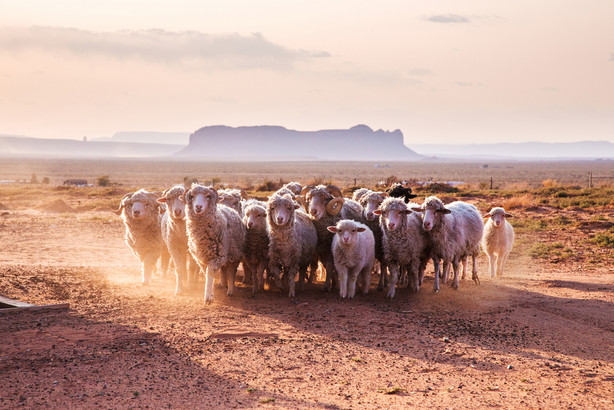 Before you visit
Because the Monument Valley Tribal Park is on Navajo land, it's best to be familiar with Navajo Protocols, which can be found at Discover Navajo.
Whether you are experiencing the scenic beauty and history of the Navajo Nation's national and tribal parks, learning about the Navajo culture at museums and historic areas and sites or exploring designated areas of Navajo Nation, this corner of Utah is sure to be a memorable time.
For more details on the Monument Valley Tribal Park and its offerings, check out their website.
×