Estimated read time: 4-5 minutes
This archived news story is available only for your personal, non-commercial use. Information in the story may be outdated or superseded by additional information. Reading or replaying the story in its archived form does not constitute a republication of the story.
Cue the flowers, cards and, most importantly, chocolate. With Valentine's Day around the corner, things are already looking—and tasting—sweet. According to Wallet Hub, Americans will spend $2 billion on Valentine's Day candy in 2021. While that may seem like a whole lot of conversation hearts, you don't have to rely on pre-packaged, sugar-laden snacks to delight your loves.
In fact, the sweetest ending to any Valentine's Day meal is a delicious dessert made and enjoyed together. Whether your Valentines are adult friends, your toddlers or anything in between, you can tickle their taste buds and enjoy quality time together by making V-Day dessert a family affair. But first things first—decide what to make (and devour!).
Popcorn… but make it sweet
If you've got littles (or littles at heart), chances are they'll love making—and eating—a dessert that doubles as a movie snack. This recipe for festive white chocolate, candy-sprinkled popcorn is so easy your family's got it in the bag—the microwave popcorn bag, that is. Head over to Mom Foodie for some simple instructions that start with microwave popcorn. While the official recipe calls for pink and white chocolate candy melts, Valentine's sprinkles and M&Ms, there's no reason you can't get creative with your personal favorite festive candies.
Let each family member choose his or her fav to add to the mix, then enjoy together with favorite rom-com and a soft blanket.
Big-hearted cookies
There's something about family time that makes everyone more big-hearted. Spread the love this year by making and sharing a cookie—that's also a big heart. If you're not already the proud owner of a heart-shaped pan, you can pick one up at Target or Amazon for less than $10.
While a classic giant chocolate chip cookie is always a safe bet (especially when served warm and paired with vanilla ice cream!), opting for the sugar cookie version allows your family to creatively decorate with candy, sprinkles and homemade buttercream frosting.
Valentine Sunday sundaes
In 2021 Valentine's Day falls on Sunday, making it easier than ever to get some family time in. And in honor of Cupid and Sunday, why not enjoy a Valentine's Day sundae bar with your favorite people?
Start off with the basics—waffles bowls or cones, a variety of ice cream flavors, warm fudge, caramel sauce, cherries, etc.—then make it extra festive by adding everyone's favorite Valentine's Day treats. Whether it's conversation hearts, gummy lips, pink and red sprinkles, chocolate-dipped strawberries or boxed chocolates, the sky's the limit—both for your options and the height of your sundae!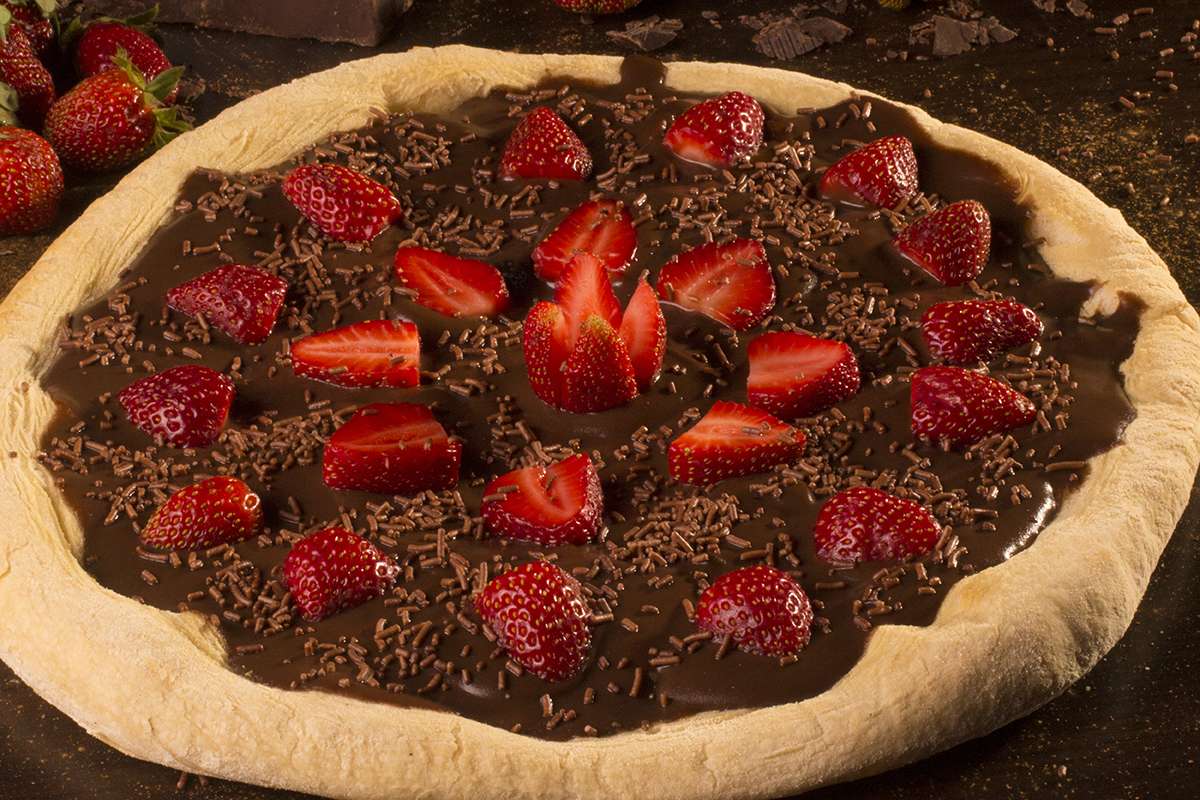 Sweet-za
Everyone loves pizza—so why not make it dessert? This recipe from Kidspot Kitchen for Nutella and strawberry dessert pizza is perfect for Valentine's Day; not only does it look festive, but it's easy for the whole family to make (and even more fun to eat!).
Start with refrigerated or homemade pizza dough, brush it with butter, bake and top with Nutella, strawberries and powdered sugar. Make it even more festive by kneading the dough into a heart—or several smaller hearts—before baking. Feeling creative? Add your own festive toppings!
Valentine's Day cake balls
When you love someone, you let them eat cake – adorable bite-sized cake, that is. Cake balls fit the family-friendly dessert bill perfectly because they're almost as much fun to make as they are to eat (almost).
Start with baked cake and icing (homemade or store-bought) in the flavors of your choice. Once your cake is cooled, mix it with the icing and form into bite-sized balls.
After refrigerating the balls, dip them in melted white or milk chocolate, then roll or decorate with sprinkles, crushed candy or chopped nuts. These treats are so cute you may want to share with friends—but not until you and your family have had your fill, of course!
Strawberry heartcakes
Nothing says Valentine's Day like strawberries and cream – and both are center-stage in this time-honored dessert. The beautiful thing about strawberry shortcake (or this festive variation of it from Around My Family Table) is its assembly-line-like process, which makes it the perfect family baking project.
Start with store-bought or homemade pound cake or angel food cake, freshly whipped cream and ripe, juicy strawberries. Give each family member a job—cutting cake into heart shapes, piping the whipped cream, slicing strawberries, plating and garnishing. Short or tall, this cake will have everyone's hearts.
However you choose to end your celebration, remember the day is all about love. So whether you're enjoying a culinary masterpiece or an easy and kid-friendly treat, enjoy every second with those you love most—your family. If you need a last-minute gift idea for your loved one, visit Minky Couture's website or any of their brick and mortar stores for a gift they won't soon forget.
×
Most recent News stories