SALT LAKE CITY — The kids can come back — with plenty of stipulations.
With coronavirus cases hovering statewide around a 19% positivity rate, the Utah High School Activities Association and its board of trustees met Friday to allow defined student sections at winter sports activities, with strict requirements for masks and physical distancing.
The move, which is effective immediately, requires all spectators to wear masks when in attendance at games, meets and events, with a hard cap of 25% of the venue's capacity in high- to moderate-transmission areas. Schools are allowed up to four tickets per participant.
The move comes as teams are strongly encouraged to enforce mask-wearing measures among players and coaches, including on the team bench, in huddles, and during practices. Currently, Utah does not require face coverings while participating in athletics, but all high school athletes are tested nearly weekly in a "test-to-play" method coordinated by local health officials.
The board of trustees also strongly encouraged teams to enforce masks as much as possible to avoid lengthy quarantine periods in cases of contact tracing when positive tests are discovered. That includes masks during practices, according to the association's COVID-19 School Manual, which will be in effect through the postseason.
"In Utah, we feel fortunate to have the opportunity to play winter sports," the board of trustees said in a statement. "In the spirit of cooperation and consistency, we appreciate everyone doing their part in allowing our student-athletes to finish their winter sports season."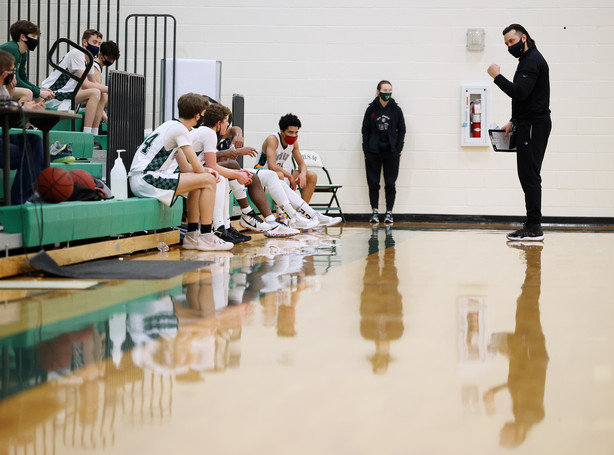 Utah is one of a handful of states that proceeded with the winter sports schedule in a mostly uninterrupted model, along with the majority of other states in the south, according to a collection of national high school sports data. Arizona, for example, delayed the start of its winter sports season until Jan. 5, while Colorado shifted its calendar to allow for collision sports like football to play in the spring while moving non-contact sports like softball and cross country to the fall.
Nevada postponed its fall season to February, in most cases, with football scheduled to begin Feb. 13.
The new accommodations come as scientists are warning about the effects of variant strains of COVID-19 that have already entered the United States and Utah. These strains, including the B.1.1.7 variant that was first discovered in Great Britain, have been shown to be up to 50% more infectious, causing infectious disease experts to further caution against large gatherings indoors where physical distancing is not feasible.
"The best protection still remains avoiding contact with other people indoors, especially for a sustained period of time," University of Utah evolutionary virologist Stephen Goldstein told Vox last week.
Friday's amendment would allow for a specifically designed student section but would require school administrators to strictly enforce mask-wearing and safe physical distancing at all events. Previously, only parents and immediate family members of athletes and coaches were allowed in gyms and venues during the winter.
×
Photos
Related Links
Related Stories