LOGAN — Two nights after a 19-point win over Colorado State stretched Utah State's winning streak as high as 11 games, the Aggies couldn't replicate the same magic.
David Roddy had 15 points, seven rebounds and four assists, and Isaiah Stevens added 18 points, seven rebounds, eight assists and four steals to help the Rams hand Utah State its first loss since Dec. 5, 84-76, Thursday night inside the Dee Glen Smith Spectrum.
Dischon Thomas scored 15 points, and Kendle Moore supplied 16 points, four rebounds and four assists for Colorado State (11-3, 8-2 MW), which made 25-of-29 free throws, including 22-of-25 in the second half.
"You never want to lose. But I think you can get better from it," Utah State coach Craig Smith said. "We all need to look in the mirror, and get better at practice."
Neemias Queta had 13 points, five rebounds, three assists, two steals and two blocked shots. But his fourth foul with 11:58 left helped the Rams secure the upset victory with a 10-0 run down the stretch.
Steven Ashworth and Alphonso Anderson each scored 10 points for Utah State (12-4, 9-1 MW), and Brock Miller added 14 points on 4-of-9 shooting from three. Rollie Worster supplied 12 points and five assists for the Aggies.
💪 @MarcoJAnthony with a tough bucket down low for @USUBasketballpic.twitter.com/vAEXRaTvDv

— FOX College Hoops (@CBBonFOX) January 22, 2021
Playing their fourth game in eight nights, Utah State was playing with cement boots at times. It's not an excuse, players and coaches argued. But it is a reality.
Still, the biggest drop was mental, Anderson said.
"Everybody's dealing with it. There's no excuse," he added. "They played the same amount, or close to it. We take care of our bodies, and are smart with how we work. I think it was more of a mental thing than a physical toll."
Colorado State entered the night ranked No. 63 in the NCAA's NET rankings — a figure that is bound to rise — but Utah State was the aggressor early.
The Aggies jumped out to a 10-point lead early before Colorado State shot 50% from the field to turn a 19-9 deficit into a 32-25 advantage with 3:25 left in the half. The Aggies rallied with a 7-1 run to tie the game at 35-all before taking a 2-point deficit into the break.
"Only being down two at halftime, I felt great," Smith said. "It felt like we should've been down a lot more, frankly."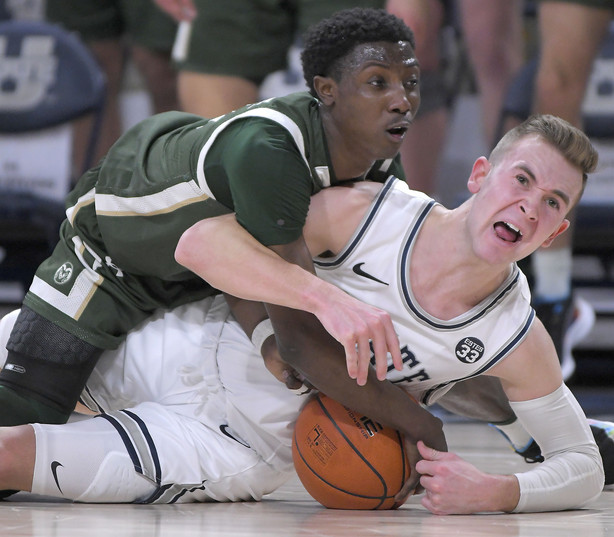 Anderson, who scored 10 of the Aggies' 23 points off the bench, agreed. The early lead was nice — but then things got too easy or too relaxed.
The switch was set to "off," essentially.
"We came out, we played hard, and I feel like we got relaxed at that point," Anderson said. "We can't do that, especially with a good team like that. They can score in bunches. When we get those leads, we have to get going."
Still, give credit to Colorado State, Smith repeated several times while speaking with reporters after the game. The Rams were simply better two nights after taking an 83-64 loss in Logan.
"I'm so proud of our team. We challenged them pretty good after the last game and I think we all realized we didn't bring the level of intensity that it takes to win a game like this," Colorado State coach Niko Medved said. "What a great response from our guys. I just thought we played our tail off and it just felt different from the beginning. Even though we were down 17-9 or whatever it was early, you could feel it in our bench and our team — the intensity and the focus."
Utah State entered the second half on a 4-0 run to take a lead, and held it until Roddy tied the game at 44-44 with 12:42 left. But Queta picked up his fourth foul with nearly 12 minutes remaining, sending him to the bench for arguably the most important stretch of the game.
The Rams took advantage, even if the biggest lead didn't come until the 7-foot Portuguese center timidly re-entered the game moments later.
"Obviously he's a very, very good player," Smith said. "We all know the impact he's had, and the kind of season he's had. Not having him hurt us, but it's not an excuse; other guys have to be better. He had a couple of senseless fouls, but other guys have to step up to the plate.
"Fifteen turnovers is too much. It's been an issue for us for a few games, and we were able to get away with it. But eventually, it will catch up to you."
How's everyone feeling??

⚡️ @Fonzo_10#AggiesAllTheWaypic.twitter.com/fkp00A7Ska

— USU Men's Hoops (@USUBasketball) January 22, 2021
Colorado State led by as little as one and as much as three until Anderson nailed a spot-up 3-pointer from the top of the key with 7:36 remaining.
But back-and-forth it went, as Adam Thistlewood capped a 7-0 run with a 3-pointer to retake a 4-point lead with just over six minutes remaining.
Roddy stretched the lead as high as 71-62 on a shot clock-edging layup with 1:58 showing. Just as the Aggies were the aggressor in the first 10 minutes, Colorado State took the game over in the final 10.
After four games in eight nights at home, Utah State will hit the road to face UNLV on Monday night. Tipoff is scheduled for 7 p.m. MT in Las Vegas.
×
Photos